The digital landscape is constantly changing. Whether ordering food or looking for a new love connection, there's an app for everything that can be found with a simple click. These JMU students have been able to successfully navigate this online world by starting their own businesses on Instagram.
Cat Falvey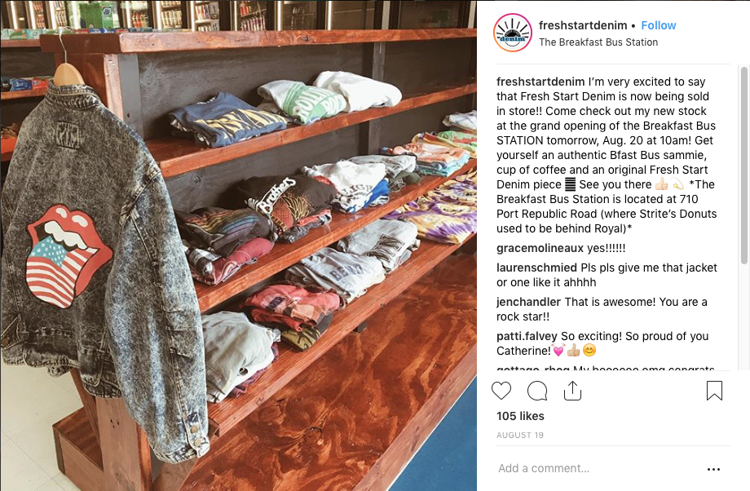 Cat Falvey feels at home between racks of clothing. She has spent hours in thrift stores searching through hangers in hopes of finding that one special item that'll inspire her to make something new and unique. While the uncertainty of the items on the shelves may be overwhelming for some, the junior media arts and design major enjoys the surprises she finds every time she walks through the door.
"It's really kind of a guessing game and I take a risk every time I go because you never really know what you're going to find and you never know if it's going to be a good day or not," Falvey said. "In general, I kind of like to see where every thrift store takes me and figure it out as I go along."
Falvey has been making clothing for herself since middle school, but she was inspired to start a custom clothes business through Instagram after she received compliments on some of the denim jackets she made for herself. She took a leap into the business side of Instagram and opened @freshstartdenim in December. She's never looked back.
The account focuses primarily on reworking denim pieces and combining them with shirts and other pieces Falvey finds on her weekly trips to the thrift store. One of her most popular pieces is her best sellers, which combine vintage t-shirts with sleeves from flannels. She recently has expanded her business by opening her own Etsy shop and selling her merchandise in the Breakfast Bus Station.
This summer Falvey had an internship with Marc Fischer Footwear in New York City. The internship has helped her realize her hopes in working in the fashion industry as it is a combination of many of her passions.
"I'd like to definitely be involved in the fashion industry, but I'm not really sure where this is going to take me," Falvey said. "Hopefully this brand grows and it'll evolve into something as I grow as a person, but right now I am just trucking along and seeing what happens, I guess."
https://www.instagram.com/p/BmrFd9qBaLI/?taken-by=freshstartdenim
Sylvia McClure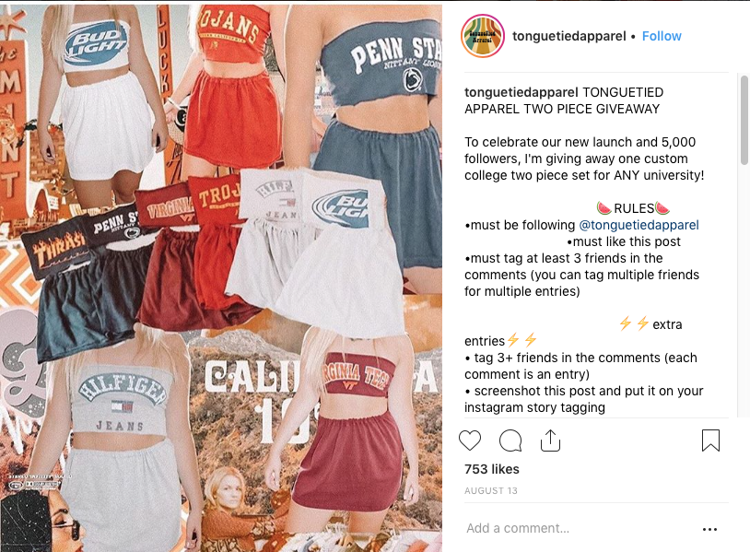 For Sylvia McClure, a love of fashion runs in the family. She remembers seeing her mother sew when she was younger. Working with clothes is familiar to her.
Earlier this year McClure started an Instagram account entitled @tonguetiedapparel, which specializes in college clothing and spirit wear. The senior health sciences major decided to make an account to share her work when she realized the popularity of students reworking clothing for tailgating and football games.
"I noticed that a lot of girls were trying to look fashionable during tailgates and taking old shirts and turning them into tube tops and stuff like that, so I thought that maybe I could do that for my account," McClure said. "I've actually sold a lot of items to students at JMU, but also other schools across the country as well."
She enjoys running a business on Instagram because of its accessibility and ability to be so personal to each user. She has been able to make connections with many people both in the JMU community and nationwide and is excited to see her Instagram grow during the school year and is excited to see JMU students with some of her items around campus.
"I'm also excited to see people around at tailgates wearing my items because I know a lot of incoming freshman have bought stuff that I made, so [I'm excited to run] into them." McClure said.
Lexi Hendrick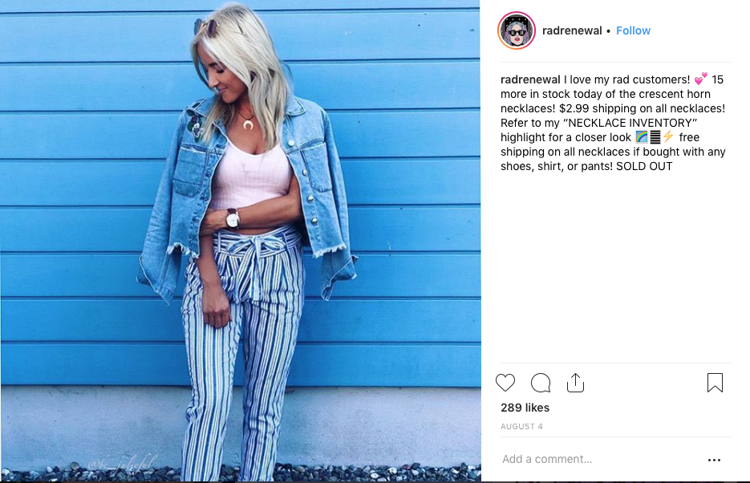 Lexi Hendrick could have never imagined her Instagram account would have taken off this much. The senior communication studies major started her account, @radrenewal, earlier this summer and is thrilled with the results.
"I've always loved to play around with my shirts and my clothes and just kind of do my own style so I decided why not make a business out of it," Hendrick said. "So I started thinking it was going to be a little thing to make a little money on the side, but people actually really enjoyed what I was making. It's working out very well and I want to continue with it after I graduate."
Hendrick started sewing and styling her clothes when she was young and is a self-proclaimed fashionista. She was inspired to make an Instagram account after stumbling upon the business feature on the app and realizing what an interesting tool it is.
Her business has changed her perspective on the fashion industry and her future as a part of it. She's recently taken steps to expand her business even further going into the school year.
"[Through the account] I've learned a lot about myself and my skills because I knew that I was artsy, I used to paint, I used do a lot of stuff like that, but I never actually realized that I was good at making clothes until I started doing it," Hendrick said. "Which is awesome because it's just what I love to do and I'm very excited about my business."
Contact Camryn Finn at finnce@dukes.jmu.edu. For more on the culture, arts and lifestyle of the JMU and Harrisonburg communities, follow the culture desk on Twitter @Breeze_Culture.