With Valentine's Day approaching, it's hard to avoid Cupid's arrows as people begin to express extra endearment toward loved ones or admirers this holiday. Luckily for JMU students, Harrisonburg and its surrounding areas offer several romantic options to satisfy all couples with eclectic interests.
Every individual is different; some people appreciate simplicity or being outdoors, while others enjoy artsy locations and entertainment. After polling 25 male and 25 female JMU students, the results indicate how the "perfect date" differs among the sexes.
The students had five choices to choose from regarding their ideal Valentine's Day date: going on a romantic hike, getting dinner and a movie, visiting an art gallery, seeing a play or taking a trip to a vineyard or brewery.
Lydia Erickson, a junior writing, rhetoric and technical communications and communication studies double major, was one of two women who opted to enjoy a play on Valentine's Day. She thoroughly enjoyed a play produced by the American Shakespeare Center's Blackfriars Playhouse in Staunton, Virginia, because of its quality and distinctiveness from the average date.
"I like the dinner and a movie idea but I feel like that's a normal, typical date," Erickson said. "Seeing a play is something special for a special holiday."
Though Erickson traveled to Staunton for her theater experience, JMU also offers performances on campus at the Forbes Center for the Performing Arts. The play "I and You" will be playing Feb. 13-17 at the Forbes Center. Tickets for JMU students are only $6, making this date original and affordable. 
Rebecca Harris, a junior WRTC major, shared an opinion similar to Erickson's. Harris preferred an atypical Valentine's Day date at an art gallery. While the art gallery option only received four votes out of 25, Harris made her choice while weighing the pros and cons of the other alternatives presented in the poll. 
"I like going to art galleries, and also, I thought it would be a nice place to potentially talk to the person you're with," Harris said. "Watching movies are nice, but I also want to be able to talk to the person the whole time and hear what they have to think."
There are several art galleries in Harrisonburg that showcase various pieces from a myriad of artists. Art shows are available on campus at Duke Hall and in downtown Harrisonburg. Going on a romantic hike was the most favored date choice among women and the second most favored option among men. This date idea is an accessible and often low-cost experience, especially in Harrisonburg and its surrounding areas. The Shenandoah Valley and the George Washington National Forest are full of hiking trails that range in difficulty and scenery, and while this date can be weather dependent and time-consuming, it's an enjoyable option for couples who enjoy fitness and the outdoors.
Vineyards and breweries can be pleasant places for a date, as they offer space for relaxed conversation and a diverse selection of drinks and light snacks. 
Getting dinner and a movie was the No.1 choice for male students and tied for second choice with five votes from female students. While this date doesn't leave much room for talking except for the dinner portion of the evening, this classic outing's simplicity attracts numerous couples on Valentine's Day.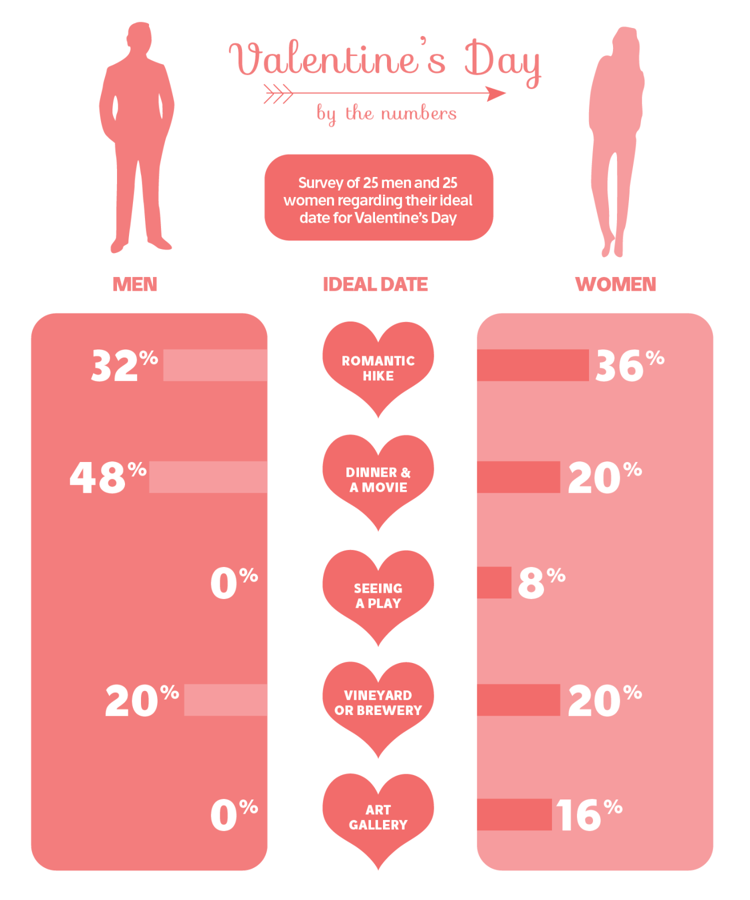 Jamey Camper, a junior psychology major, was in the majority of male students when he voted for the dinner and a movie option. Camper and his girlfriend often have movie dates, but ensures that Valentine's Day in particular is more special than an average evening out.
"[Seeing a movie] is just what we do," Camper said. "For Valentine's Day, usually I get her more chocolate and flowers than normal."
Regal Cinemas, Legacy Theaters and Visulite Cinemas in Staunton, Virginia, are showing several films that represent an array of genres. 
If couples don't want to make a trip to the movies and want a cozy night in, there are plenty of romantic movies available on Redbox to rent for only $1. 
Though it's nearly impossible to determine personal preferences for all 22,000 students enrolled at JMU, Valentine's Day provides a platform to display additional love and affection for the people we care about. 
"Being with someone that you don't mind being with [is love]," Camper said. "Love is coming home and wanting to be there."
Contact Brooke Imperial at imperibn@dukes.jmu.edu. For more on the culture, arts and lifestyle of the JMU and Harrisonburg communities, follow the culture desk on Twitter @Breeze_Culture.