In March, many activities came to a standstill because of COVID-19, but that didn't stop Jacob Reeves, a senior music education major, from making music. 
Reeves came up with the idea of getting JMU students and alumni together to record a cover of Lizzo's "Cuz I Love You" in May, but the project faced setbacks. In July, after a tree branch struck him, Reeves lost sight in his left eye. Although his injury was unexpected, Reeves said it allowed him to come up with ideas for his music video.
"I've always been fascinated with all different forms of light," Reeves said. "When I went and started to do the music video, I made sure whenever there were big impacts that I was making the background of all the videos as bright as possible. I guess, unintentionally, that [the injury] makes it to where I can detect the big hits of light with my left eye." 
Reeves said the inspiration for the project came from the desire to make music. He said when he first heard "Cuz I Love You," he fell in love and could hear it being played by a jazz band.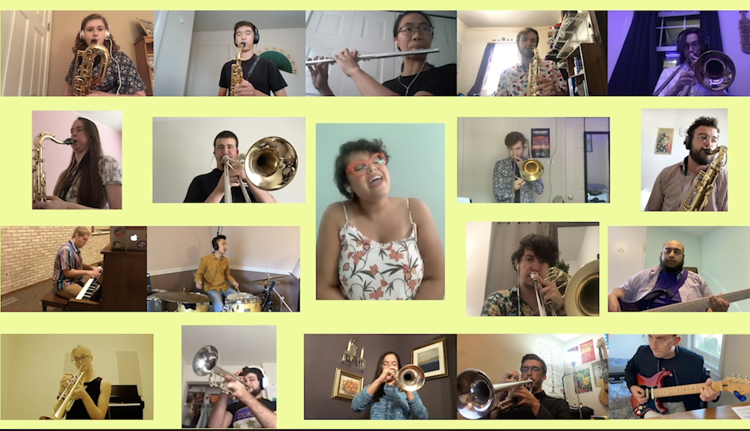 "If you're going to do something with a jazz group, you need a different character to portray, and I knew that sassy character could really speak out," Reeves said. "I chose this song because I'm a huge fan of Lizzo, and she was a music major in college. She plays the flute, which is why I added in the flute part, and it has inspired me."
Reeves said being in an ensemble is a large part of every music major's degree, and with COVID-19, that became impossible. Reeves said this project allowed people to play with others, which not only had an academic purpose but was also good for their mental health. 
"Jacob reached out to me around May," Amy Millesen, a junior trumpet performance major, said. "We had been in quarantine for a couple of months, and this was another opportunity to sort of play music together with people."
Although it may be difficult to make music with others now, Millesen said projects like these are important to pursue. She said it was nice to see her friends and collaborate with them. 
Virtual playing also allowed her to learn more about the technological side of music. Millesen said virtual performances may start to become more normal in the music industry because, like live performances, there are benefits to playing virtually.
"I'm definitely a fan of virtual performances, but I do agree that it is different," Millesen said. "Normally, you have one shot, but with recording, everyone can record their part multiple times. It's different, but I think there are benefits, and it gives us a chance to perform."
JMU alumna and elementary school music teacher Erin Dixon ('20) said these performances allow one to share music with the world and show viewers different types of music. 
"I think with music and a lot of performances I've seen amidst COVID-19 have been classical arrangements, which is great, but in the Western world of music, we just have so much of that," Dixon said. "But what about the people who aren't interested in that? We all know who Lizzo is; she's an incredible musician and female role model."
Dixon said she thinks projects like this are important because it allows groups to reach different audiences and showcase diversity. It also shows that classical musicians can play different styles and can all work and play together. 
Even though Reeves knew how important this project would be, he said at times it was hard to put the puzzle together. He said he had to learn how to edit and mix the videos by himself, and at times it was exhausting. But after figuring out the technical issues, he was able to put all the videos together to create the cover of "Cuz I Love You."
"Jacob deserves the full exposure of this arrangement," Dixon said. "I definitely think if we were in person, we all could've had the experience of sharing it with people. Performing it live would've been so cool and just a different experience, but it's really important that we continue to make these music experiences happen, even if we're not in person."
Contact Morgan Vuknic at vuknicma@dukes.jmu.edu. For more on the culture, arts, and lifestyle of the JMU and Harrisonburg communities, follow the culture desk on Instagram and Twitter @Breeze_Culture.