After losing her luggage coming home from a London study abroad trip, senior media arts and design major Morgan Kolson needed to quickly replace her lost clothes. Kolson wanted to find a creative way to make up for the money she spent on the trip, as well as replace her missing clothes that weren't found until two weeks later. She'd spent years admiring fashion, and after seeing someone sell tie-dye shirts on Instagram, Kolson was inspired to start making her own custom bleached shirts. A trip to Goodwill started a trendy, bleached, work-of-art business — all from the comfort of Kolson's backyard. 
Kolson runs her business through social media. She buys old shirts, bleaches them, sets them to dry for a day and sells them for $10-15. 
"I had no clothes and I really needed money after my abroad trip," Kolson said. "So I went to Goodwill and posted three shirts that I made on Instagram, just followed my closest friends —  and they were all bought within the hour." 
The business began with T-shirts, but she received almost 50 requests for custom sweatshirts. Ever since, her account became mostly sweatshirt designs. These are Kolson's favorite to design, which makes it difficult to part ways with pieces she falls in love with. 
"I posted my first sweatshirt, and that's when it really picked up," Kolson said. "I started gaining a real following, and people from different schools and states started following me. It all happened within a week — it was really on a whim."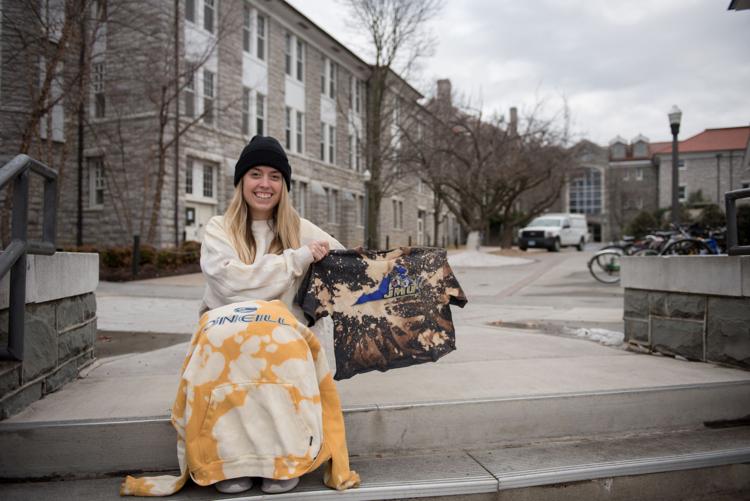 McKinna Pace, a 2017 JMU alumna, was the first to buy a sweatshirt from Kolson. The two are close friends through their sorority, and Pace still remains a constant role model for Kolson.
"She's the person I always looked up to, and she knew that," Kolson said. "But she reached out to me and was the first one to buy a sweatshirt, and she posted about it on her blog and social media accounts."
Pace shares a similar interest in fashion and social media. She even decided to help promote Kolson to her New York followers so that she could expand the business.
"I've always known Morgan to be so passionate and motivated about everything she does, so of course she did something she was passionate about," Pace said. "She really made it different from what other people would try to do to make money in school — she did something out of the ordinary. She puts her own twist on it, which is so genius. It's an honor for me to know her. She always says she looks up to me, but it's weird because I look up to her."
According to Kolson, Tie-Dye Dan, a JMU senior communication studies major, had someone from his team reach out to Kolson and ask if she'd be interested in collaborating. While nothing has been finalized, Kolson says the project would start small to see if people liked the idea.
One of Kolson's biggest challenges is the lack of convenience at school to make the shirts and sweatshirts. At home, she could work with the bleach outside in her backyard, but at school, she's found she can't sit in her bathroom and work. This has caused Kolson to turn people away for orders. 
"I expected it to die out eventually — but people still reach out to me for shirts all the time," Kolson said. 
Olivia Devoe, a sophomore health sciences major, purchased two sweatshirts from Kolson after being on a waitlist due to multiple requests. She constantly checked her Instagram page to see when she uploaded more designs. However, Devoe says Kolson's devoted mindset and drive for her business made the wait worth it. 
"She's not afraid to be herself, she's very quirky and very talented in everything she does," Devoe said. "I just wish more people knew about her and what she does in general." 
The popularity her business has gained over the past few months shows that Kolson's work ethic and desire to be unique will pay off in the future. 
"Through her passion in this project — it really shows that her future after graduation is going to be so successful, and she's going to be able to fulfill the things she dreams about and wants to do," Pace said. "Whatever her mind is set on, she'll be able to accomplish it. She always seems to have that positive mindset on everything she does." 
Contact Andrea Brusig at brusigap@dukes.jmu.edu. For more on the culture, arts and lifestyle of the JMU and Harrisonburg communities, follow the culture desk on Twitter @Breeze_Culture.