In their first semester of college, the traditional freshman wants nothing more than to blend in with the crowd. Yet for this JMU student, fitting in was the last thing on his mind.
"You come to college and this is a time in your life where you are independent and living on your own with all these people," Tran Truong, a sophomore media arts and design and marketing double major, said. "I didn't want to fit in. I didn't want to just be another person or another face in the crowd."
Over the past two years, Truong has developed a substantial social media presence, mainly on Instagram. His page predominantly focuses on lifestyle and self-love, with a specific focus on makeup and fitness.
Truong's idea to brand himself on social media started during his freshman year when he began doing makeup. He explained that he struggled at the beginning of his freshman year after not making the cheer team, fraternities and other clubs on campus that he wanted to join.
"I was degrading myself and thinking that I wasn't worth anything because people kept denying me, and so I wanted to be good at something," Truong said. "I wanted to have a hobby where I felt accepted."
Truong pursued makeup to find a community he was not able to find through JMU organizations. After practicing on a daily basis in his dorm room, Truong decided to take to social media to share what he'd learned. Following those first few posts, he knew he wanted to continue posting on social media in hopes of inspiring others due to the large amount of support he received online. He also thought it'd be a great opportunity to develop a portfolio because of his marketing and SMAD major with a concentration in creative advertising.
What started as sharing his makeup talents eventually grew into posting fitness videos and photos as well, and now he considers his Instagram account to be a general lifestyle account. He began posting fitness videos earlier this year, when he found fitness Instagram accounts to be a huge help on his physical journey. His videos show specifics exercises that can be done to target parts of the body. 
J.T. Massey, a senior communication studies major, assists Truong with videography. He says he enjoys doing this work because of the message that Truong sends with every post.
"Tran's one of the nicest, most good-hearted people that I know, and I think his overall plan for using social media is to promote overall mental positivity and self-empowerment," Massey said. "He is not trying to give advice and he's not trying to act like a fitness guru or anything. His message is to just be your best and look your best along the way."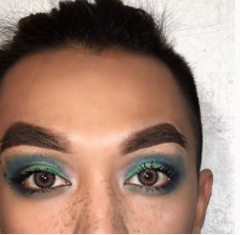 Jasmine Khounesavath is a sophomore nursing major and close friend of Truong since their freshman year. She says Truong is an inspiration, since he gives a unique perspective in the social media world because of his focus on positivity. 
"He is spreading a positive vibe throughout social media and even in person," Khounesavath said. "He does have a big following on Instagram, but he's very humble. He's not full of himself."
Truong stands out in the crowd and draws attention whenever he enters a room due to his electric personality and self-confidence. Over the past two years, he's taken this attention and grown a strong social media presence where he helps people every day to feel confident in their own skin. He's one of the accepting voices on social media, which helped him all those months ago.
"I just want to be an inspiration to people," Truong said. "Being able to inspire someone to get fit or to pick weights up or pick up a makeup brush, that's what I wanted to do."
Contact Camryn Finn at finnce@dukes.jmu.edu. For more on the culture, arts and lifestyle of the JMU and Harrisonburg communities, follow the culture desk on Twitter @Breeze_Culture.