Sculptures, abstract paintings, realistic photographs and fascinating art history  all can be found at the Gallery of Fine Art located in Duke Hall, currently home to the wide-ranging school of Art, Design and Art History faculty exhibit that will be open until Dec. 6.
Upon entering the exhibit, one's greeted by an expansive room covered in all mediums of art. The works truly make the room feel bigger than it is. From watercolor and graphic design to photographs altered in Adobe Photoshop, the exhibit has a little bit of everything. 
Beth Hinderliter, a historian and the curator of the exhibit, said the gallery includes works that cover social issues such as the environment, technology, gender equality and migration.
"I love the challenge to think about what our pressing issues are today, what concepts and problems we're grappling with, and thinking about how art gives us a way to refocus on the things around us," Hinderliter said.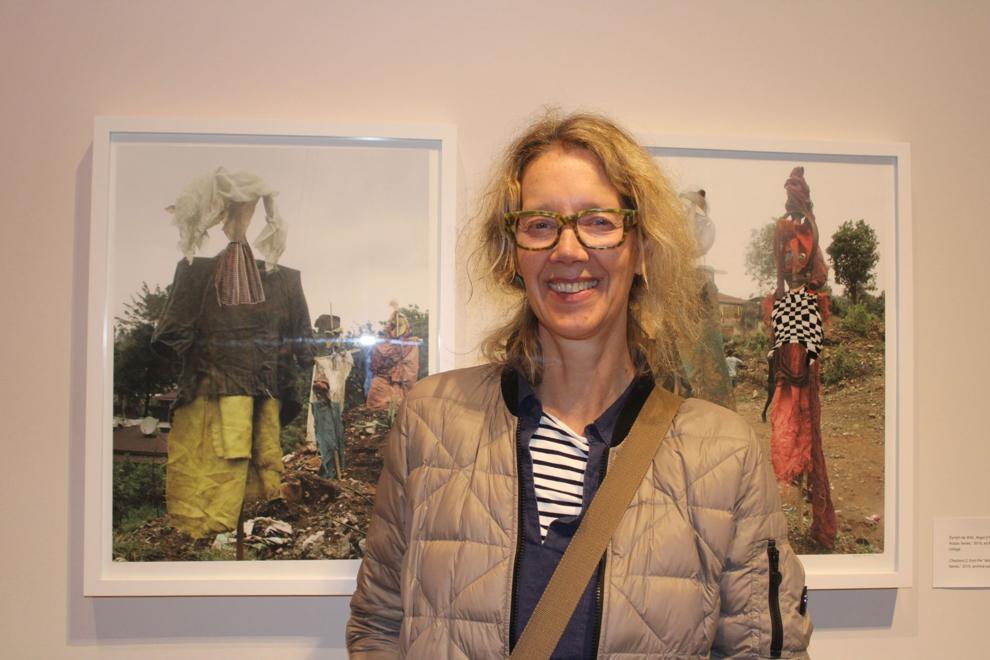 One artist, Dymphna de Wild, got her inspiration from the Ethiopian capital, Addis Ababa. Her piece consists of photos she took while traveling there. Her two pictures contain poles she put up with clothes on them in order to represent the displacement of the people there. 
de Wild teaches in the foundation and graduate programs at JMU. In addition to photography, she creates various types of artwork like drawings and paintings. She said her incentive for creating art comes from all things around her, such as the environment and migration. Her art tries to answer the question, "Where does one belong"?
"I love to go outside and pick up little things that are displaced and to create something out of nothing that then evolves into a really meaningful and beautiful art form," de Wild said. 
Contrary to de Wild, Trudy Cole's visions for her pieces came from one of her passions: horses. Cole created a set of 15 watercolor and graphite paintings that contain mainly muted cool colors such as green and blue, but a few paintings add in different brighter colors like red and yellow. She also made a set of playing cards, which are a set of 54 cards that each hold a different horse design. Some include realistic images of horses, while some feature more abstract designs.
While her exhibit work is made up of paintings, Cole's main focus is graphic design. After receiving her fine arts degree, she went to graduate school as a painting and drawing major, but she discovered it wasn't her true passion.
"I didn't find the inner relationship between myself and my canvas enough," Cole said. "That's why I pursued graphic design, because I love working for other people. I love solving other people's problems. I can relate to anything that's visually expressive." 
For de Wild and Cole, art has always been a part of their lives. They both said that art allows them to pursue their passions and share them with others.   
"Art is part of me," de Wild said. "It's very important because it can bring your voice out. Art is bringing your voice and your ideas from the outside world to an audience. It's important to bring awareness to certain things." 
All of the artists in the exhibit said they've created works that matter to them. The gallery is meant to be a place where they can showcase their feelings and dedication to art and display their talents to others. Its main purpose is to allow the SADAH faculty to showcase their talent and all different types of art.  
"I think about visual art as doing things that language can't," Hinderliter said. "It plays with our senses. Visual art doesn't have to be a singular sense … I think that there's a way in which we often forget how much we process the world through our senses, because sociologists say that we process over 5,000 images a day. We need to have a moment where we really look at one image and really think about how that one image speaks to us or what the image is telling us."
Contact Morgan Vuknic at vuknicma@dukes.jmu.edu. For more on the culture, arts, and lifestyle of the JMU and Harrisonburg communities, follow the culture desk on Twitter @Breeze_Culture.