Jake Odmark ('08) joined his high school's musical on a whim. 
He'd grown up just playing instruments with his three siblings, he said, and no one else in his family had ever sung or acted. But as soon as he took the musical stage, he fell in love.  
Coming from a family of musicians, Odmark knew he wanted to pursue music. With his mom being a band teacher and his dad a professional french horn player, he decided to major in trumpet in the School of Music. It didn't last for long.
"I went to school and played trumpet and I was in lessons and I was thinking, 'I don't really want to do this, I really want to do musical theatre,'" Odmark said.
Nerves crept in once he made the switch from trumpet to musical theatre. Even though he knew he could hold a tune from his experience singing in a high school musical, he knew he had a great deal to learn compared to others in the program.
Since he was used to playing the trumpet, he was unsure about what 'vibrato' was and how to produce with his voice since he could add it with physical movement and keys on the trumpet. 
"I remember learning how to have a vibrato my sophomore year at JMU," Odmark said. "I was way behind everyone else in the program, so it was definitely intimidating, but also, I felt like it was an advantage because I was such a clean slate that a lot of directors were eager to work with that because I had no ticks or habits at all."
Once Odmark got into the groove of acting at JMU, he started performing in mainstage shows. In his first show in his freshman year, he played a small featured role as Reverend Crisparkle in "The Mystery of Edwin Drood." As his skills grew stronger, he began taking on lead roles in shows like "How to Succeed in Business Without Really Trying" his sophomore year and "Thoroughly Modern Millie" his senior year. Each of these performances gave him the chance to improve as an actor and learn more about the musical theatre world.
During the summer of his junior year, many of his classmates were auditioning for summer stop shows where students perform either in regional theaters, on cruises or at theme parks. Since he'd never auditioned for any show professionally, he was hesitant. After one of his professors pushed him to audition, he tried out for "Grease" at Toby's Dinner Theatre in Columbia, Maryland, where he met Mark Minnick, the theatre's associate producer.
"My first impression was of course that he had a lot of talent, but also, I found him very intimate as an actor," Minnick said. "He was a very honest actor, which is something I really like about him to this day, but I just always wanted a little bit more from him. 'Give me more, get a little bit deeper.' But after two callbacks, I said this is the guy that should be our Danny Zuko, and I think everybody believed that too."
When Odmark returned to JMU his senior year, he was cast in an Equity Production of "Grease." The show was much bigger, and it meant he'd go to China, where the show was based. He left school for a month to perform the role of Nicky and still completed all his work for the semester. 
Since he went abroad, he missed three credits toward his diploma, but he booked another role on tour in "The Pajama Game." He toured for one year and returned to JMU in fall 2009 to finish his credits. Once he got his diploma, he did two more tours with the same company. After a while, he decided he was ready to move on to a new environment — he wanted to be in New York. 
Odmark worked with local theatres before he went to Broadway, and his coworkers described him as an actor with raw, natural talent. Matt Gardiner, the associate artistic director at Signature Theatre, worked with Odmark after he graduated from JMU and has watched him become the actor he is today.
"Jake was a baby and was still very green, so he now is a much more rounded person. And he was brilliant back then, but he's even more brilliant now," Gardiner said. "He is not manufactured. He's not somebody who easily slips into the Broadway machine. He's a real artist, and he approaches everything from a very honest place."
When Odmark moved to New York, he struggled for a couple of months. From bartending to being a coat checker and passing out flyers, Odmark did everything to pursue his career while ensuring that he survived in his day to day life pushed him to ensure his dream of being on Broadway would come true. 
After almost two-and-a-half years, his first Broadway show was in "Spider-Man: Turn Off the Dark." Odmark played Flash and understudied the role of Peter Parker. It was a breakthrough for him after auditioning for many shows without getting any callbacks.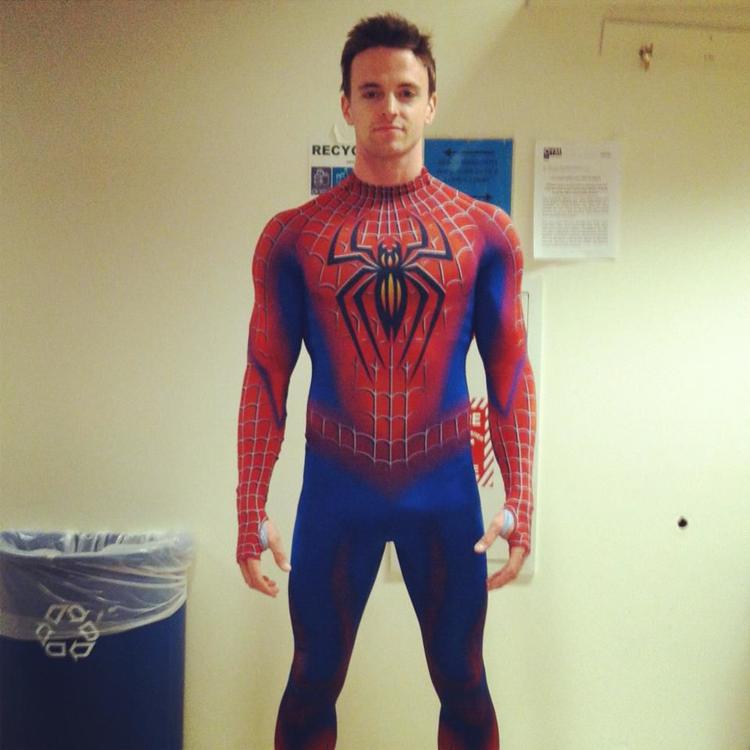 "I got to play the lead and fly around the theatre, so it was pretty crazy.  I got to learn everything about the business in one show," Odmark said. "Obviously, Spiderman is the most expensive show in history. It's the show that lost the most money in history. It was the biggest show in history. It set all sorts of records, and that was my first experience on Broadway, so I really got to learn a lot, and I had a blast."
After being in the show for a year-and-a-half, he got a call from his agent saying the show "Kinky Boots" was looking for a replacement and that he had to audition. Odmark actually passed on the audition because he was sick, but a week went by and his agent called him saying they'd squeeze him.
He went on final callbacks and was with two other people who had already gotten callbacks. The audition was at 10 a.m., which Odmark thought was really early to sing at. 
"I walked in, and it was everybody," Odmark said. "Cyndi Lauper, Harvey Fierstein, Jerry Mitchell, and I made some sort of joke about 'It's too early to sing' and was like 'Oh man, nice and early,' and Jerry Mitchell looked at me and said, 'If you sing on The Today Show, you have to be able to sing at 6 a.m.,' completely stone-cold faced and I thought,'Welp, that's it not going to get this job,' and fortunately, somehow he really liked me."
He was with "Kinky Boots" on and off for three years and worked with multiple celebrities who played the role of "Charlie,"which Odmark was an understudy for. From Panic! At The Disco frontman Brendon Urie, actor Wayne Brady and pop-group Pentatonix to American Idol winner David Cook, each person made Odmark's experience at "Kinky Boots" unique in their own way.
"The energy never dipped because anytime you were starting to get bored, all of a sudden, a new actor came in and revitalized the entire building. It was just always an adventure," Odmark said. "Especially people like Brendon Urie who brought in crazy screaming fans that all of a sudden, it felt like we were The Beatles. We had people holding up posters and having their faces painted at a Broadway show. That never happens, so it was quite an experience."
While in "Kinky Boots," director Jerry Mitchell offered Odmark a read-in of "Pretty Woman" and soon after asked him back for the next workshop. The show ended up going to Broadway and Odmark was offered a contract.
Currently, he plays Mr. Hollister, a store owner, and understudies the role of Edward. "Pretty Woman" is his first original Broadway show. 
"[In] "Spiderman" and "Kinky Boots," I was a replacement, but 'Pretty Woman' I could originate, which means no one would've done it before me," Odmark said. "Anything that you see up there, I thought of —  I created. So, therefore, anybody in any production from here on out will always look back to me as the first person to do it, which is really, really awesome and quite an honor to have."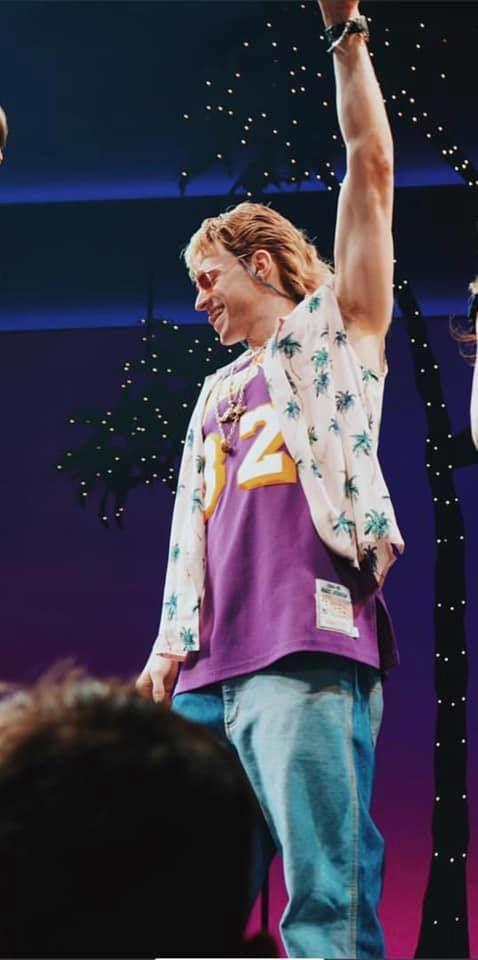 For Odmark, he's still finding ways to be creative outside of Broadway. In his perfect world, he would love to do big movies while style performing on Broadway like Hugh Jackman, but for now, he's enjoying the life he has, all from switching majors.
"I think about it every day, I really do. I am so thrilled. I'm so thankful," Odmark said. "If I have a hard day, if I'm tired, I try and remember freshman year Jake when I was switching my major or the Jake that was too scared to go and audition for professional theatre my junior year, would think to the Jake a few years later, who's on his third Broadway show and playing the lead role. It's crazy and I'm so thankful I'm doing this every day, and I just think it's important to not take that stuff for granted and realize how lucky I am."
Contact Talia Davis at davisty@dukes.jmu.edu. For more on the culture, arts and lifestyle of the JMU and Harrisonburg communities, follow the culture desk on Twitter @Breeze_Culture.