First is wood, next comes foam, then batting and last is fabric. 
This is Andre Parrott's ('10) process as he makes a headboard for his business, Hangin' Headz, which specializes in creating custom headboards for college students' dorm rooms or college apartments. Customers can choose from various sizes, fabrics, shapes, colors and trim details, or they can choose from preset headboards.
Parrott began this business in 2013. With a major in kinesiology and a minor in business, Parrott said he always knew that he wanted to own a business someday but didn't know what he wanted it to be. 
"I thought maybe I would have a sports store," Parrott said. "I also thought about maybe going into being an athletic director."
He came up with the idea for custom headboards when he and his wife bought their first home together. He said he tried to shop for a headboard online and quickly realized there was nothing that matched what he and his wife wanted for their bedroom, and every option was too expensive.
Parrott said he took the opportunity to make one himself to fit their wants. Then, his wife's co-worker saw a picture of their headboard and wanted one from Parrott as well. From there, he took it upon himself to start this business since he realized other people might have the same issues.
However, Parrott said he realized that if one were to buy a headboard for their house, they weren't going to buy a new one every year. He started looking at different outlets to build this business, and then he came up with the dorm room idea. 
"I remember living in a dorm and it wasn't the most comfortable situation," Parrott said. "A lot of things would fall through the beds and you had to move the bed around to dig behind it, so that sparked the idea."
Parrott works exclusively with three colleges — the College of William and Mary, University of Richmond and Methodist University. 
"I have a booth set up on campus on move-in day," Parrott said. "So that any students who didn't get a headboard over the summer, they have the opportunity to buy one then, and that's when I really get the opportunity to interact with the parents and students on campus."
Last year, Parrott said he made headboards for all the members living in the sorority house of Kappa Kappa Gamma at the College of William and Mary. Lindsay Whittaker, a rising junior and member of KKG, lived in the house during her sophomore year and was able to enjoy the work Parrott did for their house. Whittaker said having a headboard makes each room more enjoyable. 
"Last year, when I didn't have a headboard, I would wake up and my pillows would be on the floor," Whittaker said. "Or when I was watching Netflix, my bed would slide away from the wall, so with the headboard, it's so much easier and now my pillows never end up on the floor."
Brian Davis, the owner of Dorm Direct, was essential in Parrott's startup. Dorm Direct rents dorm room furniture to college students to use throughout the year. Parrott originally reached out to Davis at the beginning of his development process after finding Davis' company online. Parrott was hoping to have some of his questions answered by Davis, and Davis, being in that same position years ago, agreed to meet and was happy to pass along the information he'd learned.
"That [meeting] ended up shifting over from what was simply a background informational meeting, to what led to a business partnership that we've had for the past couple years," Davis said. 
Davis said Parrott didn't need any advice to lead him to his success; he was going to be successful with his business idea regardless of any information Davis provided him.
"I am very confident in saying that I, in no way, contributed to any level of Andre's success," Davis said. 
Parrott said his favorite part since opening this business has been interacting with the parents and students. Their reaction to how the headboard turned out, as far as the design and comfort, is what he enjoys. 
"It's a good feeling, seeing that it's helping them," Parrott said. "Not only does it make the room look better — as far as making it a home away from home feeling — but it does make it more comfortable having something with cushion to lean up against."
Aside from the reaction of his customers, Parrott said he enjoys working with his hands, and this business allows him to do just that.
"Building things and seeing the finished product afterward," Parrott said. "I enjoy that."
With COVID-19 still persisting, Parrott has devoted some of his time to making masks. He said that since he already had much the necessary material, it would be good for him to help out. He sold some and donated others to friends that graduated with him from JMU who are currently nurses in Richmond and Williamsburg.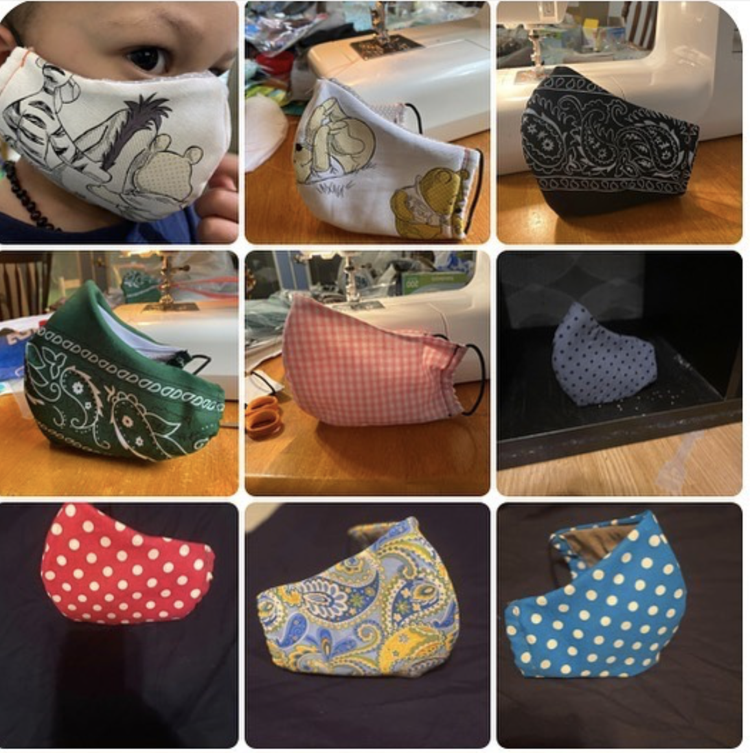 While Parrott's early vision for his business didn't go down the road he thought it would, Hangin' Headz has proven to fit his needs in business. He can interact with others and make things to be proud of with his hands. Since graduating from JMU, he said he's been working hard to form this business and watch it thrive over the years.
"[Parrott] is the definition of a go-getter," Davis said. "He does so much legwork and hustle [for his business]."
Contact Madison Mills at millsmv@dukes.jmu.edu. For more on the culture, arts and lifestyle of the JMU and Harrisonburg communities, follow the culture desk on Twitter and Instagram @Breeze_Culture.