Meet Olivia Brandt.
She's a senior international affairs major whose work in a fall 2019 JMU X-Labs course secured her a paid summer internship with NATO. 
In the "Hacking for Diplomacy" class, Brandt and her team of five other students — nicknamed the Fast and Furious Decisions — developed a computer program that helps NATO officials improve their decision-making skills.
"Basically the class is a problem-solving class," Brandt said. "Different government organizations around will contact JMU with a certain problem that they want solved but aren't … going to spend a lot of money on."
Brandt said with the help of a teammate versed in computer coding, the team developed a software that presents 30 scenarios designed to assess the user's decision-making skills. She said the user is given one minute to answer a multiple-choice scenario question; depending on the chosen answer, another scenario will appear with the consequences of that choice.
"We presented this idea at NATO, and they loved it, and we were invited to present at their kind of think tank conference at the NATO headquarters [in Norfolk]," Brandt said. "And they said, 'We don't want to give this to anyone else.'"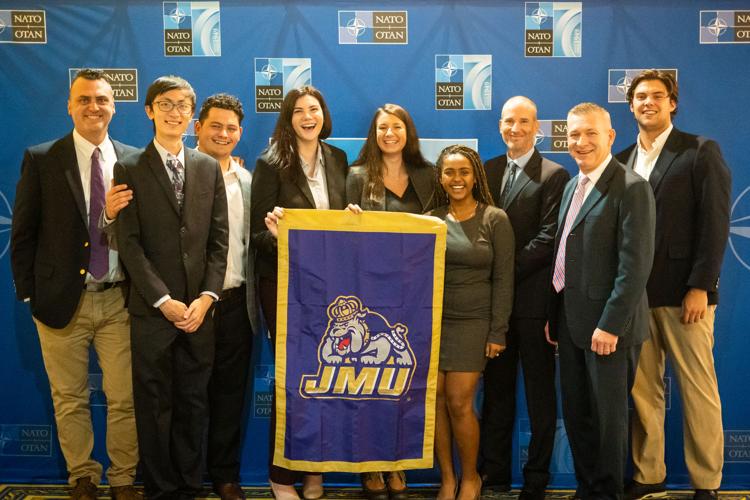 Brandt said after the conference, NATO invited her team to continue working on its program despite their X-Labs course coming to an end. After a group discussion, Brandt said she and two other teammates — Kevin Peng and Riley Geiger — decided to continue their work developing the program's interface into the spring semester, with Geiger choosing to leave after graduating in May.
"My job is to kind of take [questions] and put them in a specific formula for [Peng] — like a coding formula — and then [Peng] will actually put them in a code," Brandt said. "And then we're just adding more and more examples and the scenarios, and that's what we've accomplished this semester."
During this time, Brandt said the team was able to code 15 of the 30 scenarios and create a testable program. But when COVID-19 became a pandemic, she said the team's plans to present their program to a global audience at NATO's think tank in Stockholm, Sweden, were canceled.
Instead, she said the team plans to present again in Norfolk and have officials test their program. And, in a recent development, Brandt said her team received a stipend to continue working on the program throughout the summer.
"Apparently X-Labs programs received a lot of grants and funding that they usually don't, and they were given permission to give the money to us," Brandt said. "Basically we had an option of you can get … a three-credit class for free, or you get a stipend for the summer to work, and that would be the paid internship with NATO."
Brandt said she's excited to continue work she's passionate about while also getting internship experience. Once the program is finished, she said it'll most likely be used at NATO's base in Germany to help officials make decisions with little information at their disposal.
"It's basically to force people to make decisions based off of assumptions rather than information because sometimes you don't get that information," Brandt said. "And the higher the rank you are, the bigger the consequences are of your decision."
As she continues her work on the program, Brandt said she's thankful for everything she's learned from her X-Labs class and encourages others to take the course to learn skills that can be applied in the real world. She said she's proud of herself and her group for making their concept a reality.
"We took this small, abstract idea and made it into something concrete," Brandt said. "And, being able to give our baby to these really, really important people that we know can hopefully someday make a difference internationally is really amazing."
Contact Amy Needham at needhaal@dukes.jmu.edu. For more on the culture, arts and lifestyle of the JMU and Harrisonburg communities, follow the culture desk on Twitter @Breeze_Culture.