Nothing says Halloween 2020 like the wildly popular indie game "Among Us" — everybody's playing it. Now, think about having an "Among Us"-themed celebration, perfectly encapsulating the spooky, suspenseful nature of the game. It's hard to imagine celebrating the holiday any other way. Of course, one should take into consideration COVID-19 precautions when participating in any of these activities. 
Here are some ideas for an "Among Us"-themed celebration. 
Dress up as an "Among Us" character
The character designs are simple, so a costume idea would also be easy to replicate. For a budget version, one could get a hoodie the color of their "main," — and make sure friends or family don't steal their color — pull the strings and put a face mask on the rest of their face. Or, they could simply wear their hoodie backward and put a mask on top of the hood.
If one wants something even simpler, they could find a shirt and pants combination of their main color and wear an iconic "Among Us" hat to go with the outfit, such as a hockey mask or a toilet paper roll. If one's looking to spend a little more, they can purchase a full-body morph suit, a backpack of the same color and paint the facial features on with fabric paint. 
Have an "Among Us" photoshoot with your roommates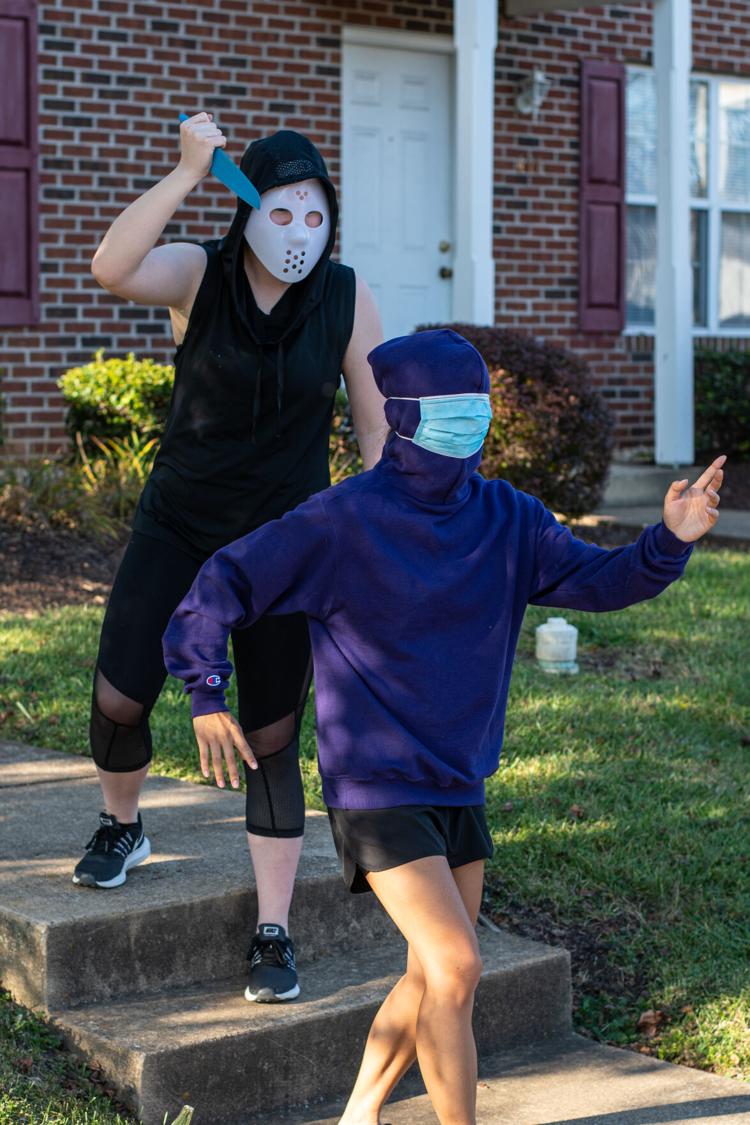 Once the costumes are ready, have an "Among Us"-style photoshoot with roommates or family members. Take photos holding wires or cables to represent the iconic wire-matching task. Have an imposter pose next to an air conditioning vent. Take photos of crewmates standing together like they do on the ending screen. There's endless possibilities when it comes to photoshoot ideas in one's home. 
Paint or carve "Among Us"-inspired pumpkins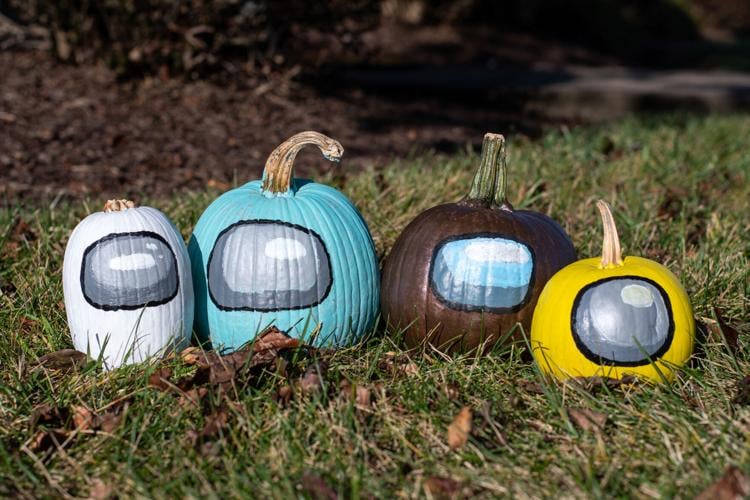 This is a fun, cost-friendly activity any "Among Us" fan can do to celebrate the fall season. Simply choose a base color and use shades of gray and white to recreate the helmet section of the character. Or, carve a pumpkin; the design shouldn't be too difficult to cut out as they're easily recognizable. 
Bake or create imposter-style treats
Bake some stuffed cookies — with peanut butter, cream cheese or nutella — but with a twist. Add wasabi to two of them based on the two imposters — two people will get the shock of a lifetime. Or, if one's not in the baking mood, open up some oreo cookies and spread some wasabi or other surprise filling of choice into two out of 10. Have friends or family close their eyes and choose a cookie. Of course, they have to eat it without looking inside. 
With roommates or family members, put small pieces of paper in a hat with one or two labeled as imposters and the rest crewmates. All will pick a role at random and imposters will open their eyes to acknowledge who the other imposter is. Crewmate roles will include any number of preassigned tasks depending on the game's difficulty. Then, players will turn off most lights and complete their tasks; no one can talk until a meeting occurs. 
Tasks can be made with paper scattered around the house. For example, the Medbay Scan can be a player writing down their health information such as height on a piece of paper. Fixing wires could be connecting different lines with a colored pencil or dry erase marker. In one room, there could be a piece of paper where players check off tasks after completing them.
When an imposter "kills" someone, the victim will lay on the floor. All players can report bodies by playing a certain sound or song on their phone or yell, "Dead body!" 
There can be a designated room for "dead" players. If someone's voted off, they can join that group and show their fellow "ghosts" their paper indicating whether or not they were the imposter. After one "dies," they become a "ghost" and can put the crewmate/imposter paper on their head with tape, so everyone can see they're dead, and continue completing their tasks. 
The crewmates will win the game after successfully voting off the imposters or checking off all the tasks on the taskboard. Imposters, unable to check off any tasks for themselves, will simply have to pretend or lie. They'll take home the win if they manage to "kill" enough crewmates, rendering them unable to vote out the remaining number of imposters.
Play the actual game on Halloween night 
Stay safe this Halloween season and play "Among Us" at home instead of going out. Connect with friends online or play a few rounds with roommates or family members. Only talk during meetings and stay muted — if on a voice call — or silent during gameplay. 
It's hard to imagine why anyone wouldn't want to have an "Among Us" Halloween celebration this year. It's the perfect game to play to safely celebrate the holiday and doesn't require anyone to leave the house. So, stay home this Halloween weekend, dress up as an "Among Us" character using whatever's in the closet, and most importantly, don't get killed in electrical. 
Contact Kailey Cheng at thebreezeculture@gmail.com. For more on the culture, arts and lifestyle of the JMU and Harrisonburg communities, follow the culture desk on Twitter @Breeze_Culture.