Students in a grid of rectangles fill up a Zoom meeting, but Shanna Castellucci's mind is elsewhere, unable to focus on the lesson. With open-book, open-note assignments and recorded lectures, studying less won't be problematic when it's time to take the test, Castellucci says.
Fast forward to fall 2021, and Castellucci, a junior psychology major, faces a similar challenge in a radically different, but familiar, landscape: in-person classes. Maintaining focus in the classroom and relearning study habits while the university returns to some sense of normalcy has impacted Castellucci and other Dukes' mental health.
"It's never been as intense as it is now," Castellucci said. "It's a very, very big adjustment that I feel a lot of us, myself included, underestimated."
On-campus mental health resources like the Counseling Center and Madison Cares, a division of the Dean of Students office, are dealing with an uptick in demand for their services.
Magali Laitem, Counseling Center outreach coordinator, said in an email that the Counseling Center isn't currently accepting interview requests due to the "high clinical demands" the center is encountering this semester.
Student Representative to the Board of Visitors Xaiver Williams shared in an Instagram post that the center reported on COVID-19's negative impact on JMU students at the Nov. 18 and 19 JMU Board of Visitors meetings. The Center said there's been a 6% clientele increase and a 14% jump in individual counseling appointments.
'I kind of forgot how to study'
Castellucci, like others, has found returning to campus "overwhelming" after 18 months of primarily online coursework. While she said resuming in-person classes this semester has benefitted her learning, she's still dealing with burnout and struggling to adapt and concentrate in class.
"I've always learned better in person," Castellucci said. "Trying to treat everything like there's not a pandemic that happened for a year and a half already …  it's just been a very big stressor still." 
Being back on campus hasn't only impacted Castellucci's academic endeavors — it's required her to undergo a social adjustment with the wave of students returning to campus, bolstered by the largest freshman class that's ever arrived at JMU in August.
"You went from interacting with a lot of people before [to] only the people you lived with, really, and now going back to interacting with a lot of people and strangers," Castellucci said. "I'm trying to get back into the swing of seeing people out and about and saying hi to people and having people recognize me … You kind of forget to be aware of that kind of stuff."
Castellucci said that while she's fully vaccinated and wears her mask indoors and in high-traffic areas, she's concerned about some students' disregard of the campus-wide, indoor-mask mandate.
"I see a lot of people around campus that don't wear [masks], like in classes, or they have them below their nose, and it's a little frustrating," Castellucci said. "I personally think wearing your mask and getting vaccinated — it's not just protecting yourself, but you're protecting other people who legitimately cannot get vaccinated."
Like Castellucci, junior political science major Luke Pineda expressed frustration over some students' "blatant ignorance" of campus health rules. He said that earlier in the semester, he didn't see any students wearing a mask on the second floor of Carrier Library and that JMU doesn't enforce its guidelines.
JMU's temporary mask mandate requires all students, faculty and employees to wear masks indoors — and this applies to the libraries.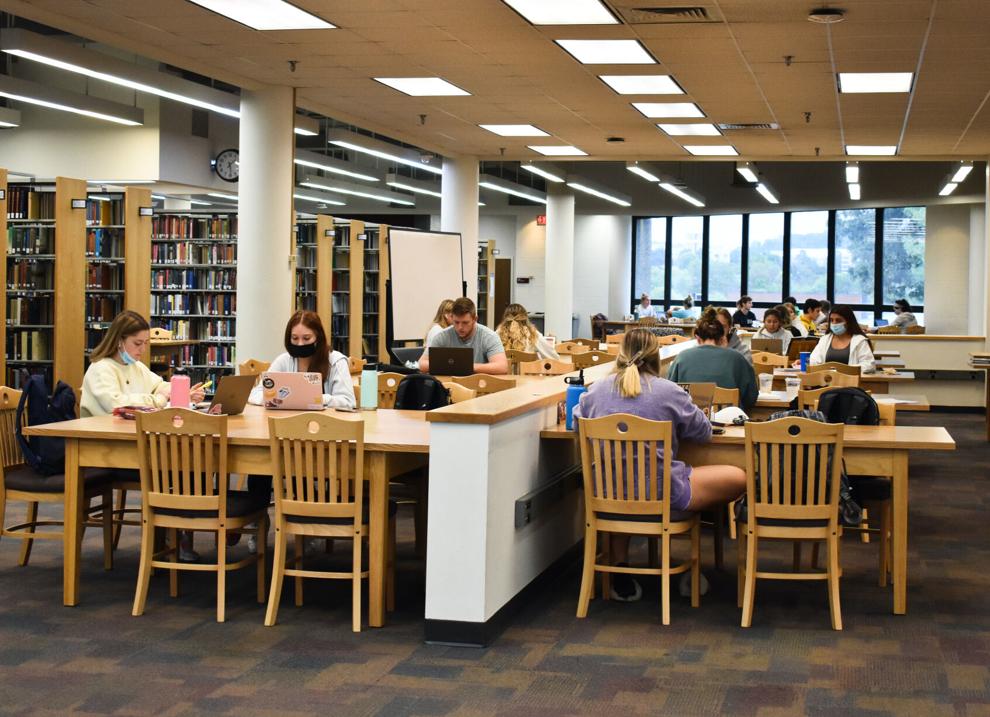 Castellucci and Pineda aren't the only ones to express challenges with returning to campus for in-person activities. Senior political science major Meghan Middleton said she was looking forward to this semester since, like Castellucci, she learns better in person, but she's had to change her study habits.
"I studied differently when I was taking classes online, and I feel like it was almost easier," Middleton said. "[Instructors] had to make the test[s] easier because they couldn't teach in person … I feel like during [COVID-19], I kind of forgot how to study."
Pineda has also felt a drastic shift that he said has made for a "hectic" semester after taking fully asynchronous courses — those with neither in-person nor virtual class meetings — in the 2020-21 school year.
"It's a lot just being kind of thrown back into the classroom environment immediately," Pineda said. "To go from full asynchronous … to then being back fully in person is a really big jump, and I feel like there wasn't enough of a transition into it."
Though he said he supports JMU holding in-person classes, Pineda said it would've benefitted students' mental health for the university to have provided alternative options. He said he's experienced some anxiety due to students in his classes displaying symptoms of illness, and he's particularly worried about getting sick and missing assignments. These circumstances prompted him to write a Letter to the Editor of The Breeze expressing that more hybrid course options should be offered.
Pineda submitted the letter hoping he could make a change, he said, and to speak up for students who are concerned about COVID-19 and being in the classroom again and wanting more classes with a hybrid modality.
In his letter and during an interview, Pineda said the university is already equipped to hold hybrid courses as it did in prior semesters when students often had the option to attend in person or through virtual platforms, like Zoom and WebEx. He said offering more hybrid-optional courses could help protect students' physical and mental health and keep them from falling behind.
"If I'm in class and more people are showing up sick, then it's stressing me out in class because I'm thinking about 13 people coughing," Pineda said. "I don't know what that sickness is, [so] then maybe I can opt for online the following class."
Provost and Senior Vice President of Academic Affairs Heather Coltman sent an email to all classified employees on Wednesday that urged professors to "continue to be flexible and accommodating in response to student absences."
In the same email, Coltman said faculty can't require that students submit documentation of illness to receive excused absences. She said it's "in all of our best interests" for those who've been exposed to COVID-19 to avoid contact with others.
Castellucci also talked about the benefits of hybrid courses and the option to look back at recorded classes if a student were to miss class.
"[A recorded] lecture was still there, and you could … do it at your own pace," Castellucci said. "Not having that option now is also really challenging because … some of these professors are just zooming through what they're doing and trying to get back into writing your shorthand and going really, really quick and trying to keep up — that's really challenging."
Fletcher Linder, associate provost for online strategies and dean of university studies, addressed students' concerns of getting sick and provided suggestions on how to take precaution and manage such obstacles.
"Illness will probably always be with us, as will perhaps the fear of getting ill," Linder said via email. "Standard approaches to student illness can include students getting class notes from other students [sic] and students working with professors to see if and how missed work might possibly be 'made up.' These approaches are still viable, and some professors now provide additional ways for students to follow educational activities covered in class."
Linder also made the distinction between true hybrid courses, which require some in-person meetings, and the colloquial hybrid system some may think of — multimodal classes — where there are in-person meetings and simultaneous Zoom sessions. Linder said in his email that multimodal courses bring their own set of hurdles.
"Classroom activities often differ between the two teaching modalities, and faculty normally design courses to be either in person or online," Linder said. "A few faculty design courses to be delivered in a multimodal (i.e., HyFlex) fashion, but those courses are very difficult to design and teach. Adding to the challenges is that not all classrooms, labs, and other instructional spaces have the capacity to bring in students through Zoom."
HyFlex instruction stands for "hybrid flexible" and provides several options for students to engage in courses, according to EDUCAUSE Learning Initiative's "7 Things You Should Know About the HyFlex Course Model." 
"Each [HyFlex] class session and learning activity is offered in-person, synchronously online, and asynchronously online," the journal entry from July 2020 said. "The flexibility of the HyFlex model demonstrates a commitment to student success, and that flexibility can also enable institutions to maintain educational and research activities during a disruption."
While Linder said online and hybrid technology usage from last year has dropped amid the return of widespread in-person instruction, it's still currently used for some courses.
"Video recordings of in-class activities are possible in some settings, and they are governed by sometimes complicated policies that are designed to protect students and faculty," Linder said. "The investment in classroom technology helps the institution be prepared for instructional innovation and to be more prepared in cases where we need to respond to situations similar to COVID-19."
Pineda said being back in the classroom has made him feel grounded in his coursework, which has in turn benefitted him academically and helped him make stronger connections with his professors. However, he said he still hopes that JMU chooses to offer hybrid options in the spring to ease his and others' sickness concerns.
'I'm trying to pick it back up' 
Meanwhile, Middleton, Pineda and Castellucci have each found various ways to adapt during this dynamic semester and care for their mental health.
Middleton plays the flute in the Marching Royal Dukes (MRDs) and is a member of Dancing Dukes. Even though football games can get crowded and attendees aren't required to wear masks for the most part, she said performing again at football games has been refreshing and that the band is naturally spaced out because of their instruments. However, Middleton said even the possibility of a COVID-19 outbreak among the MRDs is "worrisome."
Above all, she said, her extracurricular activities have provided her with an outlet from academic and health stressors.
"I definitely think that just having a chronic illness" — Middleton has lupus, an immune disease — "you're more likely to have depression [and] anxiety," she said. "I definitely think my mental health has gotten a lot worse with [COVID-19] and everything, and then trying to get back to normal and then all the stress of that … I just try to focus on things I enjoy: band and dance."
Pineda said he's also trying to work himself back into activities around campus again while still being careful and conscientious about the ongoing pandemic. 
"Recently, I just haven't been that involved with [organizations] because of the same reasons that I think school stresses me out," Pineda said. "I don't know where everyone's been. Although they do follow university guidelines … What do they do outside of the organization? So, I've definitely taken a step back … But I'm trying to pick it back up, maybe with [organizations] that are doing more online stuff." 
Castellucci said she used to be in more clubs before the pandemic and was just inducted into Psi Chi, the international honor society in psychology, on Dec. 1. Earlier this semester, she joined Psychology Club and the pickleball club to stay involved with the community and be active. However, she said that's easier said than done.
"I actually had to leave [pickleball] club," Castellucci said. "I tried to figure out how to fit it into my schedule and it just would not work …  I am struggling to manage my time well enough to make time for more fun things."
With such a busy workload, Castellucci said she's made an effort to prioritize her mental health by talking to her friends and roommates about how she's feeling lately. Though she said there are still some things she has to work through alone, getting advice from others helps her adapt to new situations. Castellucci was stressed about school before Thanksgiving break, but she said discussing it out loud with her roommate helped her realize there was a way to complete her tasks.
"Having people around you that you trust to help you when you need it is super, super important," Castellucci said. "Reaching out to people is not weak. It's very strong to do that because it's very hard to admit, 'Hey, I'm struggling; I need someone to talk to' … I feel like [that's] what's been helping me."
With this in mind, Castellucci wants to become a therapist and mental health advocate one day.
"I hope by that point, we're starting to get even more accepting of different mental health disorders and mental health issues and understanding that these things are not choices that people are dealing with," Castellucci said. "No one chooses to be depressed or chooses to be anxious all the time; these are things that happen to you, and it can be really scary … if you're not educated about it."
'Not as judgy as it used to be' 
Like Williams, the student representative to the Board of Visitors, Student Body President Jessani Collier posted an update from the Board of Visitors meeting on Nov. 18 to her Instagram and shared that the Counseling Center seeks to fill four new positions to "support the demand for mental health support." Additionally, the center is considering hiring an external contractor to provide support 24/7, Collier said in her post.
This information, combined with the center's ongoing overwhelm, suggests that many students are seeking mental health services which, according to its website, includes individual and group counseling, wilderness therapy, a Sexual Trauma Empowerment Program (STEP) and psychiatric services.
Castellucci said she's glad to see the Counseling Center's efforts to improve its services, calling it a "step in the right direction." Though she hasn't visited the center, she's heard from others that there's more work to be done.
"I know that there's a lot of people that have used certain services by JMU, [and] they don't feel that JMU really cares about students' mental health," Castellucci said. "I don't know if that's true, personally, because I have never experienced a situation like that … I do think we're getting better at actually having discussions about [mental health] and talking about it in a way that's more open and not as judgy as it used to be."
Assistant Director of Media Relations Ginny Cramer responded to Castellucci's comment by email.
"The health and wellbeing of students is always a priority for the University," Cramer said. "The culture of caring and looking out for each other that exists in the JMU community is one that we appreciate being an active part of."
Cramer then deferred to the Nov. 29 email sent to students by Vice President for Student Affairs Tim Miller, which outlined tips for physical and mental self-care as JMU approaches final exams.
Madison Cares is another mental health resource on campus available to students, and it's also seen an increase in demand and face-to-face meetings this semester with the return to an in-person atmosphere like the Counseling Center, though they are separate entities. Madison Cares acts as "an extended arm to students experiencing varying levels of social, emotional, academic, or mental-health stressors," according to its website. Community members — including students, family members or faculty — can submit a referral to Madison Cares if they're concerned about a particular student. It's not a therapy service, but it offers support, consultations and other resources to students and can refer them to the Counseling Center.
"We have increased our Madison Cares Network (which is made up of staff members who are trained to support the program)," Interim Dean of Students Gloria Mast said in an email. "We thankfully hired a new position this summer, a Coordinator who has been a huge help in addressing the increased demand."
The Rebound program, sponsored by Madison Cares, has increased its activity and encourages openness about mental health, striving to "create a culture that shares setbacks and failures," Mast said. Rebound produces a podcast with host Tim Miller for students, alumni and faculty to express themselves to the JMU community.
"If you have had or are experiencing struggles – no matter how big or small – you can listen to the stories of others, share your own story and enroll in the Rebound program," Mast wrote.
Castellucci said that while society in general has improved in destigmatizing mental health, it's still a large problem at the university and around the world.
"It's really, really important to understand it and know that it is a serious issue and it is something that can really affect people," Castellucci said. "Even though you don't see it on the outside, it's still there … You don't need to be in crisis for it to be taken seriously …  Even if you're just having a bad day, that's still a problem."
Castellucci, who talked emphatically with her hands and spoke with energy in her voice, said she wants to be a mental health advocate in the future. As the world continues to inch toward normalcy and Dukes hurtle toward final exams, Castellucci wants to impart encouragement to her community.
"You are so much stronger than you think you are and you should be proud of yourselves, being here and trying to succeed," Castellucci said. "I just want people to … understand that there's nothing wrong with you. You are human. You are a beautiful person. [You] might just need a little bit of help — and that's OK." 
Editor's Note: Luke Pineda sent a Letter to the Editor of The Breeze, which was published Sept. 29. At the time of the interview for this story, which took place Oct. 14, Pineda was not working for The Breeze. Pineda has since joined The Breeze as a contributing opinion writer after an Oct. 21 interview with The Breeze's opinion editor, Jacob Carter.
Contact Michael Russo at russomw@dukes.jmu.edu. For more on the culture, arts and lifestyle of the JMU and Harrisonburg communities, follow the culture desk on Twitter and Instagram @Breeze_Culture.