In the heart of downtown Harrisonburg, a thrift shop specializing in 1960s and '70s vintage clothing, accessories, houseware, knick-knacks and furniture can be found nestled in Agora Downtown Market. A hidden gem, Heartworn Vintage also branches into the '50s and '80s and is owned by mother-daughter duo Allie Motyka and Cathy Hurst.  
Hurst had been thrifting and antique hunting for 30 years, and when given the opportunity to open a shop in Harrisonburg's Agora Downtown Market in June 2017, she knew it'd be the perfect fit.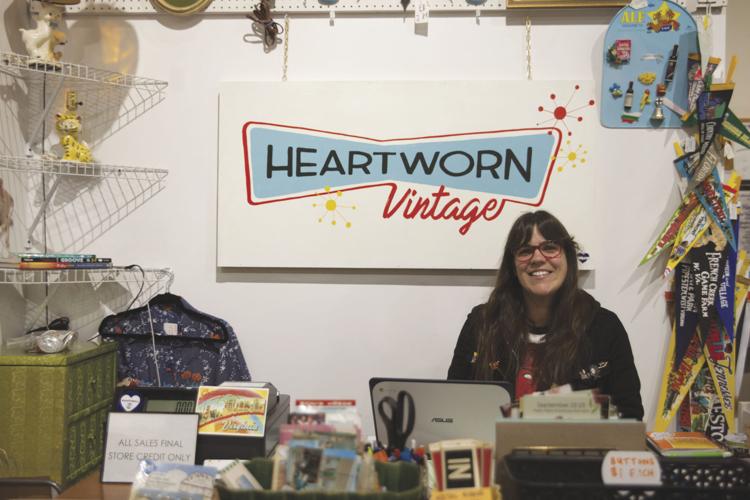 "We've been collecting for years," Hurst said. "We have a lot of things and decided to stop buying for a while unless we had a place to sell — we like to collect the same stuff we sell. It's nice to have a spot to cycle it all in and out."
Hurst has been selling antiques at the Antique Barn in the Shenandoah Heritage Market for about 20 years, but it's been a dream of hers since she was young to have a store of her own. The variety of vintage items the shop presents attracts a diverse audience.
"We have something for everybody — the clothing we have can be added to the style today or you can come in for costumes, music or gifts," Motyka said.
Growing up influenced by her mom's love for vintage items, Motyka found a passion for thrifting and treasure hunting, which she says is one of her favorite parts of the job. Their collection grew over the years through the Bowman Auction House down the road, local thrift stores, yard sales and flea markets.
Hurst and Motyka said even on vacation, they're looking for treasures for their own collection or to bring back to the shop. Hurst says they're "always on the hunt for new stuff," adding that she's traveled as far as Florida in search of vintage gems.  
"Everything we buy, we love," Hurst said. "I've held onto some of this stuff for a long time. I'm just now thinking to let some of it go, 'cause you can't keep it all." 
Through her years of collecting, Hurst has gained a knack for finding unique, eye-catching items to sell in her shop. These items collected by Hurst and Motyka for sale at Heartworn Vintage take customers back in time. 
"We want to make use of things that are already made rather than continuing to buy new," Motyka said. "You can bring life back into these items that have already been around for 50+ years."
Agora Downtown Market is located in the Wine Brothers Building, next to Clementine's and Ruby's. Hurst and Motyka's shop, along with a candy shop, coffee shop, art gallery and seven other small businesses, create a one-of-a-kind indoor market. The open, fair-style environment helps small businesses like Heartworn Vintage thrive and present their unique qualities.
"We're doing well because of the setting we're in," Hurst said. "With all these other businesses, you might get somebody that's coming in for coffee but ends up spotting something in one of the other stores just from passing by." 
Heartworn Vintage was one of the original shops in Agora along with the adjacent coffee shop, Broad Porch Coffee Co. Phil Duntemann, one of the owners of the coffee shop, met Motyka a few years ago and was later introduced to her mother before the opening of Agora in 2017. 
Duntemann says the goods in the shop are not only quality, but also items you can't find elsewhere. The close vicinity of the shops presents the opportunity for business owners to bond and get to know one another better.
"It's also fun. We all get lunch together," said Duntemann. "We get Taco Tuesday's and get like 30 tacos from Sabor A Mexico. It's fun and it works out business-wise, too."
Heartworn Vintage is one of the few vintage stores in Harrisonburg, and the diversity of the items sold is able to draw in an array of different customers. What makes this shop even more unique is the relationship the owners share. The mother-daughter duo brings a fresh take on vintage items that are no longer on shelves elsewhere.
"It's awesome to get to work alongside my mom in a business we both dreamed of running," Motyka said. "We both love what we do and can't believe we get to do it together."
Contact Maddie DiStefano at distefmd@dukes.jmu.edu. For more on the culture, arts and lifestyle of the JMU and Harrisonburg communities, follow the culture desk on Twitter @Breeze_Culture.