In March, a group of JMU students huddled in a library room, each one tearing up as they listened to the story of Zee AlKhater, an immigrant from Iraq who now lives in Harrisonburg.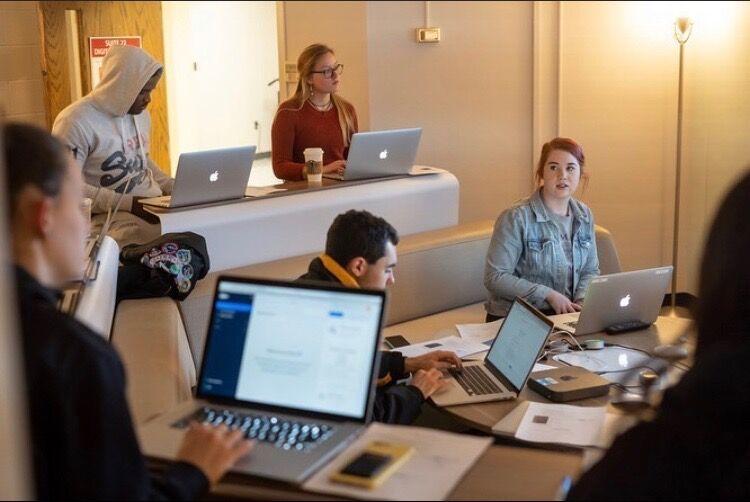 The students were working together in ENG 360, an English course that focuses on ethnic American literature. Their assignment throughout the semester was to document the stories of local immigrants in a podcast, which they titled "Harrisonburg 360."
Each student in the class filled out a form listing their strengths, skills and preferences between different roles in creating the podcast. Then, the class was split into several groups, each with three or four students with different assigned roles. 
Allison Fagan, who taught the class, wanted the students to learn about oral history, a large part of ethnic storytelling. Each group selected an oral history from the special collections at JMU libraries, then paired it with their assigned guest they interviewed for the podcast. Each group produced one episode for the four-part series, which is now available at the podcast's website and on Spotify.
Kelsey Liske, a junior English and public policy administration double major, was assigned to be the host of her group's episode. While someone else took the lead in interviewing AlKhater, Liske said the entire group engaged in the discussion. By the end, AlKhater's story had greatly affected each student.
"I didn't walk into that room with any expectations of what we might, like, information that we might receive from her, but she's an incredible person," Liske said. "In our interview, she had every single person in that room crying … I think we lucked out with having a person that was so willing to be open."
Liske said she still speaks with AlKhater, and the two have become close friends.
"Harrisonburg 360" elevates the narratives and uplifts the voices of local immigrants, seeking to spread awareness of many stories and experiences. Liske said she hopes the podcast can "open people's minds" about immigration and the people who go through that process.
Her group's purpose was to emphasize the humanity of immigrants, whom Liske said are too often talked about in percentages.
"The unemployment rate is this percentage because of immigrants," Liske said. "There is this percentage of nationalities in the United States … But, that really is void of the personality and humanity within each individual story that each individual immigrant has … and how unique those people are, aside from the percentage that they are a part of."
Fagan said her most memorable takeaway from the project was her students' excitement and engagement with the material. She said that when classes transitioned online, she wasn't sure if the project would still work, but the students were "all in."
"These students had developed such a desire to tell these stories and care and compassion and generosity of their time and effort to do this," Fagan said.
While she selected each group, found locals to be guests on the podcast and got the ball rolling for each team, Fagan said she stepped back and let the students run with the project. 
"They took complete ownership of the interview, as well as the creation of their individual podcast episodes. So, they're fully 100 percent produced by the students," Fagan said. "These students were amazing … They were engaged. They were committed. And, I think they produced something really wonderful."
She also stressed the importance of having students work with and be integrated into the Harrisonburg community. She said she tries to make sure the projects are a "two-way street," with students benefiting from the community and vice versa.
AlKhater, who's from Iraq and spent nine years in Syria before coming to the U.S., is now an American citizen and has lived in Harrisonburg for about four years. She said sharing her story on the podcast was difficult but worthwhile, and that she loves "to give a voice to those who don't have any." As a medical interpreter, she said many immigrants don't know English. She said she understands what they've been through and loves to help her community in any way she can. 
She also said she wishes people in Harrisonburg would have an open mind, welcome immigrants and newcomers and recognize their contributions to the community.
"Harrisonburg is, to me, a mix of two vibes," AlKhater said. "Some of them just see I'm just a tan or a different color and they treat me depending on that, and the others are just welcoming … the second group make[s] it really easy for me to stay here."
In addition, AlKhater also said she asks people to think for themselves when meeting someone new, rather than relying on news or politics to tell them what to think. 
"I believe you have a great mind; that you be the judge on how you treat the person in front of you," she said.
"Harrisonburg 360" emphasizes the importance of human connection and the unique power of each individual story. Corinne Martin, a sophomore double major in English and Native American history, culture and narratives — a major she constructed through the Independent Scholars Program — said she experienced a raw moment of human empathy.
Martin's role in the project was to interview the group's guest. She said one moment that stood out to her was during the interview as her group listened to AlKhater's story. At one point, AlKhater was talking about experiences that were particularly emotional for her. The group stopped its recording and paused to let her catch her breath.
"In that moment, you know, I reached over and held her hand … it was just this really powerful moment of just, like, human connection," Martin said. "[The] moment that really stood out to me was … having that moment with another human where you just, it's like, 'I see you. I hear you. I understand you.'"
Fagan said she hopes to continue the assignment in her future ENG 360 classes, which take place every spring. Each year, students in the class will create their own episodes with different immigrants living in Harrisonburg and add to the existing podcast. Liske and Martin said they both loved the project, and Martin said she hopes to remain involved with the podcast in the future if possible, or at least continue to listen to future installments. 
Martin also spoke to the importance of the podcast in a community that can seem homogeneous on the surface, especially to JMU students who may not interact with the Harrisonburg community on a regular basis. She referred to this as the "JMU bubble" and said many people can get stuck there.
"People can sometimes forget that Harrisonburg has this diverse community full of all these amazing cultures," Martin said. "I really encourage JMU students to … see this podcast as a way to, you know, kind of expand their perspective beyond just the JMU campus and kind of realize that there's a lot of diversity and a lot of rich cultures that are, you know, 10 minutes down the road."
Contact Charlotte Matherly at mathercg@dukes.jmu.edu. For more on the culture, arts and lifestyle of the JMU and Harrisonburg communities, follow the culture desk on Instagram and Twitter @Breeze_Culture.