While many students were still enjoying sleeping in and relaxing over winter break, the cast and crew of "Green Day's American Idiot" were back in business on Jan. 4. The hustle and bustle of music lessons, dance practice and running lines became their lives in preparation for the upcoming performance premiering at Forbes Center for the Performing Arts Feb. 19-23.
In 2004, Green Day, formed by lead singer and songwriter Billie Joe Armstrong and bassist Mike Dirnt, released its seventh studio album titled "American Idiot." It's known as a concept album that follows the Jesus of Suburbia, a young, rebellious teenager who lives in a lower-class environment. 
The themes of the album are based on contemporary political events and was written during a heightened time of digital mass media take over in American society. As the album grew in popularity, the band worked with director Michael Mayer to create a two-time Tony Award winning musical theatre adaption called "Green Day's American Idiot," which premiered on Broadway in 2010.
"When I saw 'American Idiot' on Broadway, it blew my brains out," Nancy Anderson, Broadway actress and guest director and choreographer of the show, said. "It was literally one of the top-three best things I've seen on Broadway in the past 10 years. I love this show and I have a lot to say about it and through it that in the rest of my work I wouldn't get to express."
The musical shares the stories of three young people, Johnny, Will and Tunny, who break out of their small-town lives to live an electrifying life in the city. Their plans soon go awry when a search for the meaning of life, love interests and addiction, among other obstacles, pull the trio in different directions.
Anderson said putting on any musical is like solving a series of problems, like being able to articulate the script in the way it's meant to come across. She describes the members of this show — 34 of which are students — as being able to see everything in 360 degrees because the training they've acquired at JMU has given them the flexibility and creativity to solve those problems.
A major task of this punk-rock show is devising the visual aspects of the set, lighting and music. Anderson, guest lighting designer Liz Coco, guest projections designer Eamonn Farrell and guest set designer Batul Rizvi were spread out across Virginia discussing concepts through a series of emails during the months prior to final rehearsals. They also coordinate with the School of Music's Dr. David Stringham and Kate Arecchi to incorporate a live orchestra of students to give this show the sound it needs to "blow the back doors off of the theater," as Anderson put it. 
"It's not until you can put all the puzzle pieces together that you can see what's really happening," Anderson said. "It's gorgeous and muscular and metal. It's just going to take big bites out of this theater. It's the musical for people who don't like musicals."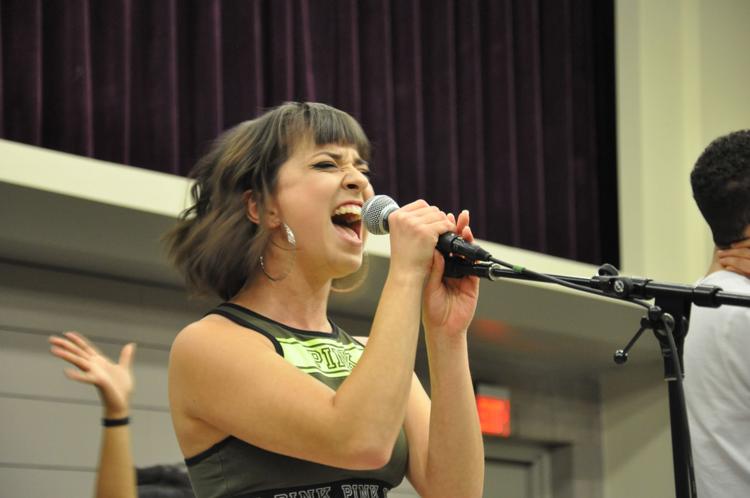 This is Anderson's first time directing and choreographing a full musical. She feels that with "Green Day's American Idiot," she's worked hard to give everyone's ideas a place. In her experience, Anderson says this scale of production is preparing students for what a professional Broadway production is like. 
"I think that this musical serves on so many levels," Anderson said. "It's going to be a rager of a rock show, it's emotionally very raw and very exposed and also intellectually provoking." 
The musical takes on heavy topics such as addiction — not only drug addiction, portrayed through characters like Johnny and St. Jimmy, but also an addiction to the rise of a fast-paced and media-driven environment. Sam Van Vleet, a senior musical theatre major, plays angsty and restless Johnny and mostly researched the struggles of the life of Billie Joe Armstrong to better understand his character.
"I have people in my own life who I've seen get torn down from addiction," Van Vleet said. "It really makes you take a step back and look at the people around you and your own life as well and really figure out how your own experiences with it can play into that character. You want to make sure you're doing justice to the people that have struggled with it."
An important part of playing Johnny is knowing how to play the guitar. Van Vleet says that it's been challenging to balance acting and singing while playing the guitar, but that practice makes perfect. He said the most rewarding part of being in this show is playing the music he loves and grew up on.
"This musical has an even more special place in my heart because the first time I ever performed in public, ever, I was in second grade and I sang 'Boulevard of Broken Dreams' at a talent show with no instrument," Van Vleet said. "Now, the fact that I'm doing the same song, actually playing guitar with an entire ensemble of people behind me and with an incredible band is surreal."
Another social issue is single parenthood, shown through the character of Heather, Will's girlfriend, played by Lexxi Frilles, a sophomore musical theatre major. Heather finds out she's pregnant and must tell Will, but the relationship becomes too much to handle when he has trouble connecting to her.
"For me personally as an actor, I'm like, 'How would I approach this if this was my life?'" Frilles said. "So it's interesting to think about as a 19-year-old, really, what in the world would I do if all of the sudden I was pregnant and that was going to change my entire life but also the lives of others?"
Frilles was a fan of Green Day before taking on this role, so she's found it helpful to have that building block to help her understand the characters better. She said she put time into getting to know Generation X in the early 2000s, particularly researching views on birth control and what the life of a teenage mother was like.
"Green Day was already writing music about what was happening in politics, and in the media," Frilles said. "For that to be turned into a story is really cool because we can all find our own stories that really, truly could've been anyone or multiple people."
If there's one message of the show Anderson wants audiences to take away from this show, it's that the search for meaning in life isn't easy, regardless of what media tells us. But if one keeps looking, it can be achieved.
"It's a fantastic sort of encapsulation of these last couple of generations and what we're struggling with," Anderson said.  I feel like there's a way in which this show can really help the audience look at their own lives in a different way and not be told just to be happy but to be interested in the struggle."
Contact Traci Rasdorf at rasdortl@dukes.jmu.edu. For more on the culture, arts and lifestyle of the JMU and Harrisonburg communities, follow the culture desk on Twitter @Breeze_Culture.