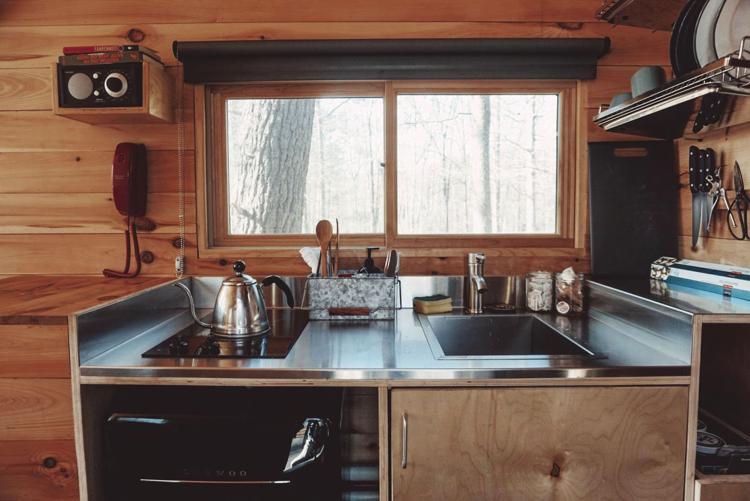 Our tires rolled across the gravel as we pulled up to the deep walnut colored cabin. We walked up the three steps to the cabin door after gathering our belongings. To the left read a sign that said "Hank," the name of the cabin we would be staying in for the weekend. We walked right into the kitchenette with the bathroom and bed just five feet away from us on either side.
I've known Therese since freshman year of college and knew both of us didn't do well without checking our Instagram and Twitter account's every few hours, so when she invited me on this trip I wasn't sure how the two of us would manage without cellular service. Whenever something happens in our lives, we both go right to our phones to share the news with our social media followers. But for this trip, we'd be spending our weekend in the woods with no technology.
Getaway offers an escape from reality. Two Harvard graduates created it so visitors could get in touch with nature, unplug and disconnect from their devices. Therese was asked by Getaway House to take pictures and promote the luxury cabins on her Instagram in exchange for a free nights stay. They have locations in New York, Atlanta, Boston, Los Angeles and Washington D.C. My experience with Getaway House was located in Stanardsville, Virginia.
Trying to maneuver our way through the cabin was difficult. There was minimal space to put our belongings because the entire cabin was around 140-200 square feet, complete with a queen sized bed, small kitchen table, kitchenette and full-sized bathroom. After placing our suitcases in the corner by the coat rack, we didn't notice them much because we stayed by the wall-sized window looking out into the tall trees surrounding our cabin next to the bed.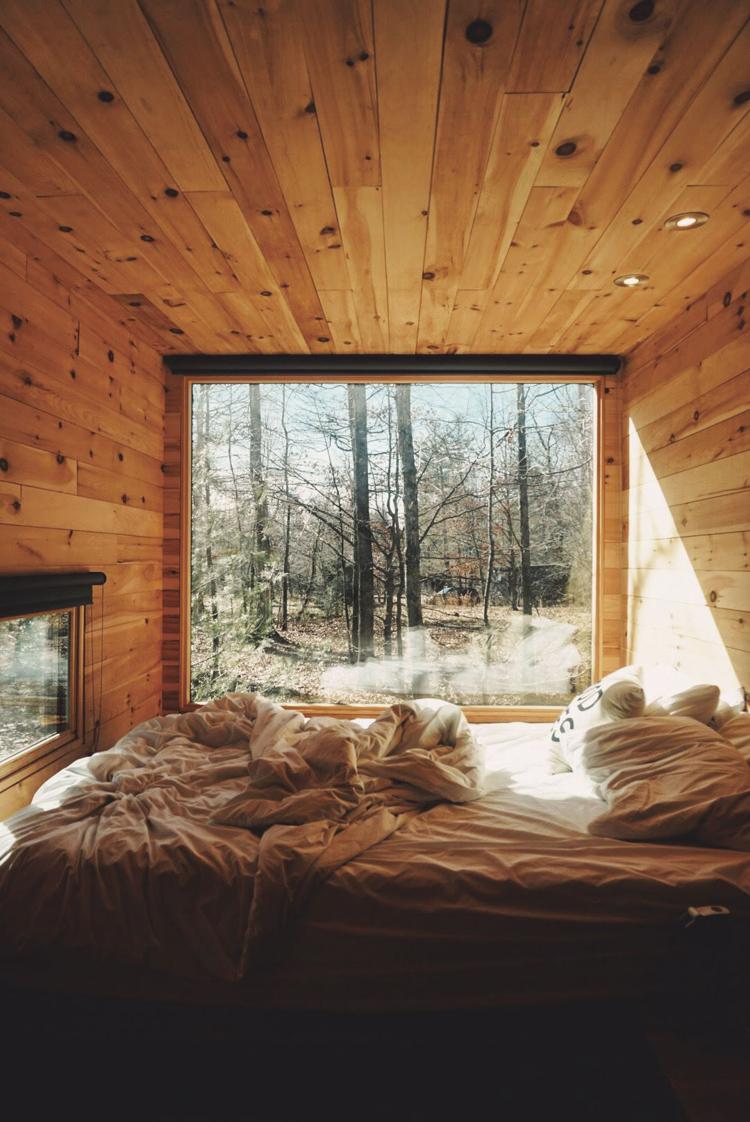 The outside of the cabin had a rustic feel and the trailer-like home was covered in a deep walnut shade of wood. Outside there was a small campfire area with adirondack chairs placed on all sides of the fire pit. Getaway provides firewood and matches to cozy up next to the fire on colder nights. Closer to the cabin, there was a picnic table for barbeques and meals with whomever one chooses to spend their getaway with.
Our next question after we unpacked was what do we do in the middle of the woods in our tiny cabin. Luckily, Therese brought games like backgammon, playing cards, checkers and other games I hadn't played since I was eight years old.
When all of the games were over, it was hard to not give into the temptation of looking at our phones, even with the little service we had. To ease the urge, we decided to take a walk while it was still light outside. There's something different about walking in the woods with no phone or technology. You're more inclined to pay attention to your surroundings.
As we walked, I could hear birds chirping back and forth, the leaves on the trees rustling as the wind blew and the crunching of sticks and leaves under our feet. Therese and I didn't talk. A calming sensation came over me as we walked and I felt no urges to reach in my pocket and pull out my phone. I was simply in the moment, embracing the beauty of nature.
The sun started going down and it was time to eat dinner. At this point, we'd eaten all of our snacks while playing games and weren't quite sure what we should do. In the drawers to the right of the sink in the kitchenette, we discovered food of all sorts—oatmeal, coffee, chocolate, graham crackers, marshmallows and chili. We decided on the pasta and red sauce and started cooking.
As we sat and ate our meals, it was nice to have a conversation with my friend instead of scrolling through social media, or texting people we weren't with. I was able to sit and listen to what Therese was saying and give her my full attention while she gave the same to me. She told me her plans to travel to Paris over spring break and her dreams of traveling all around Europe. I shared my goals for the future to move to Los Angeles when I'm older. There were no distractions, which was a welcome change from conversations we were used to having. We moved our conversation outside and started a campfire with the s'mores and fire supplies that Getaway also provided for us.
At bedtime, the woods around us started to get spooky. Outside was pitch black. No more seeing the trees or other cabins, just complete darkness. Therese and I started to get scared of bears coming up to the window, but after closing the blinds and listening to the sounds of owls and the wind blowing, we both realized what an amazing experience it was to be able to fall asleep surrounded by such tranquility.
I woke up to the sun shining through the wall to wall window next to our bed. The entire cabin was lit by sunlight casting onto the white comforter and through the kitchen. I sat up, stretched my arms and looked out the window at the nature. I took a deep breath and felt a sense of relief and relaxation that I have never felt before.
Contact Sarah Brown at brown9se@dukes.jmu.edu.