Since news of the coronavirus has surfaced, some shelves at grocery stores have been nearly empty. Non-perishables and canned foods are a few of the only items that have a place on the shelves or in the back of one's pantry. Instead of milling around, during these times of social distancing, try cooking one of the following recipes—which consist of mostly non-perishables—for oneself or one's family.
Chickpea and White Bean Hummus
This chickpea-based spread is simple to make and can easily be adjusted to fit one's taste. For a recipe with minimal ingredients, it's sure to be a crowd pleaser every time. It's a great snack or appetizer for one trying to cure their boredom while stuck at home. 
Ingredients:
1 can garbanzo beans (chickpeas), drained

1 can small white beans, drained

5 tablespoons tahini

4 cloves garlic, minced

1 lemon, juiced

1 teaspoon ground cumin

5 tablespoons olive oil

Salt
Instructions: 
Add the beans, tahini, lemon juice and cumin to a food processor. Then, add 3 tablespoons of olive oil, and pulse the mixture a few times until it becomes pasty. Add more olive oil (a tablespoon at a time), and pulse a few times until it's reached a desired consistency. Add salt to taste. Spread this hummus on a piece of bread, or use it as a dip for pita chips or vegetables. 
Creamy Canned Vegetable Soup
This simple soup can be an effective mood booster during this time. Using canned veggies and canned soup bases, there's essentially no prep for this hearty mix. After dumping all the ingredients in a pot, all one has to do is wait an hour, and they'll be ready to dig in.  
Ingredients: 
2 cans mixed vegetables, rinsed and drained

2 cans condensed cream of potato soup

1 can tomato soup

Salt, to taste

Pepper, to taste

1 teaspoon of Worcestershire sauce

4 cups of water

Optional: cilantro 
Instructions:
Combine all the ingredients in a large soup pot. Bring the pot to a boil. Let it simmer, and stir for one hour over low heat. One could also use 12 ounces of frozen mixed vegetables instead of canned. Serve immediately with a couple leaves of cilantro on top, if one desires.
Crock Pot Taco Soup
For a simple dinner idea, this soup is the perfect recipe. This meal is one that can be customized to one's taste. For example, if one doesn't like an ingredient on the list, it's easy to just take it and replace it with something else one prefers. Final touches such as sour cream, shredded cheese and tortilla chips make this soup even better.
Ingredients:
1 pound ground beef, chicken or turkey

1/2 of a white onion, diced

1 package of ranch dressing mix

1 package of taco seasoning

1 can Rotel Original

1 can stewed tomatoes

1 can black beans

1 can kidney beans

1 can corn

1/2 cup water

Optional: sour cream, shredded cheese and tortilla chips 
Instructions:
Add one's choice of meat and onions to the crockpot, and cook on high for about 30 minutes or until cooked all the way through. Break up the meat occasionally while it's cooking. Drain the fat from the meat, and then add the taco and ranch seasonings into the crockpot. Stir well enough to coat the meat with the seasoning, then add one-half cup of water, and let the mixture cook on high for another 30 minutes.  
Next, drain the liquid from all the canned food ingredients, and add them into the crockpot. Turn heat to low and stir, then let cook for four hours. Garnish with sour cream, cheese and tortilla chips. 
Baked Potato Soup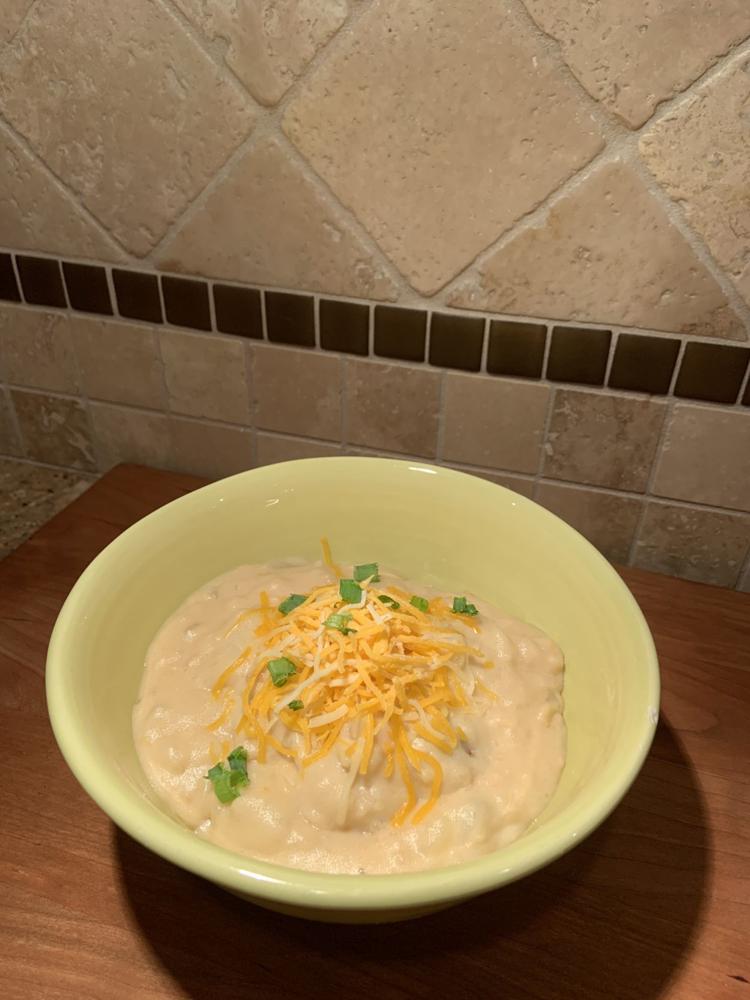 This effortless soup can be made in under 30 minutes. It's essential to prepare one's ingredients before you start to make cooking easier, so microwave the potatoes beforehand. When the weather is rainy and cold, this is the perfect soup to warm up.
Ingredients:
¼ cup butter

¼ cup chopped onion

¼ cup of all-purpose flour

1 can chicken broth

1 can evaporated milk

2 large baking potatoes, baked or microwaved

Optional: cooked and crumbled bacon, shredded cheddar cheese, sliced green onions
Instructions:
Melt butter in a large saucepan over medium heat, then add onion and stir occasionally for 1-2 minutes until tender. Then, add and stir in the flour. Gradually stir in the broth and evaporated milk. 
After the potatoes are baked or microwaved, scoop the pulp from one of the potatoes, but reserve the skin. Mash the potato pulp, then add it to the broth mixture. Stir occasionally while cooking over medium heat until the mixture comes to a boil. Dice the remaining potato skin and potato, and add to the soup. Heat through. 
Season the soup with salt and pepper. Optional step: top each serving with crumbled bacon, shredded cheddar cheese and green onions, if desired. 
Contact Madison Mills at millsmv@dukes.jmu.edu. For more on the culture, arts and lifestyle of the JMU and Harrisonburg communities, follow the culture desk on Twitter @Breeze_Culture.