When Ryan Cudahy and Tristan Schuler met in a history class their first year at JMU in 2013, they realized they had a common goal.
Cudahy said he'd dreamt of producing films his entire life, and Schuler said he'd composed soundtracks for films he couldn't create on his own. The two went on to work on various small-scale projects together in the years that followed, but when Schuler approached Cudahy in 2018 with an idea for a short film called "Mount Skylight," Cudahy recognized its potential.
"We were kind of just joking about it, and then [Cudahy] was like, 'No, I think we should actually make this and turn it into a script,'" Schuler said. "So then, we ended up making the short film."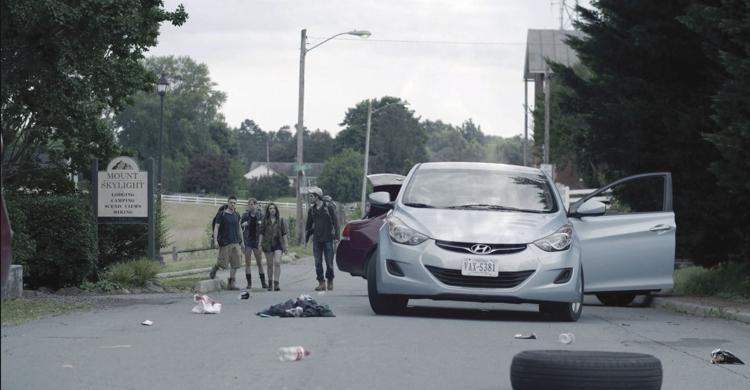 Shortly after its release, "Mount Skylight" was selected for the Apex Short Film & Music Video Festival in Tucson, Arizona, and DRAFT Fest in Derry, New Hampshire, where it garnered positive feedback. After receiving a grant from the Magic Lantern Theater in July 2019, the two decided to expand their concept into an independent feature film with Cudahy as the producer and Schuler as the writer and composer.
"People really enjoyed it," Cudahy said. "Their main focus of it [was] that they would like to see more of these characters."
The feature film of the same name will follow a group of recovering addicts who return from a hike in the mountains to discover that everyone in their town has vanished. They must figure out what happened and how to survive. 
"While the film is in part a thriller, it's also a metaphor for the abandonment that addicts and people struggling with mental illness face while they're attempting to recover," Cudahy said. "But more than that, it's about a simple question: 'What does it mean to be a good person?'"
Schuler said the film's idea came from a personal life event. He said that while he was on a family excursion, he encountered what he described as a strange town that later served as inspiration for the film's plot.
"I actually was hiking with my dad up in New York after climbing a mountain called Mount Skylight up in the Adirondack Mountains," Schuler said. "We got back from the hike, and we went to a town, and it seemed very desolate. That's the same idea [of] how [the film] starts."
To write a script that heavily features characters with mental illnesses, Schuler said the team did extensive research and even pulled from personal experiences to accurately portray the subject. Though the film could be difficult for some viewers to watch, writer and director Taylor McNelis ('16) said that's not the team's intention.
"It's something you want to handle delicately," McNelis said. "This isn't meant to cause a trigger for someone … It's more meant to give them a character on-screen to relate to."
A key emphasis of the film is that it'll be shot and produced entirely in Virginia by a Virginian cast and crew. A large part of the crew met during their time as media arts and design majors at JMU and feel that a "100% Virginia film" will benefit the state in multiple ways.
"I know so many people in [media arts and design] that want to stay in Virginia," McNelis said. "So, outside of stimulating the Virginia economy by turning it into a production hub, … we also want to showcase the talent that Virginia has to offer."
Cudahy said he hopes that by displaying Virginia's natural beauty and its local talent, the state legislature will be persuaded to increase film funding. He believes this could attract more production studios to the area.
"We're already in contact with a few delegates who are very interested in seeing what we're capable of, and we're hoping to make that happen," Cudahy said. "Film production greatly benefits the economy of Virginia, and we know that if we get this film made … the people of Virginia can read the charts on that."
"Mount Skylight" is still in pre-production, but filming is expected to start in the fall of this year. The team said it's currently conducting fundraisers in 38 independent cities in the state to cover production costs. Though most parts have been already cast, Cudahy said the team plans to reach out to JMU alumni and students for smaller roles.
For Cudahy, producing this film is a childhood dream come true. He said the most fulfilling part is seeing people enjoy his finished creation.
"I've been wanting to do this since I was four years old," Cudahy said. "At the end of the day, maybe I'm selfish, but I really enjoy people being able to sit down and watch what I've created. To do this on such a bigger level has been incredibly rewarding already, and I'm sure it will be rewarding for years to come." 
Contact Amy Needham at needhaal@dukes.jmu.edu. For more on the culture, arts and lifestyle of the JMU and Harrisonburg communities, follow the culture desk on Twitter @Breeze_Culture.