Thirty-three acres of woodlands allow for nothing to do but drinking a cold beer and enjoying the view of Loudoun County. However, these aren't Bear Chase Brewing Company's only distinctions.
Co-owners and JMU alumni Benj Farmery ('92) and Justin Rufo ('95) say their customer base keeps coming back for the brewery's scenic area, friendliness and love for all things JMU, being only two hours away from the university.
Bear Chase was originally intended to be a bed-and-breakfast or wedding venue, but Farmery said he and Rufo ran into some snags with the county, noting problems with the zoning attorney. 
Despite these challenges, Rufo never doubted Bear Chase would succeed with the knowledge he gained in the College of Business.
"I had a really strong intuition that the endeavor was going to be successful," Rufo said. "I had enough knowledge in the industry."
Once the attorney suggested a brewery because it had fewer limitations on what could be done on the land — along with fewer permits required — Farmery and Rufo took off to work on their new vision.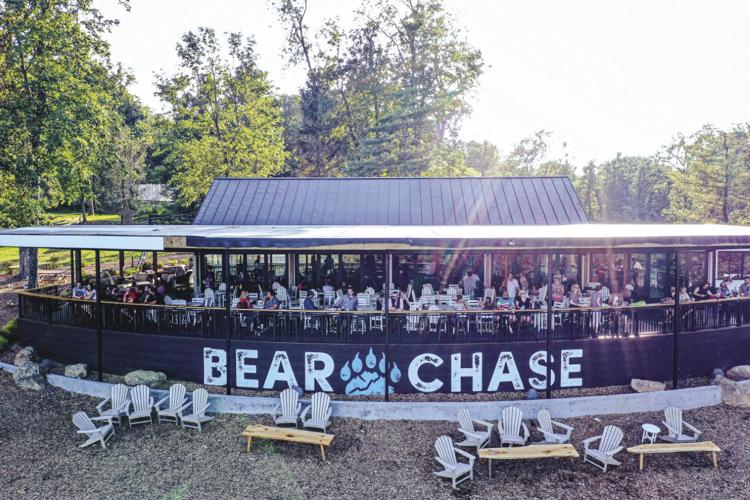 The brewery's name came from the previous landowners. After going through several names, the co-owners weren't satisfied and sought council from the widow they bought the land from for permission to use the original name.
"She was thrilled, saying, 'My husband would've loved this,'" Farmery said. 
With the name settled, work continued on the brewery and lodge. Close to the brewery's public opening, the team held a private event for 100 close friends and family. It quickly grew to around 350 people. 
"[It was] a bit of an eye-opener,"  Farmery said, "knowing that people would travel to support our businesses." 
The co-owners attribute this large turnout to their local ties and deep social networks from JMU and the Harrisonburg area through their primary jobs. Farmery works for Madison Hospitality, while Rufo is a technology sales executive for Federal Financials.
"I have a lot of deep relationships that were formed during my tenure at JMU that continue to this day to be rewarding to my life both professionally and personally" Rufo said.
Bear Chase's local ties also stem from farming. The brewery grows its own hops for a fresh local flavor, and it's expanding its orchards for new products in the future.
While many breweries have a specialty brew, all of Bear Chase's drinks are near-equals in popularity. Bear Chase always has 16 to 18 beers on tap, from blonde ale and lager to India Pale Ales (IPAs). 
Having been open for less than a year, general manager Chris Suarez says every day is a new challenge. 
"We're still trying to figure out who we are," Suarez said. "Every day, we come in and look at what we did yesterday and figure how we can do that better."
Suarez works with the rest of the staff to improve their products and branding. Along with the many popular beers, Bear Chase recently obtained licenses to serve ciders and wine, allowing them to expand to different palettes.
So far, the plan for the owners has been to improve themselves and keep their positive spirits. Farmery and Rufo's JMU roots keep them near the Harrisonburg area, and they're excited for JMU events. Suarez said he sees lots of JMU apparel on customers.
Rufo and Farmery believe the scenic venue gives families and local customers something to look forward to. Its friendly staff and proximity to JMU make Bear Chase feel like a home away from home for some, with the lodge helping to give a more literal sense to the feeling. The tasting areas keep everyone in close quarters, but just outside are plenty of seats for checking out views of the rolling hills and trees.
During Bear Chase's short existence, it's held some events that are near and dear to the owners' hearts, including wedding parties and reunions. The brewery has also held a firefighter's appreciation event where local firefighters came to the brewery, crafted their own beers and sold them for the proceeds to support several firehouses. Farmery is a fan of these and JMU-related events — such as an upcoming event to welcome Dukes back to JMU and simultaneously celebrate their one year anniversary on Sept. 7 — and preparations for JMU football to play on their televisions. The co-owners enjoy giving back to the college community.
"We have been blessed with a venue that draws a lot of people," Rufo said. "And we can do some good in some of these events where we're raising funds. It's really one of the most gratifying parts of our business, having the ability to do that."
ContactCaleb Barbachem at barbaccf@dukes.jmu.edu. For more on the culture, arts and lifestyle of the JMU and Harrisonburg communities, follow the culture desk on Twitter @Breeze_Culture.