There can never be enough Southern comfort in this world — especially when it comes to sweet Southern comfort food.
Just a few months after opening one of Harrisonburg's newest food trucks, Simmer Down has expanded to a brick-and-mortar building. Now, customers can stop by and enjoy Simmer Down's fried green tomatoes at the business' new location at Heritage Oaks Golf Course.
"It was a little bit of luck, a little bit of timing and it was the fact that we were ready to proceed to the next level so quickly," part-owner Mason Muschalek said.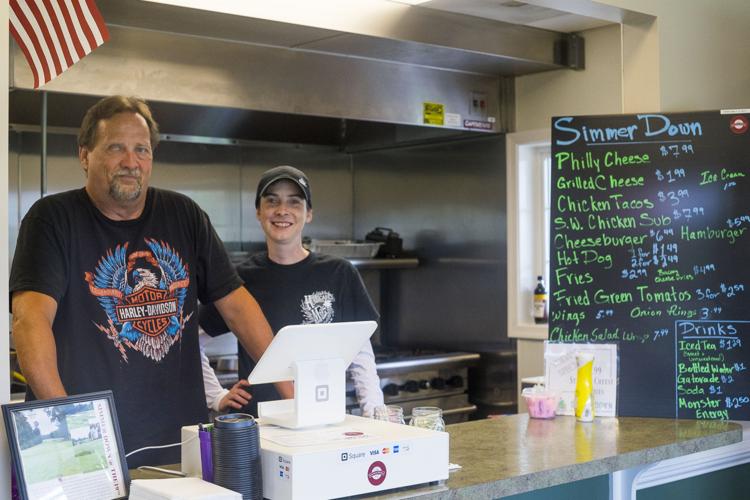 General manager William Randall took a leadership role in the deal and called it their "golden ticket." In early June, Heritage Oaks asked Simmer Down to bring the food truck to their golf course. Randall went to the site to talk with the managers and worked out a deal where Simmer Down could lease the golf course's available restaurant space and set up its second location. 
Opening a second location would be out of the question without a new investor coming in. That new investor just happened to be Muschalek's father, Pete Muschalek. After watching his son open Simmer Down food truck and witnessing how quickly it was able to expand, Pete was willing to invest. 
"I see it as a risk because I know the restaurant business is pretty tough, and I know that he's gonna have to pick up volume and sales to break even and start making money," Pete said. 
Pete wasn't just convinced to invest because a second location was opening — it was also because of how he felt after trying the food. For him, people would pay for good food. The first thing he tried was the meatloaf sandwich and loaded fries, which he thought was "tasty and unique."
Not only do the regular golfers who come to play at Heritage Oaks get to enjoy Simmer Down's grilling and home-cooked food, but so do people in nearby neighborhoods and golfers from out of town. 
Ryan Cherry, a golfer from Connecticut, recently played 50 rounds of golf in 50 states to raise awareness for the initiative Girls Golf Too. Heritage Oaks was stop No. 46. After completing his game, Cherry ordered a southwest chicken wrap, which Randall says is a fan-favorite dish.
"It was one of the best sandwiches I had on the whole trip," Cherry said. "I went to all 50 states this summer playing golf, and it was definitely top five, maybe even the best." 
Simmer Down Brick and Mortar: Photo Gallery
Most of the menu items are the same between the truck and the golf course location, including the meatloaf sandwich and philly cheesesteaks, but Heritage Oak's location offers a full kitchen that allows for daily specials that can only be made at this site. Mason and Randall have plans to adapt the space inside the golf course into a farm-to-table setting by November.
Simmer Down continuously uses locally-sourced produce and is working toward using all eco-friendly utensils. They're committed to giving back to the community and staying connected this way. Another way Mason is trying to be involved in the community is by being willing to sponsor clubs at JMU such as sports clubs, greek life and any other organization he could help, as well as continuing to give students a 10% discount just for showing their JACard.
Simmer Down's vision for the future is to keep expanding and keep its quality. Mason eventually wants to franchise the business. 
"I want to grow this brand that started in a small town in Virginia and have them all over the east coast and in Texas, where I'm from," Mason said. "I know it's big ambitions, but why not Simmer Down?"
Contact Jean Luther at lutherjm@dukes.jmu.edu. For more on the culture, arts and lifestyle of the JMU and Harrisonburg communities, follow the culture desk on Twitter @Breeze_Culture.