Any Duke who enjoys E-Hall's dairy-free ice cream or almond milk in their Java Cafe coffee has the Food For Thought club to thank. Not only does it offer information and a sense of community for students interested in vegan and vegetarian diets, but the club also engages in environmentalism and animal rights.
"A big thing we always say is that the only requirement for our club is to have an open mind," co-president and senior political science major Becca Sabean said. "You don't have to be vegan or vegetarian. If you're just curious and if you're open-minded, we'd love to have a conversation with you."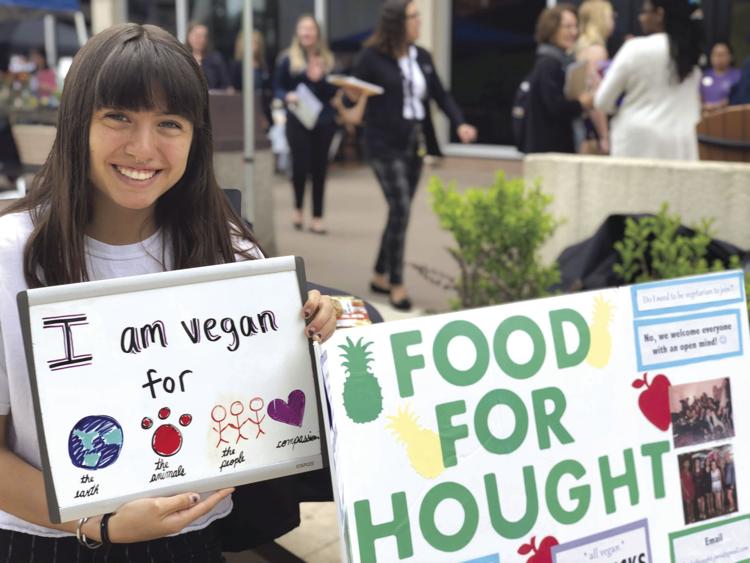 The club's leaders use their organization to provide a community for those who follow plant-based diets. They also want to help incorporate those dietary options into JMU dining. 
Sabean was prompted to cut meat and dairy from her diet when her ISAT professor, Eric Pappas, showed the video "Uprooting the Leading Causes of Death" in class. In this video, Michael Greger explains how the 15 leading causes of death are preventable by following a plant-based diet. 
After watching, Sabean's vegan journey snowballed. 
"It took a long time," Sabean said. "But I eventually just jumped in, and having that community at Food for Thought really helped me."
Many people initially begin a plant-based lifestyle for health reasons, but some stop eating animal products because they're against animal cruelty or the environmental impact of meat farming. 
"Initially, I did it for health reasons. I had done a lot of research on my own research on nutrition and read a lot of studies on meat and dairy consumption … After becoming vegan, I went into the other stuff, like the environmental factors and animal welfare and decided to stick with it," senior dietetics major and co-president Rachel Ellsmore said.
Food for Thought is aware of these ethics and is active in doing its part. Members volunteer with the Peaceful Fields  Sanctuary every semester and donate money  raised from fundraisers to them. Peaceful Fields is a vegan animal sanctuary located in Winchester, Virginia, that provides a home for animals in need. The members don't just change their diet for the environment, but they also make their habits sustainable. 
"When we do our potlucks, we try to bring our own plates and dishes and cups so we are not creating more waste in the community," Ellsmore said. "If we have social gatherings, we will tell everyone to bring their own cup rather than using a red Solo Cup." 
The club also collaborates with local businesses like Bring Your Own, a company that creates reusable and non-disposable products such as bamboo utensils. They've had the owner speak at their meetings and advertise some of her products.
Food For Thought is influential in the decision-making for vegetarian and vegan options in JMU's dining facilities. The club meets with dining services every semester and works directly with dieticians and those in charge of sustainability to implement change and give feedback. Last year, it was able to get dairy-free milk in dining halls, and for the past two years, E-Hall has hosted vegetarian and vegan events every semester. JMU dining allows the club to set up tables, hand out flyers and hang posters with information about vegetarian and vegan alternatives.
"Last year, a lot of the policies in Harrisonburg changed on recycling, so I think we're trying to push more sustainability and sustainable ways of how the dining halls run with reusable containers and things like that," Sabean said.
For Dukes who are interested in veganism or vegetarianism, senior public policy and administration major Colin Turner suggests using the JMU dining website for assistance on where to eat on campus as well as joining Food For Thought.
"We're an inclusive group open to hear different perspectives and mindsets," Turner said.
Contact Sarah Connor at connorse@dukes.jmu.edu. For more on the culture, arts and lifestyle of the JMU and Harrisonburg communities, follow the culture desk on Twitter @Breeze_Culture.