Some may want to adopt a vegan lifestyle, but the hustle and bustle of normal life might get in the way. For example, some may feel there's never enough time or don't know where to start when it comes to healthy eating. Since many people are still social distancing and the summer months tend to be less busy, this unusual time may be an opportunity for aspiring vegans to learn about the lifestyle and what it entails.
Finding vegan recipes to practice now can save time and anxiety later. One can have recipe ideas and a plan in place for when life inevitably returns to its normal pace. For those who want to get started on a path to healthier eating this summer, here are five easy and delicious vegan recipes.
This hearty, flavorful vegan pasta is quick and easy — it makes the perfect weeknight dinner. Flavored with sundried tomatoes and Italian herbs, this pasta only takes 30 minutes to make and can be saved in the fridge as a delicious leftover option throughout a busy week.
Ingredients:
1 red onion, sliced

1 green onion, chopped

2 garlic cloves, minced

1 tablespoon olive oil

2 large tomatoes, diced

1/2 cup walnuts, chopped

2 teaspoons sun dried tomato paste

2 teaspoons tomato paste

1/2 teaspoon Italian seasoning

1/2 teaspoon sea salt

handful fresh basil leaves

2 pitted Medjool dates, chopped

6 ounces dried regular or gluten-free spaghetti or pasta of choice

Cherry tomatoes, halved, for garnish 
Instructions:
Saute the red onion, green onion and garlic in oil for five minutes. Add the tomatoes, walnuts, the tomato pastes, Italian herbs,  salt and cook for five more minutes. Remove from heat and add the fresh basil. Then, add the cooked ingredients and the Medjool dates to a food processor or blender and pulse to the desired consistency. Add the sauce to the cooked pasta, then top it off with fresh basil and cherry tomatoes and enjoy.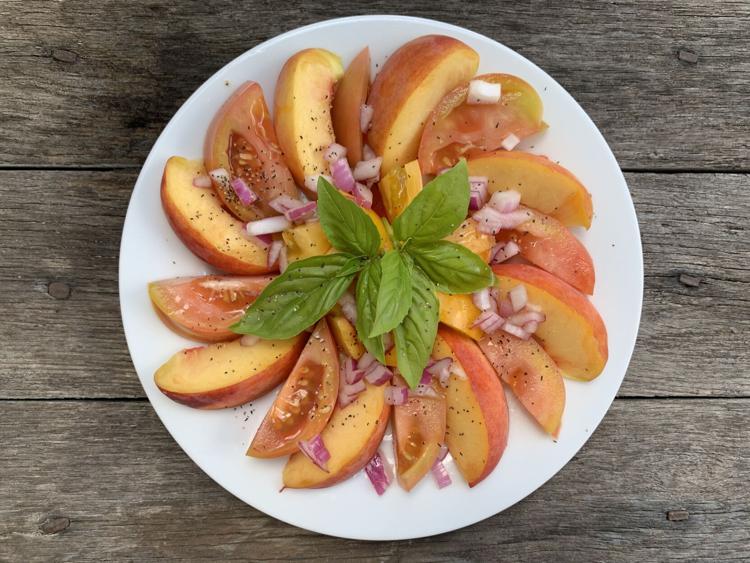 This flavorful summer salad is refreshingly tasty. With peaches, red wine vinegar and juicy heirloom tomatoes, this salad can be a wonderful weekend treat or simply a healthy, delicious snack. 
Ingredients:
½ small red onion, thinly sliced

1 tablespoon red wine vinegar

1 pound heirloom tomatoes (or 2-3 medium-sized)

1 pound yellow peaches or nectarines (or 3-4 medium-sized)

2 tablespoons olive oil

¼ cup fresh basil leaves

2 ounces feta cheese, crumbled

Salt and pepper, to taste 
Instructions:
Combine the onion, red wine vinegar and ¼ teaspoon of salt and let the mixture sit for a few minutes. Then, cut the tomatoes and peaches and arrange them on the plate. Stir the oil into the onion and vinegar mixture, then drizzle on top of the fruit. Garnish with fresh basil, crumbled feta and cracked black pepper. 
Chef's note: Substitute balsamic vinegar in place of the red wine vinegar for an extra pop of acidity and flavor. One can leave off the feta cheese to make the salad completely vegan, but the chef could use a vegan feta "cheese" as well.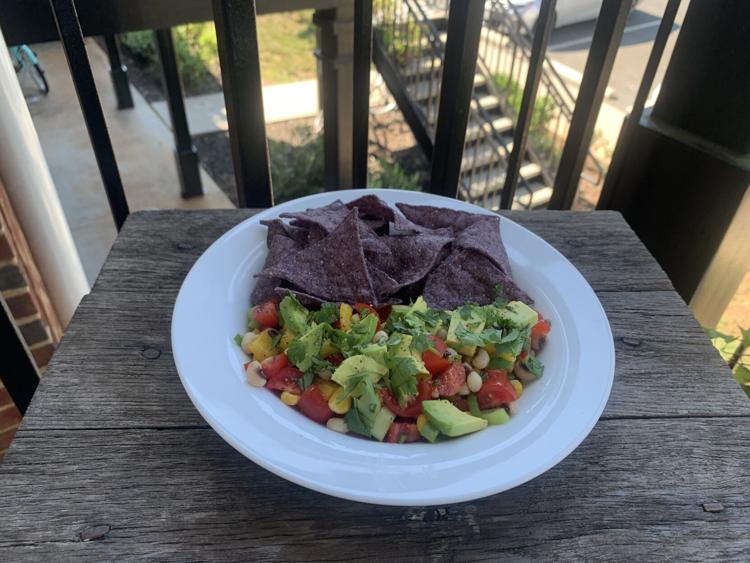 Fresh corn and tomatoes combined with black-eyed peas and avocado create a tasty vegan "caviar" that can be used as an appetizer or served for company. The lime juice and jalapeno create a slightly spicy kick and add to the salsa's fresh flavor.
Ingredients:
⅓ cup lime juice

1 tablespoon olive oil

½ clove garlic, grated

1 15-ounce can black-eyed peas, rinsed

½ pound campari or plum tomatoes, cut into ¼-inch pieces

2 scallions, chopped

1 yellow pepper, finely chopped

1 large jalapeno, finely chopped

1 cup fresh corn kernels

1 avocado, diced

½ cup fresh cilantro, chopped

Salt and pepper, to taste

Chips of choice, for serving
Instructions:
Whisk together the lime juice, oil, garlic, salt and pepper. Then, toss the dressing with the remaining ingredients and top with avocado and cilantro and serve with chips.
Chef's note: This dish can be served immediately, but the chef can choose to refrigerate the "caviar" and let sit for at least 30 minutes to let the flavors combine and intensify.
These hearty black bean burgers are an easy meal and a perfect dinner at the end of a busy day. The recipe uses flaxseed in place of an egg and a combination of smoky spices, making these vegan burgers taste just like the real deal. 
Ingredients:
1 tablespoon ground flaxseed and 3 tablespoons water

1 15-ounce can black beans, drained and rinsed

½ medium avocado

2 teaspoons lemon juice

½ cup corn

½ cup chopped cilantro

⅓ cup chopped onion

¾ cup oat flour

2 tablespoons nutritional yeast (optional)

1 teaspoon cumin

½ teaspoon salt

½ teaspoon garlic powder

½ teaspoon chili powder

½ teaspoon smoked paprika

¼ teaspoon cayenne pepper
Instructions:
Mix the flaxseed and water and set aside to let it thicken, creating a "flax egg." Mash the beans and avocado in a bowl, leaving some beans whole. Add the remaining ingredients and stir to combine. Form into four patties, then bake for 40 minutes at 375 degrees, flipping the burgers halfway through. 
Chef's note: This chef didn't use the optional nutritional yeast. The flaxseed and water create the consistency of an egg, but if one uses an egg instead, the burgers will turn out just as well. 
Nothing says "summer" like lemon cake. This vegan version is moist and spongy, topped with an optional — but delicious — vegan lemon buttercream frosting. The baker can make one smaller cake or add a layer of frosting between the two cakes to make a decadent dessert. This cake is an ideal vegan alternative for anyone craving a special treat. 
Lemon cake ingredients:
1 cup almond flour

½ cup brown rice flour

½ cup oat flour

¼ cup arrowroot

¾ cup coconut sugar (or date sugar)

1 teaspoon baking powder

1 teaspoon baking soda

1 pinch sea salt

2 tablespoons poppy seeds

1 lemon, zest

2 tablespoons ground flaxseed and 6 tablespoons water

⅓ cup olive oil

½ cup and 2 tablespoons almond milk (or other non-dairy milk)

1 tablespoon lemon juice

1 teaspoon vanilla extract
Lemon buttercream frosting ingredients (from Tanya Matherly):
¼ cup vegan butter

1 teaspoon vanilla extract

1 ½ teaspoons lemon zest

2 ¼ teaspoons lemon juice

1 ⅓ cups confectioner's sugar

1 pinch of salt, to taste 
Instructions:
Mix the flaxseed and water and set aside to let it thicken. In a bowl, whisk together dry ingredients, then add the poppy seeds and lemon zest and mix. Then, mix together the wet ingredients and pour into the dry ingredients, whisking together until smooth. Bake in a cake pan for 45 minutes at 350 degrees. For the frosting, cream the vegan butter, vanilla and lemon zest with an electric mixer on medium speed for 1-2 minutes until smooth. Add lemon juice and mix, then gradually add the sugar. Beat on medium speed for 3-4 minutes until frosting is thick and smooth, then add salt and mix until combined.
Baker's note: While Nirvana Cakery offers a recipe for a coconut and maple syrup frosting, this baker prefers a lemon buttercream frosting, a family recipe from Tanya Matherly.
Cooking can be a fun and productive way to enjoy summer vacation or make use of extra time on one's hands. Learning new recipes now can also help aspiring or struggling vegans to sustain a healthy diet once returning to work and school. One can even spend time with family, in person or over a Zoom or FaceTime call, and try new recipes, working toward a healthier lifestyle together. 
Contact Charlotte Matherly at mathercg@dukes.jmu.edu. For more on the culture, arts and lifestyle of the JMU and Harrisonburg communities, follow the culture desk on Twitter and Instagram @Breeze_Culture.