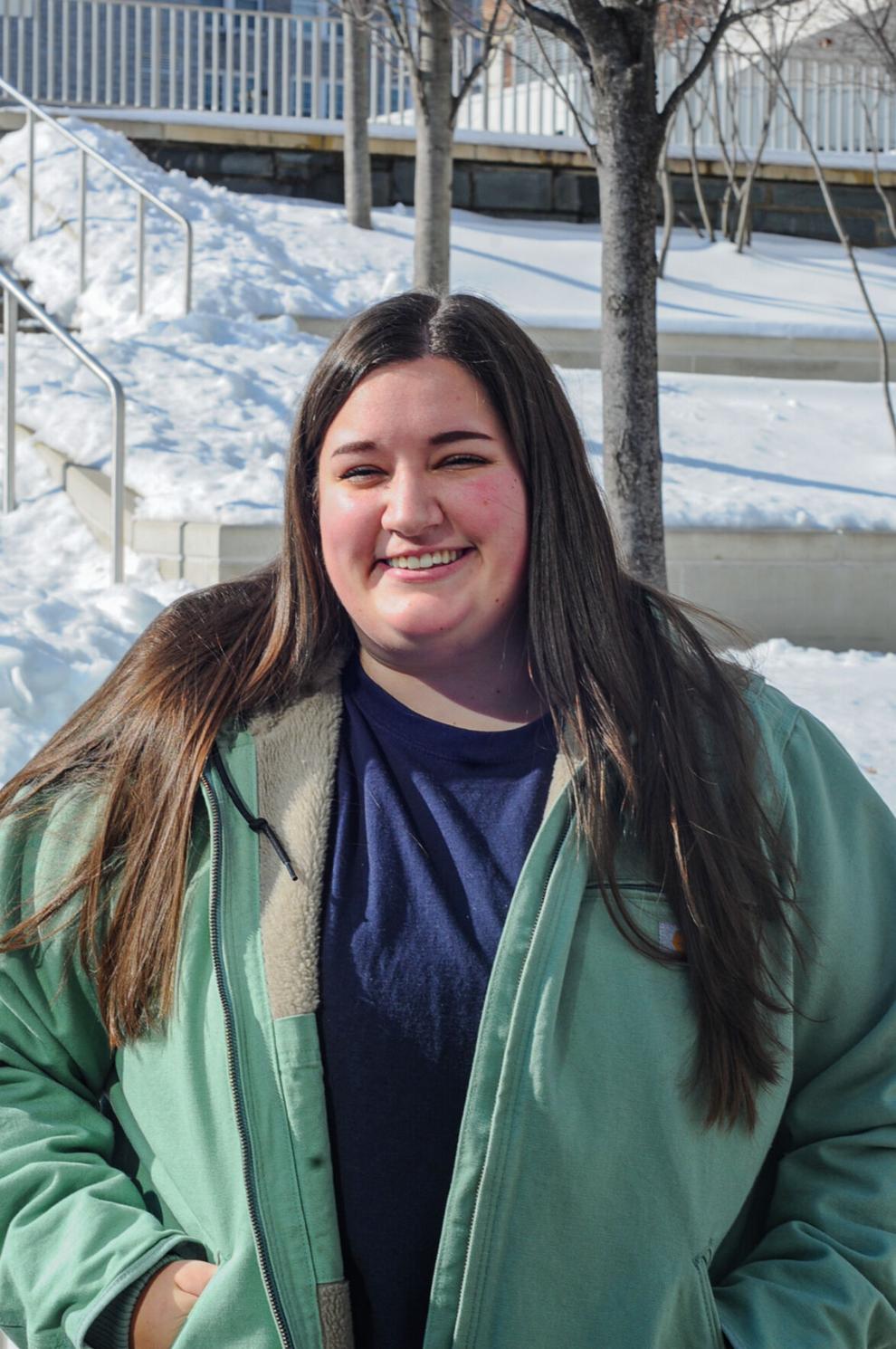 Kaylee Mills is a first-generation college student, meaning neither of her parents have completed a four-year college or university degree. First-generation college students face one collective, familiar challenge: not having a family member with firsthand experience to help them along the way. 
"It was kind of like going in blind," Mills, a senior, said. "I had to just figure out a lot of things for myself and learn to not be afraid to ask questions because I was so scared to talk to anybody or raise my hand."
'Like a shot in the dark'
At JMU, being a first-gen student isn't uncommon. According to a February 2021 first-year student survey collected by JMU, 12% of freshmen in 2020 — about 512 — identified themselves as first-generation college students. For many of them, several of those students said, getting a higher education is an opportunity their parents weren't given. For senior Hanna Maranzatto, her mother encouraged her to pursue collegiate education throughout her entire childhood. 
"She raised three great students, and I chose to go to college with her full support," Maranzatto said.
Maranzatto said her father was born in "very unfortunate circumstances" and only received up to a third grade education. He immigrated to America from Brazil when he was 21 to find a job, as Maranzatto said his family was poor and didn't receive much support. 
Maranzatto's mother attended some nursing school but was discouraged by her father from attending any university; he felt it wasn't right for her to pursue a higher education, Maranzatto said. She said these experiences motivated her parents to encourage her and her siblings to go to college. 
"Growing up, they kind of just wanted me and my siblings to have an easier life than they did," Maranzatto said. "They didn't push us to do academics or anything in particular. They just wanted a bachelor's degree." 
Although her older brother was the first in the family to attend college, Maranzatto said she still struggled with applying to universities because her brother lived away from home. Her mother would try to help, but Maranzatto said she was mostly on her own when it came to deciding where she wanted to go and what she wanted to do. 
"It was a lot of just figuring it out by myself," Maranzatto said. "It was kind of like a shot in the dark with most of my schools, applying to places I'd never visited and hoping I'd get in." 
Maranzatto said she chose JMU because of its music program, and she found it a great place to study the bassoon. When Maranzatto got accepted, she said it wasn't a big surprise to her and her family, but the happiness was still felt. 
"It was kind of an expectation at that point that I was going to get in and go to school," Maranzatto said. "It was just kind of a relief for all of us."
The summer before she came to JMU, Maranzatto said, she started to understand the struggles many first-generation students may face. Because she was traveling with a band all summer and didn't have access to the internet, she was unable to register for classes for the upcoming semester. Maranzatto said she had no idea that students were supposed to enroll in classes before school started, so when she came to JMU, she felt everyone except her knew what they were doing. 
"A lot of people have someone to lean back on at home," Maranzatto said. "I just kind of felt like I was the only person that didn't know what was going on most of the time."
Although she faced her own fair share of struggles, Maranzatto said her older brother had it the hardest trying to navigate college life, as he was the first in the family to do so. However, his experience enabled him to give her advice, and she received some help from friends who were already attending JMU. Once she was part of the music program, she said, older students helped her register for the classes she needed and taught her how to manage her time. 
Set to graduate this spring, Maranzatto's currently applying to graduate schools, where she wants to achieve a master's in music performance and possibly a Ph.D. in musicology. She said being a first-generation college student has made her place more value on education and realize how hard her parents have worked. 
"For me, it's kind of like, I'm the child of two truck drivers," Maranzatto said. "Nobody ever expected much out of me."
A helping hand
For future first-generation college students, JMU offers resources such as the Valley Scholars program, which aims to help financially eligible students who show academic promise throughout middle and high school. The program partners with school districts around the area and allows students who apply to begin "educational and cultural enrichment" opportunities from eighth grade onward. 
The Arts and Letters Opportunity Fund is a scholarship created in 2019 by the College of Arts and Letters to support historically underrepresented students, first-generation students and those from modest means. The scholarship provides $5,000 annually over four years. First-generation college students can also be supported through JMU's Ole School Alumni scholarship group. The group was founded by three African American JMU alumni who graduated in the 1980s, and it's dedicated to supporting current African American students at JMU, some of whom are first-generation college students. 
The Centennials Scholar program is another way first-generation college students can receive support from JMU — it aims to provide financial assistance and academic support for underrepresented students. Mills is part of the program and has a scholarship adviser, as well as mentors to help guide her throughout her college journey as a first-generation student. They helped her locate buildings, use the libraries and choose a meal plan. 
"My scholarship adviser was kind of my rock through it all," Mills said. "During my freshman year, I had no clue as to what I was doing and didn't know how any of it worked."
Like many other first-generation college students, Mills said she was unsure of how the whole process of college worked. Her mother, who worked at the JMU bookstore, asked college students who worked around her for advice that Mills could benefit from. Mills said this, as well as learning to go through the process on her own, made her feel that her college experience differs from students who have had older family members pursue a higher education.
As current high school seniors are applying or waiting to hear back from colleges, a whole new wave of first-generation college students are beginning their journey with higher education. Jada Mendez, a senior at John Champe High School in Loudoun County, Virginia, said she didn't know what steps to take when applying for colleges since her father went into the military and her mother earned a General Educational Development (GED) certification. 
"Something that helped me, especially through my junior and senior year, is setting goals for myself," Mendez said. "I didn't have much guidance, so I had to guide myself, basically."
Mendez said her biggest challenge while applying has been deadlines for applications, scholarships and other programs. She said her guidance counselor has been a helpful source for her while navigating these deadlines, providing her with a list of scholarships she could apply for. So far, she's been accepted into most of her "safety" schools, which have given her scholarship money. One of these schools, Emory & Henry College, already offered Mendez $23,000 in scholarship money.
"I feel like [being a first-generation student] is going to impact me because I'm setting the role for my siblings," Mendez said. "I'm also going to be the first one to go to school with a scholarship, and I feel like it's gonna set a model." 
At the University of Virginia, one of Mendez's top schools, a new scholarship program called the Walentas Scholars program covers the entire cost of attending the university, which includes tuition and fees, room, board, books and spending money for eight semesters. Mendez said JMU and U.Va. are her top two schools due to the latter's scholarship program that she's applied to — which she's currently waiting to hear back from. 
"It's really nice because it's like I get this title [of being a first-generation college student], and it's something I could put on my resume," Mendez said, "but it's also been challenging."
Mendez said she's currently undecided on which major she'd like to pursue but she's narrowed it down to either psychology, communications or kinesiology. However, running track and field has been a motivation while applying. 
"[Running] has been one of the things I've always wanted to do in college, but running isn't going to be there forever," Mendez said. "You've gotta consider what's gonna last and what's not, but I figured if I get an education, at least if something happens then I can go do something else." 
'I was leading the way'
Mark Siciliano ('84) said being a first-generation college student meant more to his parents than to himself at the time. His mother wasn't a U.S. citizen and didn't go to college, while his father worked in a factory for 30 years with an eighth grade education. 
"I was one of six children, the first to ever go to school," Siciliano said. "My father thought that was a way out if I was able to get to school."
After receiving his degree in finance and accounting, Siciliano said he made the decision to attend college with the help of one of his mother's friends who encouraged him to go to a private school in Connecticut during his high school years.
"[That's] where I learned the value of an education and what there was on the other side," Siciliano said. "[My family was] hoping that this would open up an opportunity."
Although his family was elated when he was accepted into JMU, Siciliano said there was also a sense of sadness that he was leaving. He said that when he first got to college, he felt both fear and embarrassment because he thought he was saying and doing things that weren't "typical" of a college student. 
"I didn't know what was acceptable," Siciliano said. "I was leading the way, and I had a lot of responsibility to prove to everyone that I was going to school." 
Siciliano said he was helped by Brad Babcock at JMU, the baseball coach at the time who recruited Siciliano for the team, as well as Glenda Rooney, wife of the then-band director. Both Babcock and Rooney gave Siciliano advice on interview techniques and how to write a resume, among other tidbits. 
"I was the luckiest guy," Siciliano said. "I was lucky because it was one of the administrators from the university and a coach."
After graduation, Siciliano went on to be an accountant at Price Waterhouse in Washington, D.C., later continuing his profession in Harrisonburg. Siciliano then worked as a professor of accounting at JMU during the '90s and later interviewed for a job with Oracle, a computer software company based in San Francisco. He's worked there for 25 years while still living in Harrisonburg. 
Siciliano said he recognized that the opportunity being a first-generation student provided him was crucial, and he didn't want to take it for granted. He said getting a college education was a special gift, a view he tries to instill in both of his children. His advice for current and future first-generation college students is to not be restricted to what they think a degree is. 
"You can create your own degree," Siciliano said. "I think more than anything, you can create experience within your major that allows you to get the most out of it."
Out of the comfort zone
Growing up, Mills said, pursuing a higher education meant not working as hard as she saw her family work — taking multiple jobs to make ends meet. Her father didn't graduate high school, and her mother had children as a teenager. 
"I knew it would actually give me some stepping stones to not having to struggle like they did," Mills said. "I was the only one who ever really had the opportunity." 
When she was accepted into JMU, Mills said her family was "losing their minds" and made a big deal about it because she was the first of her parents and siblings to attend college. After graduation this coming May, Mills said she wants to be a child life specialist. She said being a first-generation student has helped her get out of her comfort zone. 
"It's definitely helped me grow in ways that I didn't realize that I had to do it on my own," Mills said. "I think people benefit from [being a first-generation student] to be honest because it makes it harder on you at first, but then you become really independent."
As for current and future first-generation college students, Mills has one piece of advice: Don't underestimate yourself. 
"Don't think that you can't do it because nobody else in your family ever has," Mills said. "You just have to be able to make yourself take the step."
Contact Kylee Toland at tolandkm@dukes.jmu.edu. For more on the culture, arts and lifestyle of the JMU and Harrisonburg communities, follow the culture desk on Twitter and Instagram @Breeze_Culture.