Sounds of computer keys tapping, mouses clicking and drones whirring echo through the Integrated Science and Technology building. Inside classrooms, groups of high school and middle school girls gather to learn about computer science. Led by JMU students, participants engage in sessions where they're taught to design, program and code.
The event is called D.I.G.I.T.A.L., which stands for Dukes Inspire Girls Into Technology Across Limits. Run by Women in Technology at JMU, D.I.G.I.T.A.L. provides an opportunity for girls in grades 6-12 from the Harrisonburg community to participate in technology-based activities.
Members of WIT hope that participation in the event will empower girls to study STEM when they go to college. A majority of professionals in the Science, Technology, Engineering and Math, or STEM, fields are male. D.I.G.I.T.A.L. aims to break that construct, encouraging young women to pursue careers in technology such as computer science, engineering and computer information systems.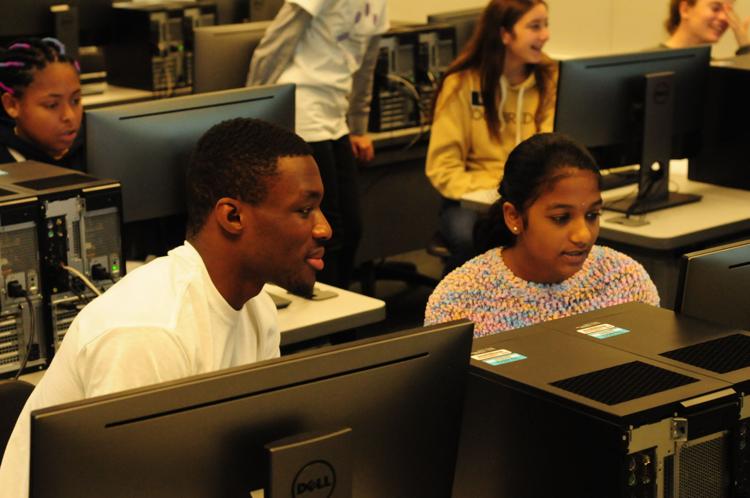 Jenna Horrall, a junior computer science major, circles a room full of young women using tablets, pausing every few minutes to offer advice. In this class, she teaches them to program a mobile app using an online computer programming platform called the MIT App Inventor.
As the conference chair for WIT, it's her responsibility to plan and organize D.I.G.I.T.A.L. Horrall said the event exposes young women to technology that they may not have the opportunity to experience at home or at school. 
While being introduced to new concepts such as computer hacking, drone operation and online coding, participants are encouraged to explore different aspects of technology. Horrall said she wants girls to develop personal interests in technology based on what they learn at D.I.G.I.T.A.L. After attending her session, some participants approached Horrall and asked if they could use the MIT App inventor at home to practice programming on their own.
"I wanted to inspire young people," Horrall said. "Because technology is just such a great field to be in, and I feel like it's lacking females. There's so much creative and technological talent that's missing from the field."
WIT hosts D.I.G.I.T.A.L. every fall semester, but the club remains active throughout the year. Composed of both male and female members from a variety of majors, WIT creates a community of students who want to encourage female growth in STEM. 
Dee Weikle, a computer science professor at JMU, oversees WIT as the club's faculty adviser. She said it began over seven years ago as an organization for women to talk about what it meant and what it felt like to be a woman in STEM. As the faculty adviser, Weikle said that interacting and mentoring the club members is the best part about being involved with WIT.
Weikle said there aren't as many women studying technology as men at JMU. In her last survey of students in introductory computer science classes, Weikle said that only 17% of the students were female.
"We can feel isolated," Weikle said. "I think that having a group where we can come and get together and talk to each other and support each other really makes a big difference."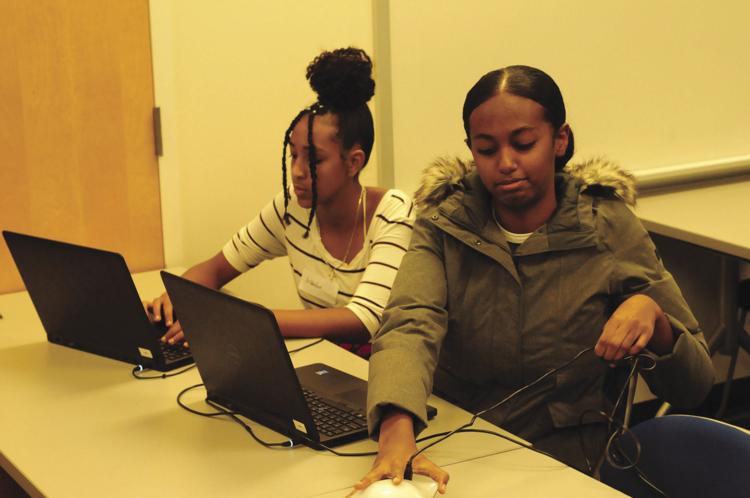 Weikle said that gender disparities exist in male-dominated fields like STEM that prevent women from being seen or treated as equals. Weikle added that microaggressions — subtle acts of prejudice against minorities — can lead to a woman's input being overlooked.
Weikle said that most people working in STEM want women in the workplace, but they're often unaware of their biases. Through WIT, women and men can become better equipped to handle gender dynamics in professional settings.
Club President Mandy Pearce, a senior computer science major, joined WIT her freshman year. She said that at times she's been the only girl in her classes, which made it difficult for her to form female friendships in her major. Involvement with WIT helped her find a community of women in STEM.
"Women are a minority in the technology field, and right now, we need a lot of diversity in technology," Pearce said. "Our mission is to encourage women into technology, empowering them and giving them a community where they can reach out to other women for help or friendship."
In a field comprised mostly of men, Pearce said that it can be hard to fit in. Through WIT, women in STEM at JMU are able to have a place where their voices are heard. 
"It is hard to break in and to change things," Weikle said. "But I am convinced it can happen."
Contact Alexa Fitzpatrick at breezevideo1@gmail.com. For more on the culture, arts and lifestyle of the JMU and Harrisonburg communities, follow the culture desk on Twitter @Breeze_Culture.