Anger, fear, gratitude and violence: those were some of the most common sentiments Tanya Aguiniga and her team gathered from several cities on the Mexico-U.S. border during their project, titled "AMBOS," or Art Made Between Opposite Sides. This was just one of the many projects Aguiniga spoke about in her Wampler lecture at the opening of the Duke Hall Gallery exhibition, "Edge Walkers."
The gallery is open to the public until Oct. 13, however, those who attended the opening lecture with Aguiniga not only saw intriguing pieces of art — they were also taken on a walk along the edge.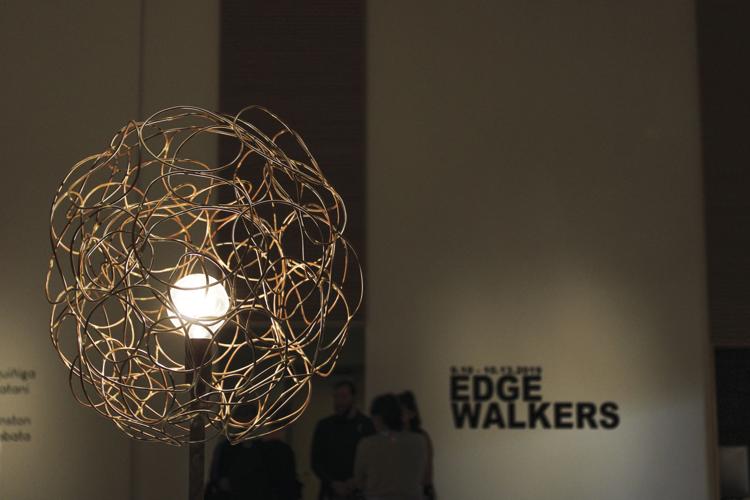 Aguiniga began her presentation with an image of the border wall in her hometown, Tijuana, Mexico. What was an everyday sight from her home growing up presented what may have come across as a shocking image for many in the room, as the photo displayed the Mexico and U.S. wall extended out into the Pacific Ocean. This picture set the tone for the rest of the presentation and exhibit.
The title, "Edge Walkers," encompasses Aguiniga's work on the border — she's  walked along the edge of Mexico and the U.S. countless times — and the work of the six artists in the exhibition. It can only be described as unorthodox.
At the beginning of the presentation, the exhibit's curator and digital design and fabrication manager for the School of Art, Design and Art History, Keenan Rowe, spoke about his intentions for this exhibit. 
"Edge Walkers, for me, was a straight-forward concept: bring together a group of designers from different backgrounds, from different fields, who are pushing boundaries," Rowe said. "Those boundaries are most easily condensed to the boundaries between art, design and craft."
Edge Walkers exhibition opens up in Duke Hall
Duke Hall opens up new exhibition featuring art from Tanya Aguiniga and her team. Their art features pieces inspired by Aguiniga's childhood and growing up in Mexico.
It's fitting, then, that Aguiniga's work is so centered around boundaries — particularly the ones people create between each other based on discriminating factors such as race, ethnicity, religion and gender. Aguiniga isn't only a fabricator and craftsperson, but she's also a social justice activist specifically for women of color and the migrants from her Mexican culture.
As someone who was forced to commute over the border every day for school when she was a child, Aguiniga felt the effects of border patrol firsthand throughout her life. 
"The best way I can describe it is by comparing it to the DMV," Aguiniga said. "Imagine leaving your house at 3:30 in the morning and waiting in line for three to four hours before starting your day, every single day."
During the AMBOS project, Aguiniga and other volunteers roamed the long lines of cars at numerous border stations, collecting written testimonials of people's thoughts while crossing the border.
"This daily commute between third and first worlds made me very visually aware of cultural difference and very emotionally aware of class disparity, racism and privilege in my two worlds," Aguiniga said. "In turn, I turned toward art as a vehicle for community empowerment."
After seeing Aguiniga's work in the gallery, senior graphic design major Kelsey Waugh was struck by the way Aguiniga expressed her identities through her art.
"What I love is that she is creating these organic forms," Waugh said. "She's paying attention to her role as a woman [and] as a mother. I love that she is speaking to her culture and her traditions and her indigenous Mexican aesthetic. That's so important, especially in the climate and what we're going through right now."
The exhibit is open and simplistic. On a large, circular platform in the middle of the room is a conglomeration of abstract 3D pieces made from mixed materials. None of the pieces are accompanied by placards that normally designate the title, artist and material of each piece in a museum.
"I just got back from a study abroad trip in Amsterdam, and it reminds me of some of the studio work I saw out there," senior graphic design major Robert Carter said. "Where else would you see a couch like that where you see the organic, soft shapes wrapped around the geometric hardened steel structure?"
Five vibrant tapestries created by Japanese designer Aya Kawabata are located on the gallery's back wall. The brightly colored fibers in these textiles greatly contrast with the muted and homogenous colors of the sculptures on the platform.
"Don't get me wrong, [Aguiniga's] work is incredible and inspiring, but just who she is as a person, and where she's come from and her life story and how she was able to channel those problems ... in a creative force that, to me, can speak so much more than the work she's created," Waugh said. 
Contact Ryann Sheehy at sheehyrl@dukes.jmu.edu. For more on the culture, arts and lifestyle of the JMU and Harrisonburg communities, follow the culture desk on Twitter @Breeze_Culture.