Move over pumpkin spiced latte. Thanksgiving is a time to sit back, relax and chow down on homemade holiday foods. Whether students want to impress their families by testing their baking skills or are just looking for sweets to help get through the last leg of the semester, anyone can make these five do-it-yourself fall-themed treats.
What you'll need:
Chocolate cake mix

Chocolate frosting

Mini chocolate chips

Candy corn

Candy eyes 
Begin by following the directions to make cupcakes with the chocolate cake mix. Make sure to let them cool until they're no longer warm or the frosting will melt. Once they've cooled, frost each cupcake with chocolate frosting. 
Next, roll each frosted side of the cupcakes in mini chocolate chips covering all of the icing. Stick about five pieces of candy corn closely in a row along one side of the cupcake to make the tail feathers of the turkeys. Be sure the tip of the candy corn goes into the cupcake. In other words, place them upside down so the ticker side faces up.
Put one piece of candy corn symmetrically in the middle of the tail feathers on the other side of the cupcake to make each turkey's nose. Take two candy eyes and put them right above the nose to finalize their look.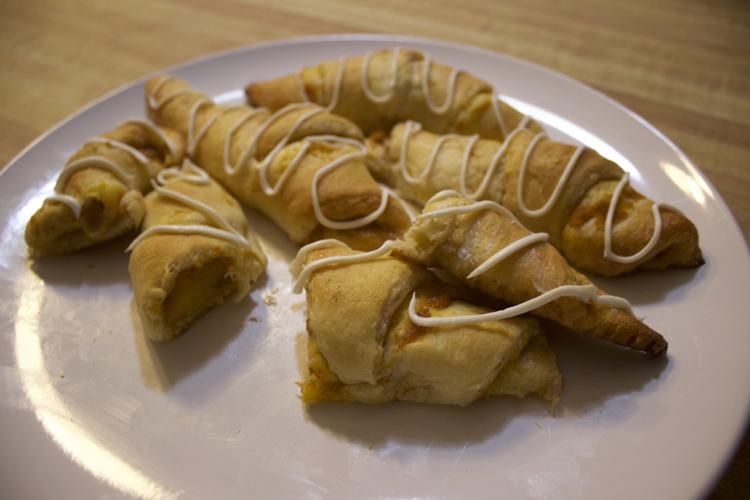 What you'll need:
Pillsbury crescent rolls

Canned pumpkin pie filling

Cinnamon

Vanilla Frosting
Preheat the oven to 375 degrees. Open the container of crescent rolls and flatten them out onto a baking sheet. Sprinkle a pinch of cinnamon on each serrated chunk of dough for a bit of added flavor.
Spread a small scoop of pumpkin pie filling along the surface of each crescent. Take the larger side of each crescent and tightly roll them until they're sealed by the end tip of the dough. Bake for about 10-12 minutes or until they're golden on top.
Place a scoop or two of vanilla icing into a plastic sandwich bag and cut off a tiny corner to create a pipe. Next, pipe the desired amount of icing onto each crescent roll. These snacks can be served warm as the icing can melt on top of the rolls.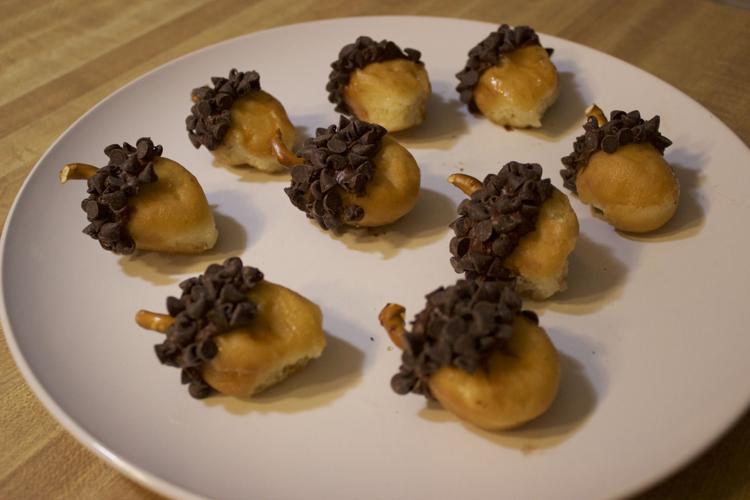 What you'll need:
Glazed donut holes

Chocolate frosting

Mini chocolate chips

Pretzel sticks
Poor the mini chocolate chips into a bowl and set aside. Break a number of pretzel sticks into pieces, about one inch long, so there's one shortened stick per donut hole.
Frost one half of each donut hole with chocolate icing. Roll this side of each donut hole in the chocolate chips. Put a shortened piece of pretzel stick into the middle of the side coated in chocolate chips.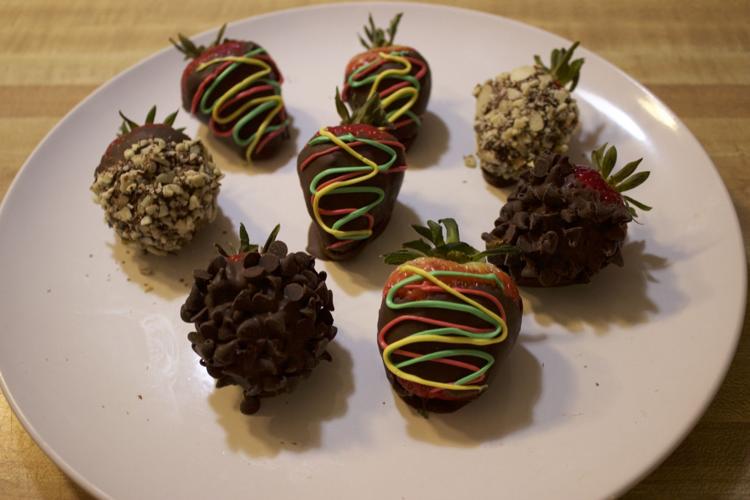 Fall themed chocolate covered strawberries
 What you'll need:
Strawberries

Vanilla frosting

Red, green and orange food coloring

Milk or dark baking chocolate

Mini chocolate chips

Almonds
Put the chocolate chips and almonds into separate bowls. Use a spoon to crush the almonds into small pieces. Add the chocolate to another bowl and microwave until it's completely melted.
Put aside about six strawberries. Dip the remaining strawberries up to the stem in the melted chocolate and place them on a tray lined with parchment paper. Dip the strawberries set aside earlier in melted chocolate and immediately roll them in each topping. Refrigerate the tray of all strawberries for about 20 minutes to be sure the chocolate has hardened.
Next, separate a scoop of white icing into three plastic sandwich bags. Add two to three drops of red food coloring to one bag, green to one bag and orange to one bag. Cut a tiny corner off the bottom of each bag to make an icing pipe. Then, pipe each colored icing onto the plain chocolate strawberries in a back-and-forth horizontal motion. Arrange all the strawberries in a desired fashion on a plate for serving.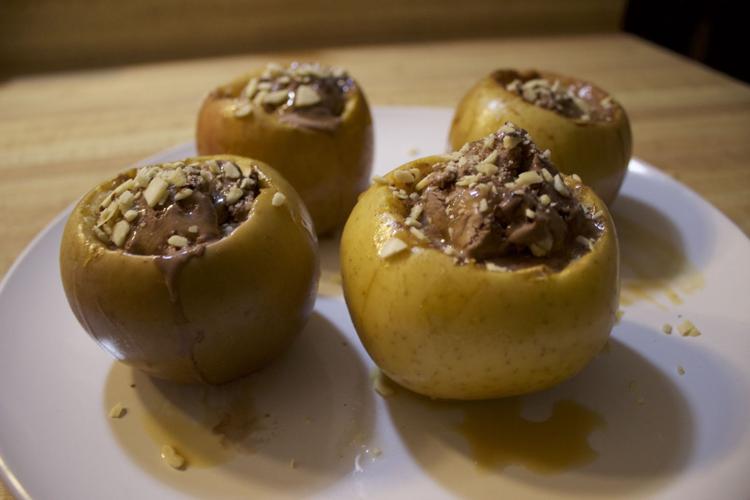 What you'll need:
Melted butter

Brown sugar

Cinnamon

Apples

Desired flavor of ice cream

Caramel

Almonds or pecans
Preheat the oven to 375 degrees. Mix the brown sugar and cinnamon into the melted butter and set aside. Core each apple with a spoon to hollow the middle of the apple. Make sure not to poke a hole in the bottom of the apples and leave a layer of the fruit inside so as not to completely scrape out the entire apple.
Then, use a cooking brush to coat the inside of the apples with the brown sugar cinnamon butter mixture. Place the apples onto a baking tray and bake the apples for about 15 minutes. Let them cool for about three to five minutes.
Scoop the desired flavor of ice cream into each apple, filling it up. Top off this sweet treat by sprinkling on almonds or pecans and drizzling caramel. 
Contact Traci Rasdorf at rasdortl@dukes.jmu.edu. For more on the culture, arts and lifestyle of the JMU and Harrisonburg communities, follow the culture desk on Twitter @Breeze_Culture.