While Dukes 4 Dogs has only been an established club since 2019, it has quickly grown into an organization that's made a mark on both JMU and the greater Harrisonburg community.
The main goal of the club is to bring volunteers to the Rockingham-Harrisonburg Society for the Prevention of Cruelty to Animals (RHSPCA) to walk the shelter dogs and spend time with the cats, but occasionally help is needed with a special event.
Junior club member and history major Hannah Rhodes said she feels the club has a positive impact on the shelter because of the time and energy the volunteers are willing to give the animals. It's extremely rewarding to work with a club that sees direct benefits from the volunteer work they do, she said.
"I know some of the dogs that come in are strays, and they take a long time to open up," Rhodes said. "If we get to walk and then play with them, it kind of gets them more used to people, which makes their chances of getting adopted higher." 
Member coordinator Sydney Benson said the club volunteers have brought a lot of attention to the shelter and have also increased the number of potential foster families. 
Dacia Foster, the volunteer coordinator for the RHSPCA, said that through Dukes 4 Dogs, the shelter has gained about 10 foster carers, who all started out as volunteers. It's common for volunteers to convert to foster carers, she said, because they see how many animals are at the shelter and how great the need for foster care is. 
The club has also been the source of several adoptions. While there's only been a small number of adoptions by Dukes 4 Dogs members, Foster said the club has made an impact by often adopting the "dogs that really need it and are struggling to get adopted."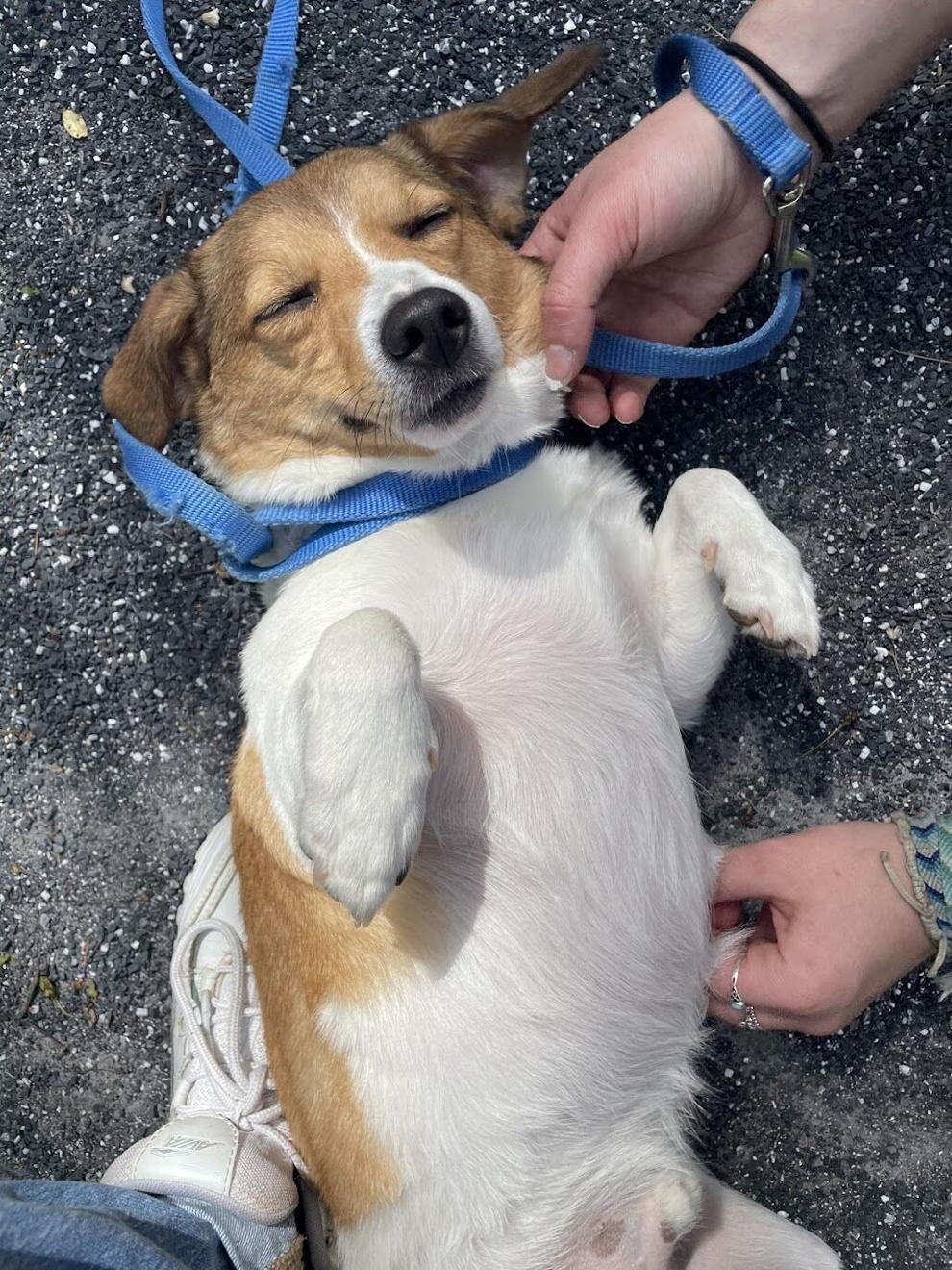 Dukes 4 Dogs president and hospitality management major Brett Easter said any volunteer work is "exceptional" for the community, and that the shelter has been very appreciative of all the help Dukes 4 Dogs has provided them. He said the club logged about 500 volunteer hours throughout the past year with 30 to 50 active members.
"Even older volunteers that had been there for many, many years said they could feel the weight coming off of them," Easter said. 
In past years, Foster said volunteers were required to sign up for a specific time slot, but this system would overburden the shelter for a few peak hours per day, then leave the shelter without any volunteers at other hours. Because of that, this was the first year volunteers could come and go as they pleased. Foster said this new system seems to fit better with people's schedules and has caused people to volunteer more. 
Despite club members being its main source of volunteers, the shelter didn't suffer a great loss when students had to leave campus in the fall due to a rise in COVID-19 cases. Foster said most of the Dukes 4 Dogs volunteers lived in Harrisonburg and continued to come in during the campus closure. 
However, Benson said the pandemic had a negative effect on bringing new members into the club because the club wasn't able to hold any orientations. She said it was helpful to have Zoom meetings for existing members, though, because more people were able to regularly attend without having to accommodate others' schedules as much.  
Dukes 4 Dogs has also strived to focus on making the JMU community a little less stressful by hosting on-campus events with the dogs. Due to the pandemic, these events were limited, but during the last few weeks of school, the club hosted two events to help bring some positivity to students during exams. The first took place on East Campus in Shenandoah Hall's courtyard, where volunteers brought two small dogs that students could sit with and pet, while the other event was at Warner Commons. Benson said both events went well and had a great student turnout. The East Campus event was focused more on allowing the students to destress, said Benson, while the other was about bringing attention to the shelter and some of the dogs that were up for adoption.
Easter said he wants these campus events to be a morale booster for students. 
"Maybe somebody's just having a bad day, and if they just see a dog [they can] go interact with them, go hang out for a little bit and get something off your mind," Easter said.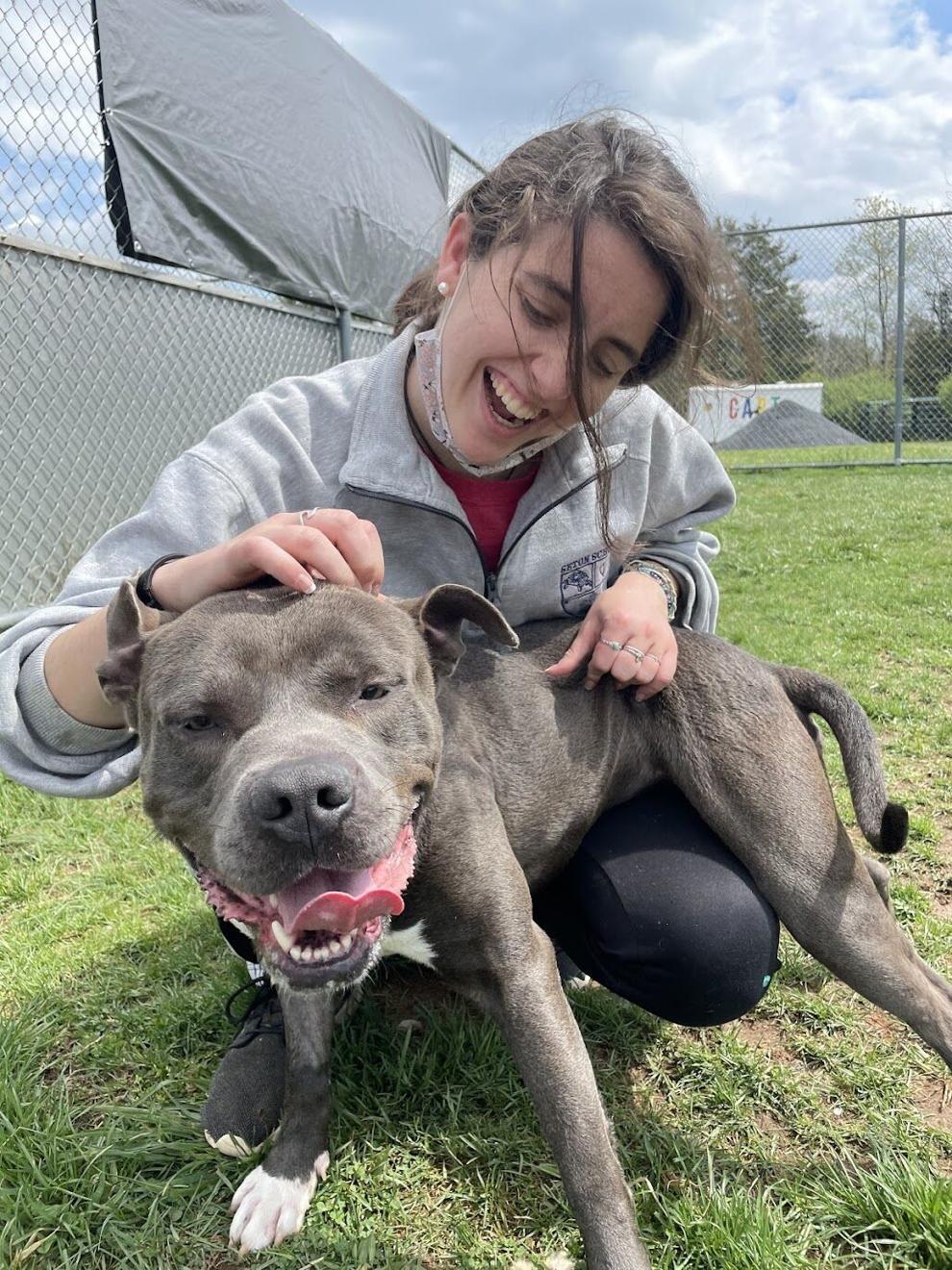 One of Foster's goals for Dukes 4 Dogs for next semester is to "have dogs on campus way more often."
Since the on-campus events have proven successful by being a helpful de-stressor for students so far, the club is working on plans for the future to include more student and dog interactions. Rhodes said the club is working with the shelter to allow people to take a dog on a "field trip'' and get them out of the shelter for a day. The goal is to expand the shelter's outreach and bring the shelter, community and JMU closer together.
"I think it's really exciting for people to be able to take the dogs out of the shelter to become more associated with normalcy and get them out of a four-wall room," Rhodes said.
Foster said these field trips will be open to all members of Dukes 4 Dogs, and all they'll need to do is sign up and choose a dog ahead of time, pick up the dog between 10 a.m. and 11 a.m. and bring them back to the shelter by 3 p.m. Volunteers will be allowed to spend the day with the dog at any place of their choosing, besides a dog park because of possible harm from other dogs.
While the pandemic limited the number and size of events the club could hold this year, Easter said electing a whole new executive board at the start of the year posed another challenge as members were still learning their roles and deciding what to do within the club. However, Foster said she's happy with how the executive members are moving forward with the club.
"They really made so much progress and they worked so hard," Foster said. "[They] really got it established, so I'm really proud of the direction that it's moving in."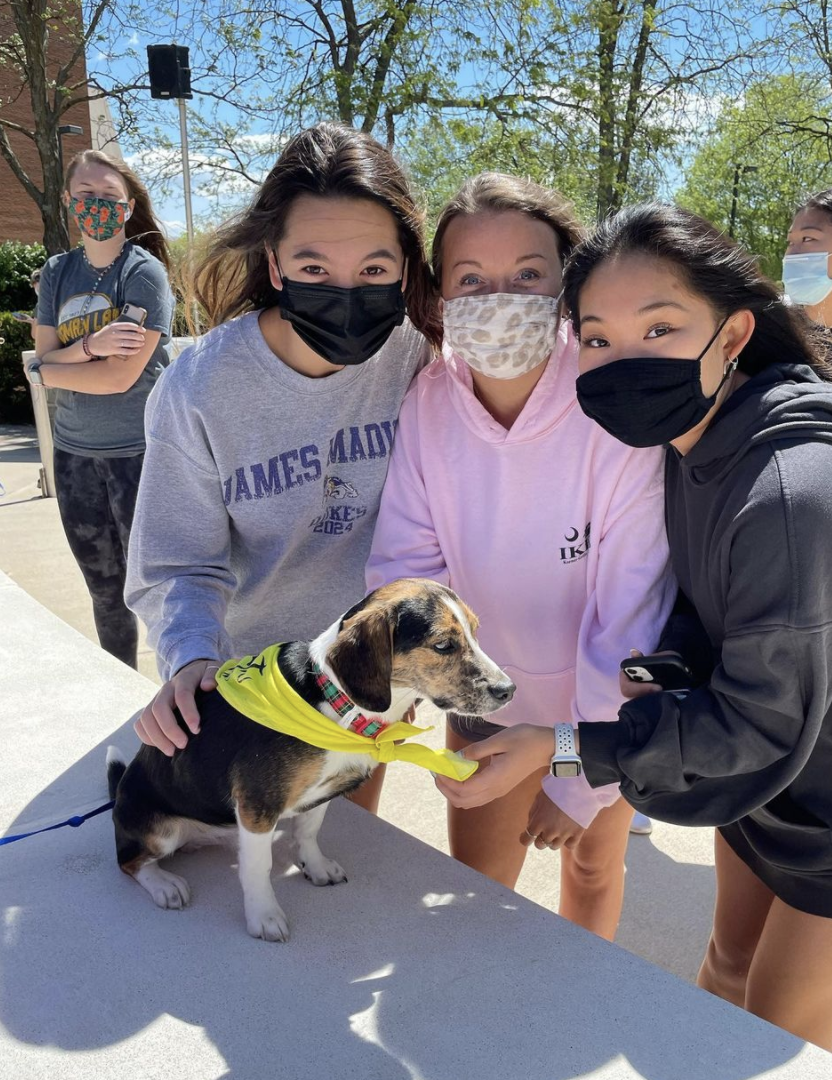 Benson said being a member of Dukes 4 Dogs has brought her great happiness through her close interactions with the shelter dogs.
"I feel like a lot of people have the same need for that when being away from family," Benson said. "[The club] gives students a chance to be off campus and interact with animals, which obviously is great for mental health."
Many studies have concluded that interacting with any animal lessens the symptoms of depression, lowers blood pressure and increases serotonin and dopamine levels. 
Even in an intense year, Benson said, the club has continued to thrive and be a positive light for everyone involved. 
"I think a lot of what's been going on with the pandemic and other social issues is that we want change," she said. "I think that's a small impact that people can make and something for them to feel good about."
Contact Avery Goodstine at goodstaj@dukes.jmu.edu. For more on the culture, arts and lifestyle of the JMU and Harrisonburg communities, follow the culture desk on Twitter and Instagram @Breeze_Culture.