As 1787 August Orientation came to a close, a sea of first-year students took on Harrisonburg's historic downtown, flooding sidewalks and streets as they collected handfuls of coupons, danced in front of the Harrisonburg General District Court and indulged in their first Kline's ice cream cone. 
Saturday marked the ninth annual Block Party in the 'Burg. Downtown vendors and organizations handed out fliers and free swag, some groups completed scavenger hunts and President Jonathan Alger strolled the streets to take selfies with the first years. The event was an opportunity to show freshmen Harrisonburg's spirit through its downtown life.
It was also the first time freshmen may have been off campus since move-in. As First yeaR Orientation Guides told them about the must-visit places like Benny Sorrentino's and The Yellow Button, the class of 2023 followed the Marching Royal Dukes down South Main Street to discover every hidden gem.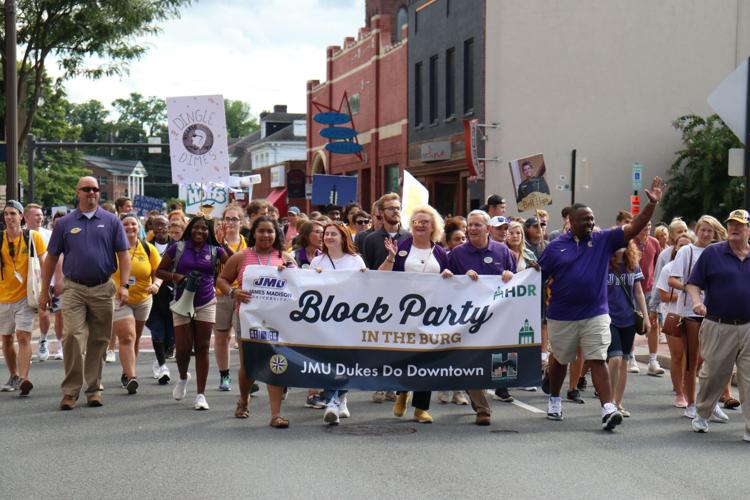 "It's nice to get out of the campus," freshman communications major Nick Moxley said. "There's free donuts and stuff, and that's awesome. When I first came to FROG week, I didn't think it was gonna be the greatest, but it's actually been really, really fun."
The block party was a chance for businesses to make themselves known to new faces. Montpelier Restaurant and Bar was one of the first vendors freshmen passed by as they made their way past Hotel Madison to the historic district. Workers handed out free pastries and coffee punch cards for the Grace+Main Coffee Shop. 
Manager Ashley Burgoyne was surprised to see the crowds of freshmen filling the streets — she didn't realize how many of them came in every year, but she was glad to see them exploring downtown. After living in Harrisonburg for 11 years, she's seen the historic district grow and thinks it's a necessary part of the JMU experience.
"All the restaurants are good. All the bars are good. All the shops are cool," Burgoyne said. "We have a unique downtown. Ten years ago, I can definitely say I wouldn't have gone downtown shopping. Now, there's so many cool places to go, and it's all local."
On and off-campus organizations set up tents and handed out merchandise to passing freshmen, but the RISE U stand stood out from the rest. In past years, it's given out basic swag like stickers. This year, it's undergoing a relaunch, so the ministry wanted to try something new to reflect that. It handed out free waffles and let new students pet the minister's fluffy therapy cat, Waffles. They called it "Waffles with Waffles." 
"We wanted to do something completely different and unique and interesting this year," associate minister of formation Adam King said. "We're focusing more on connection, making people laugh and having a good time." 
Ninth annual Block Party in the 'Burg
JMU and downtown Harrisonburg come together to throw the ninth annual Block Party in the 'Burg on Saturday, August 24th, 2019 to welcome new and returning students to JMU.
After an exhausting week of group icebreakers, required activities and lots of walking, freshmen and their FROGs alike were able to unwind at the block party. Junior media arts and design major and first-time FROG Olivia White said she enjoyed going back to a freshman's perspective while being a leader during the week. She remembered her first time walking downtown as a first-year student, thinking it was a big, overwhelming place. Now, it's home.
For White, downtown Harrisonburg is a place to establish traditions. It's a place that fosters relationships. It's a place that tells The Friendly City's story. It's a place that reflects JMU.
"I feel like downtown is a huge part of our culture, and a lot of it has to do with just being good people," White said. "I'm really glad I got most of my first years to come, because I feel like when we're in JMU, we're kind of in a bubble at college. To have all these different organizations here to show what we have to offer in the community is so amazing."
Contact Kailey Cheng at thebreezeculture@gmail.com. For more on the culture, arts and lifestyle of the JMU and Harrisonburg communities, follow the culture desk on Twitter @Breeze_Culture.