When winter break ends and the Dukes return to Harrisonburg, the "JMFlu" can knock many off their feet. Besides a trip to MedExpress and a good Netflix season to binge, a good remedy that might make recovery better is a comforting soup. Below are three cheap and easy options to nourish a weakened body through the cold days ahead.
Dump-and-go minestrone soup
Dump soups are the absolute easiest recipes and require minimal effort, making them the perfect go-to when an energy-sucking illness hits. Simply prepare the ingredients, dump them into a crockpot and wait. Six hours later, the soup is ready to eat. This is a classic recipe that feels like it was cooked with the love and comfort one craves on a sick day.
Ingredients:
1 sweet onion, diced
3 garlic cloves, minced
3 carrots, peeled and sliced
1 can of diced tomatoes
2 cans of cannellini beans, drained and rinsed
3 cups low-sodium vegetable stock
3 cups water
8 ounces of uncooked ditalini pasta
12 thin asparagus spears, stems removed and cut into thirds
1 cup of frozen sweet peas
1 bag of fresh spinach
1/3 cup freshly grated romano cheese
Salt and pepper to taste
Instructions:
Add the diced onions, garlic, carrots, diced tomatoes, cannellini beans, stock and water to the crockpot. Cook on low for 4 to 6 hours. About 10 to 15 minutes before serving, add in the asparagus, spinach, peas and pasta. Cook on low for another 10 to 15 minutes, then stir in the grated cheese. Taste and season with salt and pepper as desired. Serve immediately with additional cheese on top.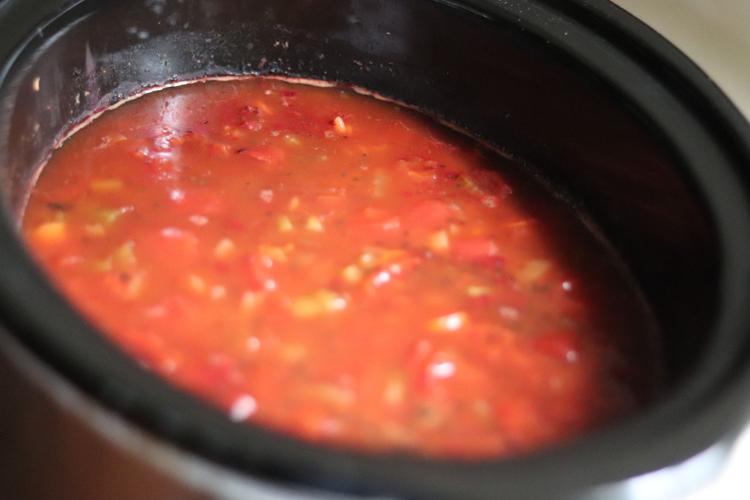 Crockpot Vegetable Soup
This is another dump-and-go crockpot recipe because they're just that easy. When sickness is going around, it's known to knock people out for days. Being bed-ridden and miserable doesn't make it any easier to cook a healthy, homemade meal — unless it's this vegetable soup. Full of vitamins and fiber, this recipe will agree with any appetite and provide warm comfort on bone-chilling Harrisonburg days.
Ingredients:
4 cups vegetable broth
4 cups tomato juice
1 cup sliced carrots
1 cup sliced celery
1/2 cup chopped onions
1 can of diced tomatoes
1 tbsp dried basil
1 tsp salt
1/4 tsp pepper
2 cups uncooked rotini pasta
Shredded parmesan cheese
Instructions:
Add all the ingredients except the uncooked pasta and cheese to a crockpot. Cover and cook on low heat for eight hours. Add the pasta, and stir. Turn the heat setting to high, and cook for 20 to 30 minutes or until the pasta is done. Serve topped with a sprinkling of cheese.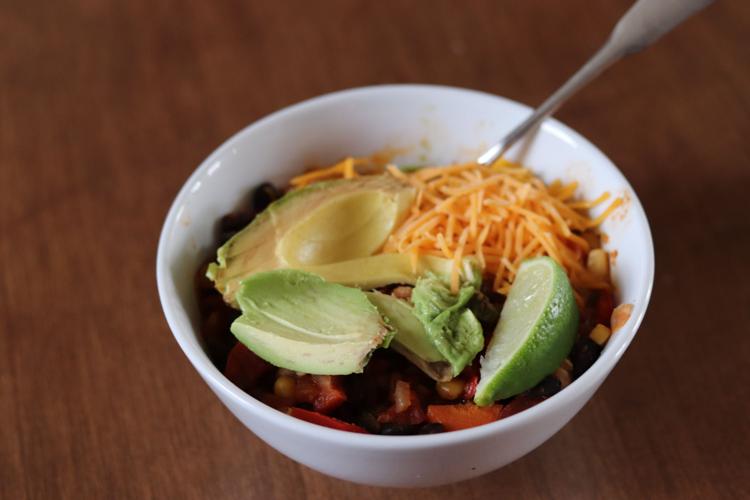 Easy, one-pot vegetarian chili
Broth-based soup isn't for everyone, so if something warm and a little thicker sounds more appealing, this vegetarian chili is super easy, cooks all in one pot and is delicious in the winter months. This recipe uses six cans of vegetables, so there's minimal preparation involved. Like any good chili, this recipe incorporates spices like chili powder and cayenne pepper to open up the sinuses.
Ingredients:
3 cans assorted beans
2 bell peppers, large
2 carrots, medium
2 stalks celery
1 can corn, whole kernel
4 cloves garlic
2 cans diced tomatoes with green chiles
2 tsp oregano, dried
1 yellow onion, large
1 cup vegetable broth
1/2 tsp black pepper, freshly ground
1/4 tsp cayenne pepper
2 tbsp chili powder
2 tsp Kosher salt
Optional toppings:
Shredded cheese
Sour cream
Avocado
Lime
Instructions:
Heat the oil in a large pot over medium until shimmering. Add the onion, bell peppers, carrot, celery and garlic. Cook, stirring, until just tender, which takes about 8 to 10 minutes. Add the chili powder, cumin, oregano, salt, black pepper and cayenne pepper, and stir to coat the vegetables. Add the tomatoes and their juices, beans and 1 cup of the broth. Stir to combine, and bring to a boil. Reduce the heat as needed, and simmer uncovered for about 30 to 40 minutes until the chili thickens. Add up to 1 cup of broth for a looser chili, or just add the corn, and stir to combine. Ladle the chili into serving bowls, and serve with the optional toppings.
Contact Ryann Sheehy at sheehyrl@dukes.jmu.edu. For more on the culture, arts and lifestyle of the JMU and Harrisonburg communities, follow the culture desk on Twitter @Breeze_Culture.