Phil Duntemann started roasting coffee beans on the front porch of his home on Broad Street. Later, this would be how Broad Porch Coffee Co. got its name. 
The founders and owners of Broad Porch, JMU alumni Duntemann ('12) and Jill McMullan ('15), have recently expanded their Agora Downtown Market shop and have larger plans for expanding to a new location. 
"They really round each other out as far as business partners go," Dan Luther, a JMU alumnus ('19) and Broad Porch employee, said.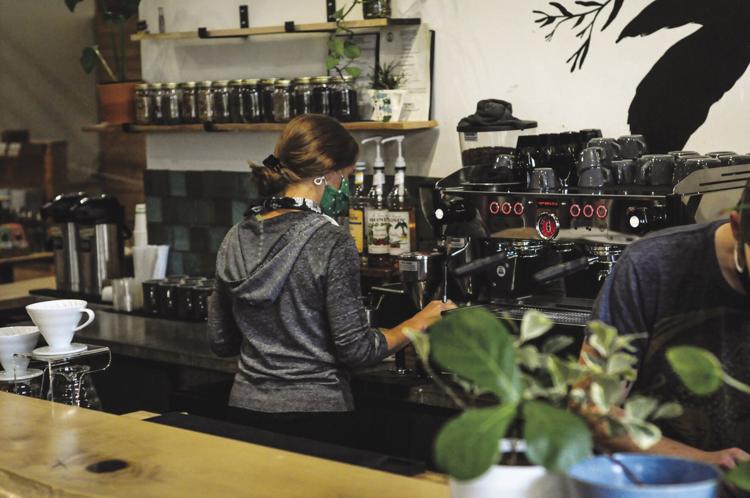 Luther said the business thrives because of the team's values for inclusivity, authenticity and a positive work environment.
"I was drawn to it from the beginning because Phil and Jill are great people to be working for," Luther said. "Working in Agora is full of energy all the time and supporting small businesses, it's just a cool place to be."
Broad Porch employees Luther and Kael Rison, a senior graphic design major, said the personal connection they felt with McMullan and Duntemann is what drew them to working for the company.
"I think just knowing where they came from, they didn't just have a bunch of money and then started buying all these things and getting a place and stuff," Rison said. "They started really small. My team is like a family; it's really cool. Phil and Jill have been the best bosses I've had, and everyone else on the team just cares about one another a lot, and they're not just in it for the money. They're in it because they love the craft of coffee."
There's a strong appreciation not just for the coffee but also the values McMullan and Duntemann have set in place when it comes to running their business, Rison and Luther said.
Duntemann began roasting beans for leisure and sold to his friends and family on a small scale. McMullan brought beans for personal use and even had beans shipped regularly to where she lived in Florida at the time because she never found coffee she liked. She said she appreciated that her coffee came from someone she knew.
"I've always been, you know, a huge advocate for things locally and carefully [made] when you can," McMullan said. 
McMullan was an interior architecture and design major looking for a hands-on career. She said she had hopes of becoming self-employed and found inspiration from a shop called The Commons in Charleston, South Carolina. 
"I just felt like all of [The Commons' owner's] stuff was so carefully thought out and everything [the owner] was doing was beautifully done, and I was so enamored," McMullan said. "The only difference between [The Commons' owner] and I is that she was doing it and I wasn't. Of course, there's the risk of failure but without risking that, where do you get yourself?" 
McMullan she said she knew that she had to take the chance and open the second Broad Porch location to succeed.
"I started thinking about what sort of business I could go into that would be, you know, feasible financially and on a practicality level," McMullan said. 
She said she knew there was a demand for coffee and that she knew it was something that'd be successful. 
When McMullan had the idea of opening a trailer, she asked Duntemann if he was interested in expanding his roasting. He agreed, and soon enough, the coffee truck was up and running. Once they were offered a spot in Agora, they took it, knowing it'd thrive downtown.
"The big thing for me is community," Rison said. "Even when I didn't know Phil and Jill, even when I didn't know the rest of the people in Agora, you go in there and, in my experience, not even working there, but also being a part of a team of people that care about others and the customers. I just see a lot of life in this business."
Like Rison, McMullan said she also saw the potential life that'd accompany her business, especially in Agora, and decided to go all in. 
"People want to come and shop, but they want something to stop and drink and, you know, you can carry a coffee around when you're perusing all the stores and stuff," McMullan said. "I was like, I feel like if we don't do it, someone else is going to do it; someone's going to jump on that opportunity." 
This is exactly what Jay Dedman and Ryanne Hodson, friends and business partners of Duntemann and McMullan, did when they presented McMullan and Duntemann with a partnership to open another Broad Porch in Luray, Virginia.
McMullan and Duntemann weren't looking to open another shop. They said they initially wanted to focus on expanding their events, wholesale market and roasting capacities, but when the opportunity presented itself, they said they wanted to take advantage of it.
The owners and Downtown Agora employees said they hope Broad Porch will become thoroughly integrated into the community of Luray and that they look forward to the opportunities that come along with being in a new area, including the larger roasting space.
"I think it'll be great — one to have a secondary space that comes along with the cafe in Luray," Luther said. "That production area is exponentially going to improve the quality of the coffee that's being roasted."
Duntemann and McMullan's new partners, Dedman and Hodson, are contributing effort and money, while the two original partners are working on equipment and staffing needs.
"I think it will be helpful to, especially, younger people," Luther said. "And that was sort of like the vision for the two partners that came on to the team with Phil and Jill. They have just a big heart for Luray, and they want to see it grow and flourish, and they know that coffee is, like, a big way to that happening in small towns."
The new location used to be an old furniture shop that's since been completely gutted. McMullan said she's excited about the location being a blank slate for them to do anything they want involving the design. She also said she was drawn to Luray because of its quaint, small-town feeling. 
"The setting of the little town is just beautiful," McMullan said. "I love design and architecture. I feel like it's so cool to be in towns that preserve that stuff." 
Luther said he's excited for the potential of the new shop but that with great opportunity comes responsibility.
"Phil and Jill are definitely gonna have to adapt to ... a stand-alone cafe versus one that's attached to other vendors; [it] will be very different," Luther said. "But I think it will allow them to take their business to the next level."
The building is located next to Hawksbill Creek, which is another draw for McMullan and the business. As for the interior design of the Luray location, she plans to give it its own style and character separate from the Agora location.
Rison said it's been exciting to watch the Downtown Agora location expand to its own structure in Luray. He said they've been deciding what plants to put in, what colors the upholstery should be, what tiling for the floors and what kind of wood will be used for the bar. 
McMullan said she's excited to get involved with the community in Luray and expand Broad Porch's cafe and roastery options. 
"It's hard not to think of how it would benefit them without thinking of how it will benefit others," Rison said. "They would probably say that the benefit is just being able to watch how students come through, or how people in Luray can have a space where people can be freely." 
Contact Madison Stevens at stevenmd@dukes.jmu.edu. For more on the culture, arts, and lifestyle of the JMU and Harrisonburg communities, follow the culture desk on Instagram and Twitter @Breeze_Culture.