In less than 10 minutes, Seung Jun ('07) and David An scoop up piping hot rice, topping it with a rainbow of thinly sliced vegetables, homemade kimchi, the customer's protein of choice and a freshly cracked egg. Mini plastic containers of red hot gochujang sauce and sesame oil are measured perfectly to create an authentic Korean taste.
Bibimbap, the traditional Korean rice dish, is the sole item on the restaurant's menu. In Korean, bibimbap means "mixed rice."
"The trick is stirring it real good," Jun says to his customers. 
Jun is the owner of Bowl & Spoon, a Korean restaurant that serves bibimbap bowls to the Harrisonburg community. The business opened its doors Jan. 28 and has been thriving on to-go orders ever since COVID-19.
Located at 451 University Blvd. next to Kate's Natural Products, it's a simple space. Only three tables help fill the room, along with an instant ramen stand and a local pottery section. It's spacious, and the two work quietly, but the food speaks volumes.
Even through a mask, one can smell the savory spices of traditional Korean cuisine. 
"I had a few customers saying they went to different places in Harrisonburg and tried a similar dish," Jun said. "They said it was different than what they experienced in Korea, and they came here and they said, 'Yeah, this is what I used to have in Korea; this is great.'"
Kyle Kim, a regular customer, said the restaurant immediately gave him a positive impression with its healthy cuisine and good prices. When he and his family got dinner one night, he said the price was great for the portion size.
"I'm from Korea, so I know what the bibimbap is like in Korea," Kim said. "So, this food really just tastes like my hometown."
As a neighbor of Kate's Natural Products, Jun said the property owner wanted a restaurant that served healthy food. He takes pride in his food — Bowl & Spoon offers a variety of vegetables, proteins and no MSGs. He said he tries to cook the rice and vegetables every day to keep everything fresh.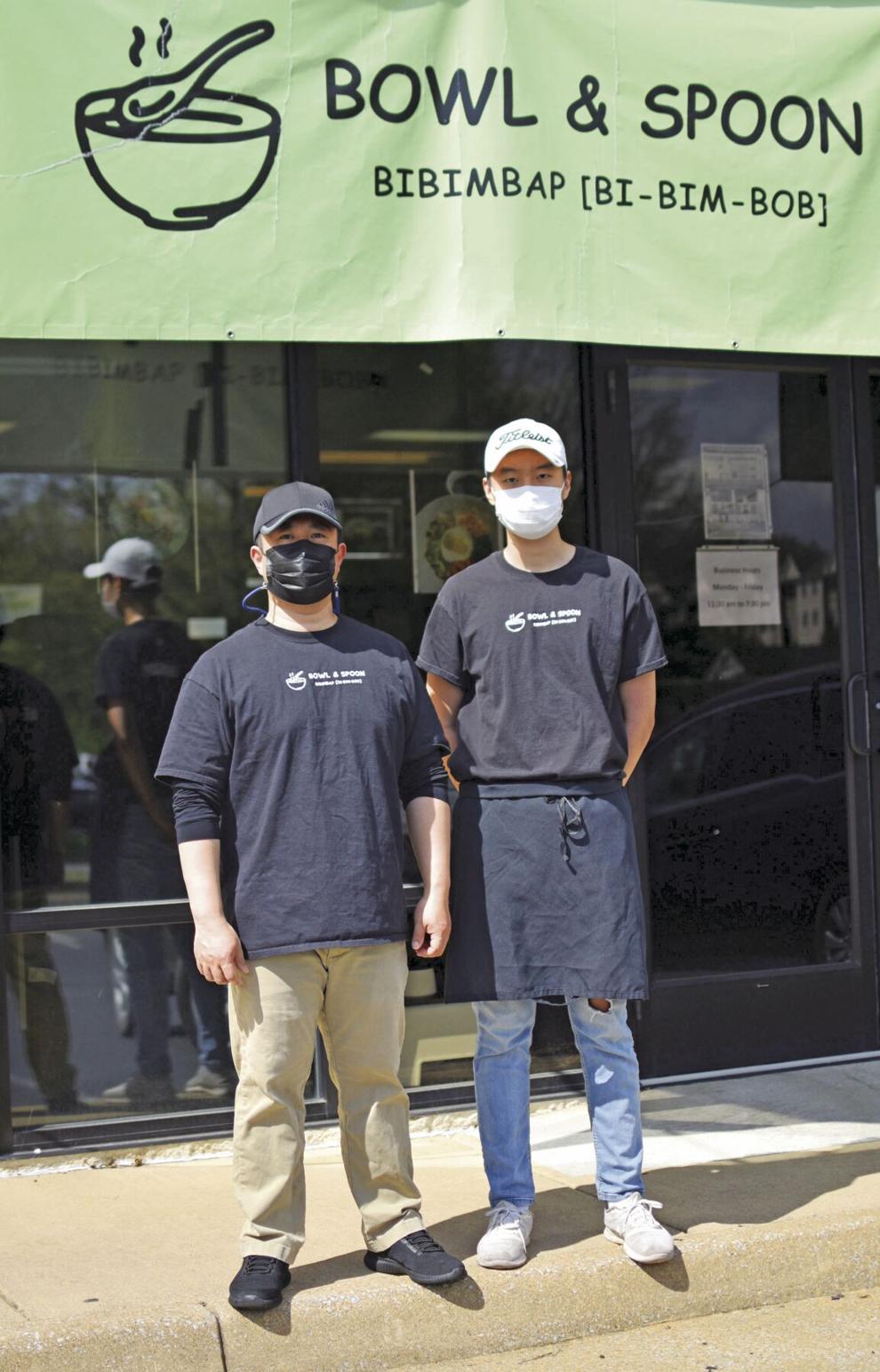 "We're trying to stick to the traditional way, not to, you know, modifying to some fusion food," Jun said. "People like it because they wanted that taste there with the experience they had in Korea."
Jun came to the U.S. from South Korea in 1993, went to Harrisonburg High School and then joined the U.S Air Force for over four years. He then attended JMU, earned a degree in accounting and worked as a public accountant for over a decade. He said he never thought he'd own his own restaurant. 
Working on taxes with the owner of the building he ended up leasing, Jun heard there was a need for a healthy food spot, so he proposed the traditional Korean rice bowl, hoping to add more menu items such as soups in the future.
"I didn't expect myself doing this — I was thinking about someone else," Jun said. "My plan was, if my friends or my friends' parents want to do this, I'll help with accounting and managing the store."
Despite those thoughts, Jun worked in dining when he was in the military and managed the storeroom, so he had industry knowledge and a food service certification. He also found a love for spreading his Korean culture through food and was taught to cook by his parents and girlfriend. 
"So, when I see people enjoying the meal, some people try [it] and this is new to them, and when they like it … I have great pleasure," Jun said. "You know, letting people know and spreading and making people aware of what Korean food is."
Opening during COVID-19 was challenging, Jun said, and some days were slower than others, but the restaurant is still getting noticed and has been doing well selling to-go orders. Jun said that Bowl & Spoon is gaining more customers and regulars every day.
Jun comes in at 10:30 a.m. to prepare vegetables and start the rice. He said he never knows what'll happen each day. He's joined by An, his only employee and a senior computer science major, who helps with preparation.
"I think it's really interesting because I've been in food services before and all I did was just, you know … sit at the [register]," An said. "But actually doing hands-on preparation for the food is really fun. I get to see how everything is made."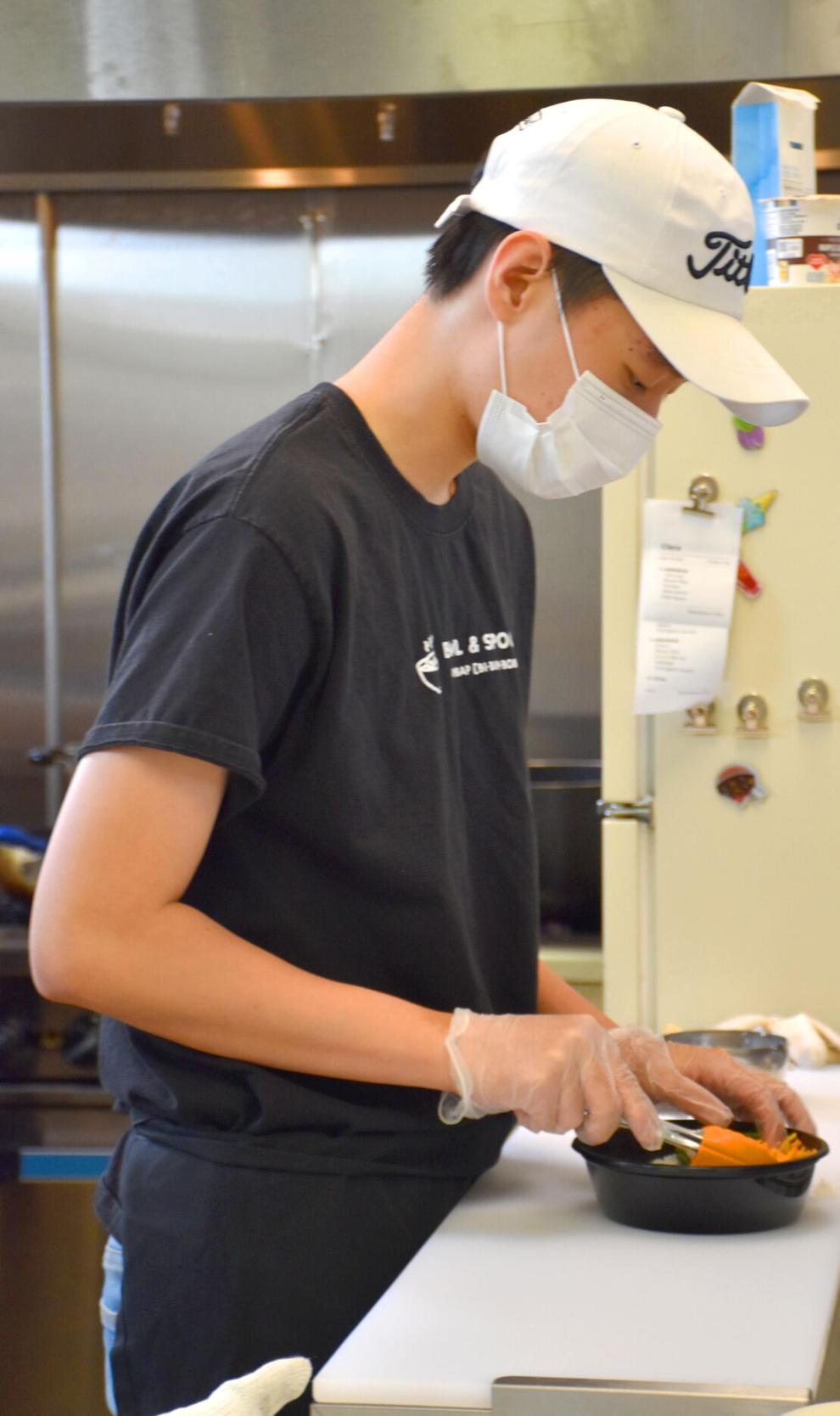 An knew Jun from their Korean church, and he described the Harrisonburg Korean community as "very small" and a space where everyone knows one another. Jun said that in high school, he, his brother and a few of their friends were the only Korean people in their classes. When he attended JMU, there was a Korean community, but it was barely visible. 
"It wasn't easy to make friends," Jun said. "Some people were not aware of our culture. I mean, some people want to learn, like, where I'm from, about my food, culture, but it's different now. JMU has grown so big … Diversity has grown."
This growth in diversity brings Jun and An pride in the food they serve. Kim added that Bowl & Spoon makes a positive impression on the Harrisonburg community, contributing to the city's diversity. 
"They have [the] opportunity to try out the Korean food, which is really similar to our food back home," Kim said. "So, this is a great place that we can promote our cultures."
Jun said he wants to add more menu items in the future, hoping customers can learn more about the variety Korean food offers, especially with limited options in Harrisonburg. But for now, Bowl & Spoon is keeping it simple with hearty bowls of bibimbap. 
"It's delicious," An said. "It has the vegetables, it's got carbs, all the good nutrients with protein. It's healthy, very simple — everything in one bowl."
Contact Kailey Cheng at chengks@dukes.jmu.edu. For more on the culture, arts and lifestyle of the JMU and Harrisonburg communities, follow the culture desk on Twitter and Instagram @Breeze_Culture.