Prior to setting up each exhibit in Duke Hall, the bare white walls loom over each volunteer, intern and Duke Hall employee. The exhibit is lifeless and boxes full of artwork are scattered on the floor. It doesn't take long before the helpers feed off each other's creativity and manipulate the vacant space into a vibrant world.
There's a great deal of work that goes into setting up an art exhibit. Regardless, the helpers do so with the utmost enthusiasm.
John Ros, the Duke Hall art director, recently came on board this school year. But with nearly 20 years of professional experience in the art realm, he took the position on with every bit of confidence.   
"This is a learning gallery," Ros said. "So what that means is it's a space where interns are basically employed to learn the steps to take. That's what we're here for, to teach people different procedures about what it is to run a contemporary gallery space."
Before a new exhibit is set up, the previous gallery has to be taken down — referred to as the changeover process. Given that it takes over a week to complete, it's potentially one of the most challenging steps because each art piece has to be handled with care. Once each piece is taken down, it's wrapped in bubble wrap and stored in boxes to be shipped back to the artist.    
Rachel Crowe, a senior history major and artWorks Gallery director, has been working closely with Ros in an independent study this school year. She appreciates Ros' guidance and says it influenced her career choice. 
Working with John, I've learned more than I've learned the last couple of years," Crowe said. "He's been doing this for over 20 years so the amount that you can learn doing hands-on stuff with him is unbelievable. I want it to be my career now, and that's something that I wouldn't know if I hadn't worked in the gallery with him this year."
After the changeover process, a new gallery can be set up. Ros invites the artist to help with the setup, all the while making sure they're comfortable and have everything they need while they're hosted. This includes shipping their artwork, setting up lodging and meals for the artist's stay, reimbursing for travel and organizing an honorarium. 
Ros is also responsible for putting together a schedule for installing and updating internet platforms with the background information for each exhibit.  
Duke Hall spent this week setting up a new art exhibit called "Spaces Places Things." The loosely 3-D sculpture-based exhibition features four unique artists and focuses on how people perceive and use space.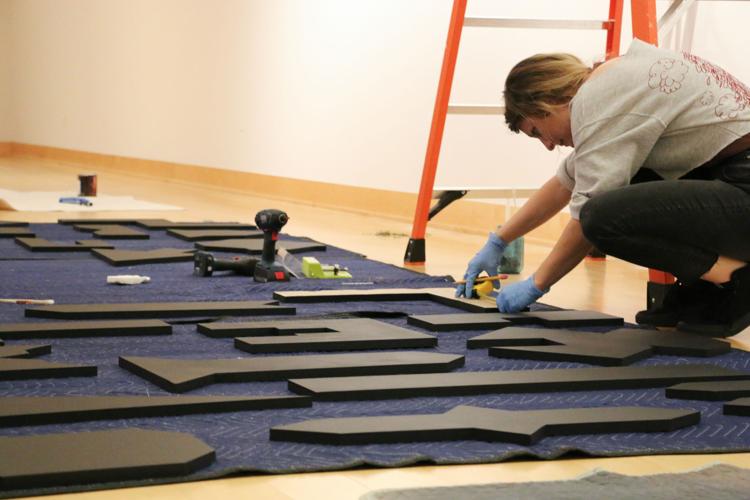 In "Spaces Places Things," each artist has their own unique artistic style, but all follow the common theme of 3-D space and possess the same goal to make the viewer an active participant. The artists have also been a large help in the setting up process and put in hard work each day to get the job done. After five days of endless tasks, the gallery was opened to the public Tuesday.
"My favorite part about setting up is working with the artists," Abigail Kon, a Duke Hall intern and a sophomore art history and marketing double major, said. "I love getting to know the artists and it's just a really unique experience, especially for those of us who [want to] work in art institutions."
Duke Hall chooses which artists to display through two different processes. Faculty members can propose exhibits through an exhibition proposal form. The other process consists of Ros, the chief curator, proposing an idea. After one of these two steps has been completed, the ideas are then discussed with the gallery committee.
Ros makes it a goal to set up each exhibit differently from the ones that came before it. While dedicating nearly 12 hours a day to the speedy setup process, Ros doesn't refrain from giving not only himself, but those working alongside him a challenge.
"The space is relatively versatile and I [want to] try to create different experiences," Ros said. "I mean, I work with space as an artist so for me it's really interesting to allow the space to do different things. I [want to] be interested in it too. I don't [want to] just do the same thing all the time. So I'm challenging myself, too." 
After everything is set up, there are still other tasks to complete. From scheduling artist receptions and lectures to promoting the exhibit, the work is endless. Regardless, it's a memorable experience for all of the exhibit workers. 
"Honestly, it's really exciting," Kon said. "I've always wanted to work with art and facilitate artists and creative people. So it's really really fun for me to be able to help them get their work seen and set up and I love to write about them and read information about them and then actually meet them in person and be a part of getting their art into the world."
No matter how difficult the process, each member does it out of love and passion for the subject at hand. Once it's all put together, they can sit back and fully appreciate all of their hard work.  
"One of my favorite parts is when it's all done and you can step back and see the fruits of your labor," Ros said. "You see all these moving pieces coming together and you can finally rest for a minute. I mean every part of it is fun and I think it has to because it really is a labor of love. I mean, we're certainly not in it for the money."
Contact Jazmine at oteyjl@dukes.jmu.edu. For more on the culture, arts and lifestyle of the JMU and Harrisonburg communities, follow the culture desk on Twitter @Breeze_Culture.