Piles of large, white sack-cloth bags rest in the right corner of the room. They're filled with green coffee beans — waiting for their moment to be poured into the roaster.
The white cement walls are mostly bare, aside from a few posters. One is a taste-wheel diagram that David Frazier and Jose Thompson — the owners of Chestnut Ridge Coffee Roasters, a specialty coffee roaster in downtown Harrisonburg — use while doing coffee tastings to help them write descriptions of the flavor notes for each brew.
"It's fun to taste coffees with [Jose] because he has a completely different palette than I have," Frazier said.
"Tamarind," Thompson interjected. The two of them laughed. "That's a very good example of that." 
A tall stack of brown, flattened boxes stands by the front door. Shelves line the walls, full of containers holding miscellaneous contents while a barista pours brews from behind the L-shaped countertop at the front. 
Frazier, a 35-year-old JMU alumnus ('08) and Thompson, 42, didn't always have intentions of brewing for customers, but as they've adapted, they've found a new way to boost their business.
The roasters and their roots
It wasn't Thompson's family-owned coffee plantation in Honduras, in the northern region of Santa Barbara, that sparked his interest in owning a coffee shop. It wasn't the weekends he said he spent in the tropical jungles and trees where toucans and parrots casually flew. It wasn't the nights he said he camped on the plantation with his family where he could see every single star against the night's sky.
It was when he was in college, meeting a friend at CC's Coffee House, a popular Louisiana chain. He ordered a medium roast. It was the sense of community Thompson said he felt when he began going more frequently to meet new people and gather with friends.
He still remembers his brain buzzing from the caffeine. It was his first cup of coffee, and he was instantly hooked.
"I always thought then that when I'm older, I'd have a coffee shop," Thompson said. "I guess it sort of worked out that way."
Frazier and Thompson met each other at a trail run club that Frazier used to host, where members could meet once or twice a week to run trails in various locations — such as from the west side of the Valley, around Hone Quarry and Stokesville, to the east side — around Browns Gap in Shenandoah National Park. It was a member of Frazier and Thompson's group that introduced them to each other.
Through their passions for running, coffee and being outside, they hit it off instantly.
Frazier is a self-taught roaster. He started roasting with a popcorn popper, and eventually, he was roasting directly from his front porch for his friends.
As he advanced, he wanted to be able to control the roasting temperature as precisely as he could. Frazier said consistently maintaining a specific temperature while roasting is essential for extracting the best flavor from the beans. The best way to measure a precise temperature? Frazier knew how — he needed a commercial-sized drum roaster.
One evening, Frazier and Thompson were standing together in the Ice House parking lot on Liberty Street downtown. Frazier told Thompson about a run-down warehouse looking for tenants to occupy the space. Then, he suggested to Thompson that he should open a coffee roaster there.
"I said [to him], there's no way I'm doing that by myself," Thompson said. "I said if you're in it, then OK, let's do it."
When Frazier agreed, they got to planning the business and bought a commercial-sized roaster — a large, metal, cylindrical machine that usually costs between $30,000 to $40,000, with a black matte finish and glossy silver accent.
"That's the seed [Thompson and I] kind of planted together," Frazier said.
The brews and the business
Two years after that parking lot conversation, Frazier and Thompson hosted their first open house on a cold and rainy Friday in March 2019. The unfavorable circumstances made them suspect no one would come. To their surprise, the warehouse was packed with people who came to see them and sample brews despite the dreary weather.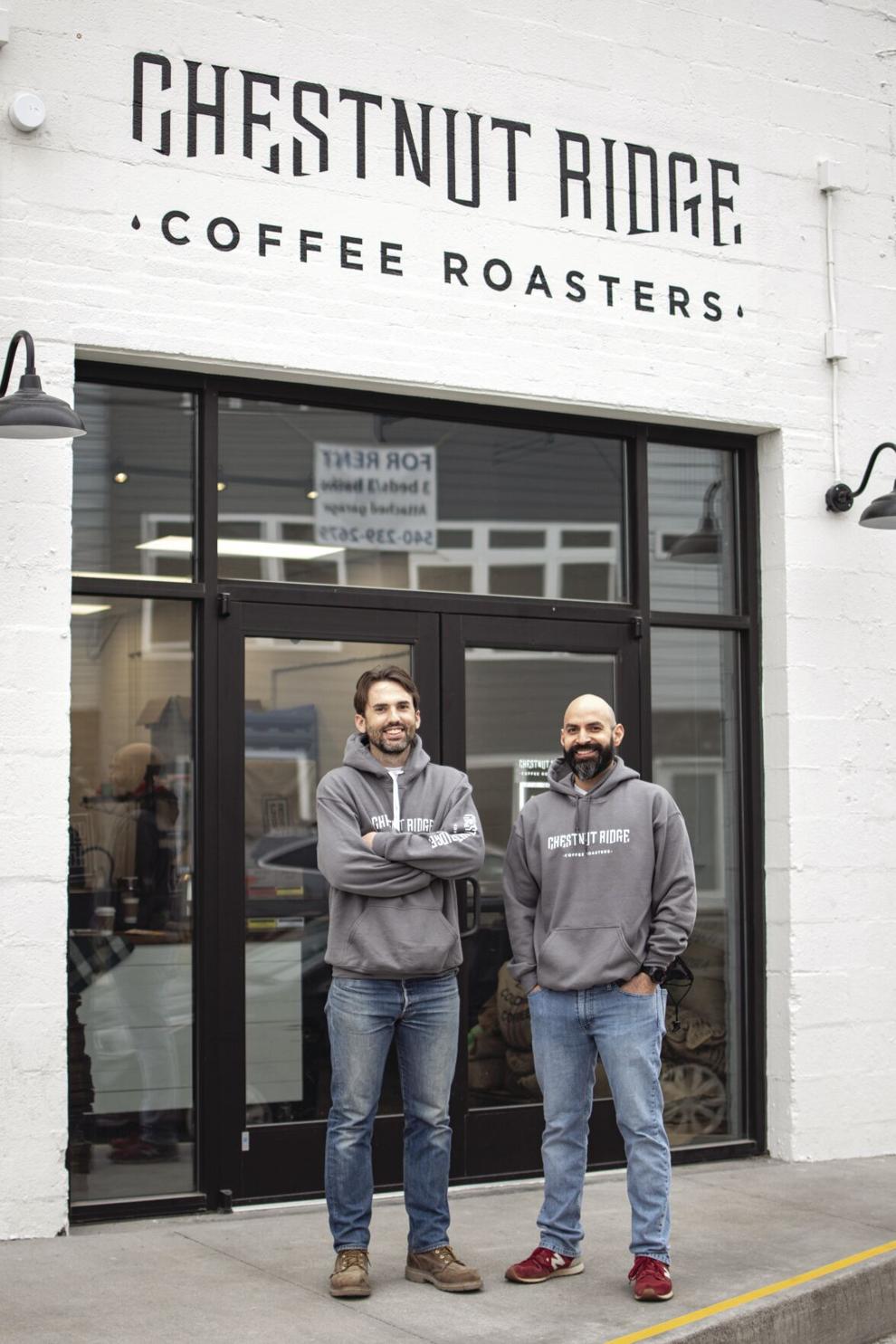 On top of the roastery, Frazier and Thompson work full-time day jobs: Frazier at his family business, the Frazier Quarry, and Thompson at Blueline, a local firm where he works as an architect. Before Chestnut Ridge had regular business hours, they created a schedule around their regular work hours.
Saturday mornings were for coffee.
From 8 a.m. to 12 p.m. on Saturdays, Chestnut Ridge became an open house people could visit to sample brews and pick up blends and orders from online, on top of selling wholesale to businesses in Harrisonburg.
Chestnut Ridge operated for a full year like this — early Saturday morning gatherings, fresh coffee samples and purchases — and it worked. Then, in March 2020, the pandemic hit.
Frazier and Thompson continued their regular weekend schedule through lockdown and established a new system called "COVINDING" — a Rubbermaid box loaded with boxes of coffee outside of Chestnut Ridge with a QR code on it for customers to scan and pay.   
"We weren't selling coffee wholesale because there was no one brewing at the restaurants, there was no one brewing at the hotels, there was no one brewing at the cafes," Frazier said. 
Since their business was still new, Frazier and Thompson said, and they were the only employees at Chestnut Ridge at the time, they had room to offer something they weren't planning on offering.
They made the decision to start selling the brews that they were only giving out in samples. In addition to the boxes, there were coolers stocked with bags of cold brew concentrate set up outside Chestnut Ridge for customers to buy.  
Tim Cannon, a Chestnut Ridge barista and JMU alumnus ('18), said he thinks this decision adds an educational element to the customer experience so patrons can become interested in coffee as a craft — not just for a caffeine fix.
"We can have conversations with people, we can give people samples or make pour-overs and stuff, and people are interested," Cannon said.       
The warehouse sits at the end of a dead-end residential street, so Frazier and Thompson said they felt that the people coming to Chestnut Ridge were people looking for coffee. To ensure customers were following through with payments, they relied on the trust system.
"I never did the math to see if the amount of money we ended up with at the end of the day matched the amount of boxes that we're missing," Thompson said. "[People] were going down that street for a reason."
 "Total trust system," Frazier laughed.
Twenty pounds of green coffee beans take Frazier and Thompson 10-15 minutes to roast. The beans are poured into the drum roaster, filing through the funnel into the machine's chamber. Heavy iron paddles inside the machine keep the beans in motion. They can burn if left standing still, so they must keep the beans moving.
A blaring humming noise — much like a jet taking off — fills the room as the beans sift inside of the roaster. A bean probe from inside the chamber monitors the temperature, and once it reaches the specified heat, the front lift is manually opened, spilling the beans into a bucket — each clinking against the metal in harmony.
Monitoring the temperature is a significant part of the roasting procedure; even an extra three-or four-second charge can affect the taste of the coffee. Frazier said he thinks if a customer comes to Chestnut Ridge and samples a certain coffee, the customer will want to taste the coffee the same way it did two weeks ago.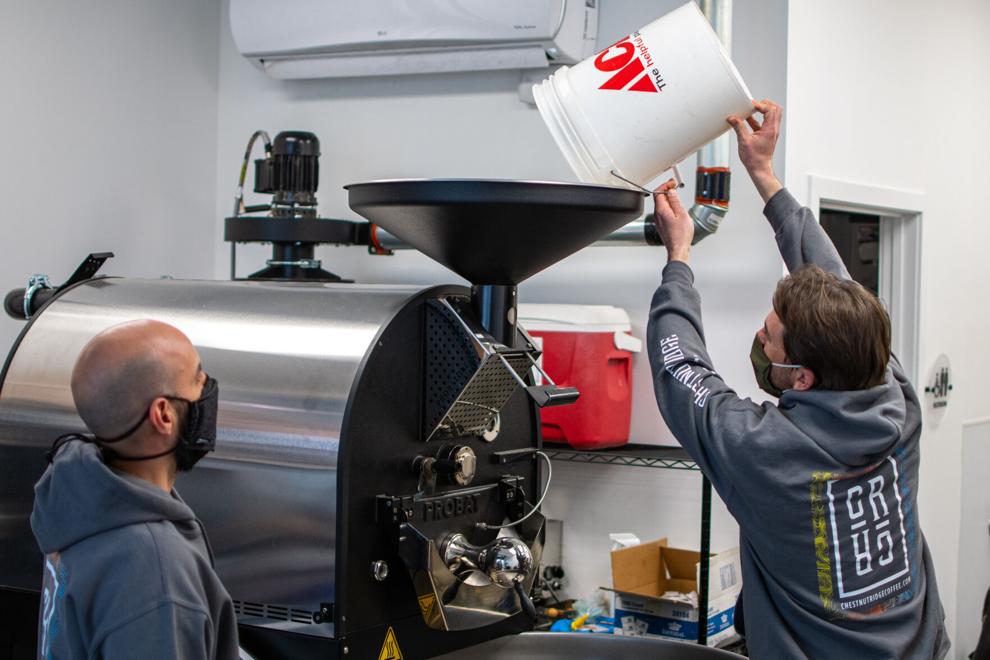 "Probably the worst thing you can do when roasting coffee is having the same coffee taste differently every time," Frazier said.
The bucket that holds the heated beans acts like a vacuum, sucking in room-temperature air to cool the beans faster. A metal rod in the center of the bucket continues to sift the beans, which topple over each other like ocean waves collapsing on a shorefront.
Then, they're poured into a bucket: Ready to brew.
Frazier and Thompson left the warehouse in July 2020 and moved to their new location next to Magpie Diner — one of Chestnut Ridge's wholesale partners.
Frazier and Thompson pulled back from their every-Saturday schedule after moving. Their new location was smaller, with less room inside for customers to hang out, and as the pandemic worsened, they didn't know what was or wasn't allowed.
They opened on the first Saturday of every month until December, when they established daily business hours and hired a team of new employees. They've operated that way ever since.
Cannon said he thinks the regular hours also allow for an educational experience. He said Frazier and Thompson are born teachers. 
"With this current model, we can do the education every single day instead of just Saturdays," Cannon said. "I think it's much, much easier working for people who are interested in teaching the community rather than working for bosses who are specifically looking for just increases in dollars and cents." 
The serve, sip and send off
Chestnut Ridge celebrated its two-year anniversary in the beginning of March. Since opening, the roastery now sells wholesale to more than five local shops in Harrisonburg and sells beans from more than seven different origins. To top it off, the owners did it all through a pandemic, and their business continues to expand.
"We've grown because we were small enough to be dynamic and, kind of, offer something that we weren't planning on offering," Frazier said.
When it's time to brew, the beans are put into a grinder, measured and ground at a given weight and time. In a pour-over, the ground beans are put into a funnel over a cup, and hot water is poured into the funnel in two 30-to-45-second processes. The hot water extracts the coffee from the grounds, dripping down into a cup that's placed under the filter. 
Once the cup is filled, it's ready to be served, and the bean's life cycle has arrived at its final destination.
Frazier and Thompson said they believe every coffee has a story to tell. According to their website, some of these stories include "tales from the high mountain in which it was grown, the hard working hands who harvested it, the farm which processed it..."
The beans' background builds them, just as Frazier's and Thompson's journeys have led them to Chestnut Ridge, continuing on to their own destinations. Cannon is a seasonal employee at Shenandoah National Park and was just looking for an off-season job when he started with Chestnut Ridge. Now, he said he hopes to keep working on his days off.
"[Frazier and Thompson are] just so delightful to work with," Cannon said. "They have a ton of knowledge, too, a ton of coffee knowledge, and I'm trying to absorb as much as I can from them."
Thompson said he hopes to one day buy his family's coffee plantation in Honduras as Chestnut Ridge grows.
And for Frazier?
"I just want to go with Jose and watch him sign the check for the family plantation," he said.
Contact Joanna Sommer at sommerjj@dukes.jmu.edu. For more on the culture, arts and lifestyle of the JMU and Harrisonburg communities, follow the culture desk on Instagram and Twitter @Breeze_Culture.