Paul Green was thankful the IHOP was closed.
The sophomore international affairs major planned to propose to his girlfriend, senior Dayana Ferman, after their IHOP breakfast on Thursday, but it ended up being closed due to COVID-19 precautions. Instead, he chose the Kissing Rock on the Quad, and thanks to that decision, Vice President for Student Affairs Tim Miller was able to take a snapshot from his window. Green said he had no idea Miller was watching but was grateful he was able to capture the moment. 
I just witnessed an engagement on Kissing Rock on the Quad!!!! @JMU pic.twitter.com/p9BmjnfEWL

— Dr. Tim Miller (@JMUTimMiller) March 19, 2020
Green said The Quad was fitting, especially since Ferman wanted to walk down it one last time as a senior. It was relatively empty that day, though it's usually filled with bustling students in warmer weather. Plus, the two of them had never been on the Kissing Rock together. JMU legend says that the person one kisses on the rock will be the person they marry. Green told his friend, junior Italian major Joel Rosa, that he was going to propose and to get his camera ready. 
"[Rosa] knew — well, everyone knew — that I loved her, and he knew it was coming," Green said. "We just went onto the Kissing Rocks, I look her in the eyes, and I'm just like, 'I just have to do this.'"
When Green got down on one knee — after kissing her on the rock — Ferman said she was shocked and wasn't expecting it. But she said Green is a spontaneous guy, so it wasn't out of character for him. Green said he couldn't afford a ring, but Ferman said she didn't care about the material side of it. It was the promise that mattered to her, and she had no idea what to say.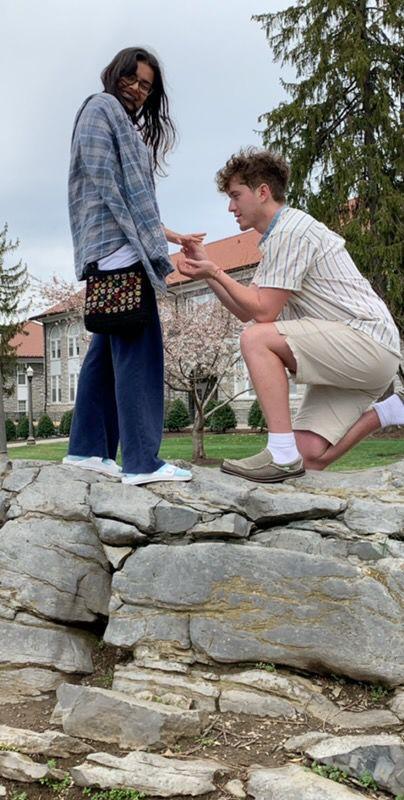 "In my head, it didn't register to me what was happening, but after that second of confusion, I was like 'Oh, my God,'" Ferman said. "It was just a natural response, saying 'Yes,' and I think I got butterflies. I think I had said 'Thank you' to him for whatever reason. I can't speak for everybody, but this is something that everybody looks forward to. I couldn't be happier."
The couple met at JMU's Latino Student Alliance (LSA) in the fall at a big and little speed dating event and got to know each other through mutual friends. They started going on dates in November, and Green said he appreciated how down-to-earth Ferman was. 
Green said he remembers one date that stood out in particular, when he attempted to set up an ENO hammock on a hill near University Park in 20 degree weather. The sun was going down and the two were shivering as he tried to set up the hammock. Green said it wasn't a perfect date, but, instead of criticizing him for the idea, Ferman just ended up laughing. 
"She's just so not judgmental," Green said. "She knows what I always mean, even if it comes out wrong. I just feel like we're literally two puzzle pieces fitting together."
After going on a couple dates, Green decided he was going to keep going after her to pursue a serious relationship. On Valentine's Day, Green decided to go all out — it'd be the day he officially asked her to be his. He and his friends took a trip to Walmart to gather gifts: a human-sized stuffed dragon and a rose.
"I was like, 'Yo, I'm gonna be super extra,'" Green said. "I feel some type of way towards her that is beyond belief."
Green also wrote her a poem in Spanish and made her a bouquet of chocolate-covered strawberries. He said that when he asked her to be his Valentine, she ended up laughing for almost five minutes straight. 
Ferman, who described herself as an awkward person, said she's never felt awkward with Green. She said she thinks they have the same type of humor and never fail to make the other laugh. Green said one significant memory he had was staying in Ferman's car from 11:30 p.m. to 5:30 a.m. — around six hours of straight conversation. He said there wasn't a single point when it was awkward. 
For him, it felt like a short 20 minutes had passed. 
"I was incredibly happy for him 'cause all he would ever talk about is Dayana," Rosa said. "Like, we'd be talking about anything, and he'd randomly say, 'I love Dayana.' I'm just happy for him, and he didn't let the virus get in the way of things."
Green, Ferman and Rosa said they had no idea Miller took a photo of the proposal from his office. When Miller posted it on Twitter and Instagram, Rosa said that the couple's friends from LSA were "shook" and didn't see it coming. 
The couple has agreed to wait until Green graduates before talking about marriage. He said he wants to find a balance between work, Ferman and school. He's set a goal of getting on the Dean's list. The COVID-19 outbreak has also made it difficult for the couple to see each other and talk about future plans. For now, their proposal is more of a promise to each other. 
"Some advice that I've heard is, 'The best things come to you when you aren't looking for them,' and I think that in this case, it's completely true. 100%," Ferman said. 
Contact Kailey Cheng at thebreezeculture@gmail.com. For more on the culture, arts and lifestyle of the JMU and Harrisonburg communities, follow the culture desk on Twitter @Breeze_Culture.