Last Saturday, on a brisk afternoon just before kickoff, Andrea Dargie watched from below as her boyfriend, JMU alumnus and 1st Lt. Blake Place ('15), flew over Bridgeforth Stadium with his battalion. Place is part of the Virginia National Guard's 2nd of the 224th Assault Helicopter Battalion that was invited to perform a flyover of the field for the football game. 
They'd be thanked for their service in the third quarter — and Dargie would get the surprise of her life.
The couple met in 2017 in Fort Rucker, Alabama. Place was in flight school, while Dargie was working as a mechanical engineer at the U.S. Army Aeromedical Research Laboratory. Place said after their separate friend groups met each other, the two became close. Then, he decided to tell Dargie how he felt, and their relationship began.
"One night, I just straight up told her [that I liked her] because I was getting ready to leave flight school within about three weeks or so," Place said. "I really didn't think I had a shot … [but] she responded with, 'I like you, too.'"
This past Saturday was a special day for the couple. It just so happened that Place's battalion was selected for the flyover on the day his alma mater was playing Dargie's alma mater — the University of New Hampshire. He knew he couldn't pass up the opportunity to do something special for her. With the help of the friends in his unit, Place planned the ultimate proposal.
"I'd been trying to figure out how I'd like to propose, and I'd always thought I'd do it in a super small setting, which is what she'd hinted at before," Place said. "We formulated this plan over a couple beers, and we knew we had to do it this way because, I mean, the stars aligned."
Capt. Chuck Cavender, Place's friend in the battalion, pitched the idea of proposing on the field after he learned their unit would be recognized on the field after the flyover. With some persuasion, Place agreed, and they got permission from the JMU athletic and marketing departments to make it happen.
Despite the extensive planning, Cavender said Place was nervous. Before taking the field, Place could hardly think.
"A few minutes prior to him going on the field, we were like, 'Hey, what are you going to say?' and he had no clue," Cavender said. "[We were] like, 'Well, we probably need to think about this so you don't completely mess it up in front of thousands of people.'"
When it came time for the battalion to take the field, Dargie watched as each crew member was recognized. Then, Place was given a microphone and called for Dargie. Despite his stress, he got down on one knee and delivered his short speech. 
"Andrea Dargie, you may be a Wildcat — UNH — and I a Duke, but ever since I first met you, I knew you were the one," Place said. "Andrea Dargie, will you marry me?"
Dargie's hands covered her face in shock, and she doubled over in disbelief. She said she was apprehensive about being the center of attention in the eyes of almost 20,000 people. At first, it didn't register that Place was proposing. But once he started talking, she said it felt like the crowd vanished, and it was just the two of them.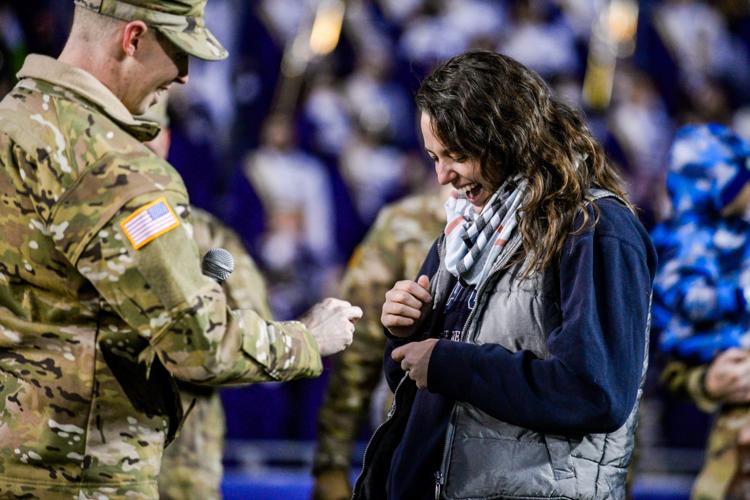 "I was really just focused on him, and it still felt like such a special moment," Dargie said. "It did definitely say something that he was doing it in front of his entire unit … and the fact that it was in front of his family and his friends."
The proposal wasn't the last surprise for Dargie. Place's family was present for the special moment, but because Dargie's family lives in Alabama, she didn't expect to see any of hers. But as the newly engaged couple walked off the field, Dargie's mom appeared.
"I thought it would be a very important thing to incorporate her family as best as possible, so without her knowing, I got her mom to come up here," Place said. "So, that was the icing on the cake for the event."
While Dargie and Place are still in the beginning stages of wedding preparations, Dargie said she has an idea of when she'd like to have the wedding. And after such a public proposal, they're looking forward to settling down and enjoying their engagement.
"Tentatively, I've thought of fall 2020," Dargie said. "[And our] plans for the future are to spend our lives together and just enjoy life."
Contact Amy Needham at needhaal@dukes.jmu.edu. For more on the culture, arts and lifestyle of the JMU and Harrisonburg communities, follow the culture desk on Twitter @Breeze_Culture.