The start of Tim Miller's day is predictable: His Apple Watch will buzz until he wakes, but he usually sets another alarm for five minutes later, just in case. After that, what's ahead of him is anyone's guess.
JMU's Vice President for Student Affairs says he's easily bored, and, if every day was the same, he couldn't do his job. On this day — Friday, Oct. 4 — he'll subdue false rumors of an HIV outbreak on campus that are "heating up" on social media. There have been zero HIV diagnoses in the JMU Health Center, but that fact alone won't calm the parents on Facebook.
But, first things first.
Miller makes a seven-minute commute, flipping the radio from Tupac to AC/DC to U2 on the way, and slides into a reserved parking space. His excitement for the day ahead is contagious and palpable as he greets coworkers on his way in and begins work four minutes ahead of schedule with a yearbook interview.
"I get to go to college every day, and it's not weird," Miller said, adding that college is often one's four most transformative years  — but not the best four. "If you've peaked at 21, that's a pretty sad reality."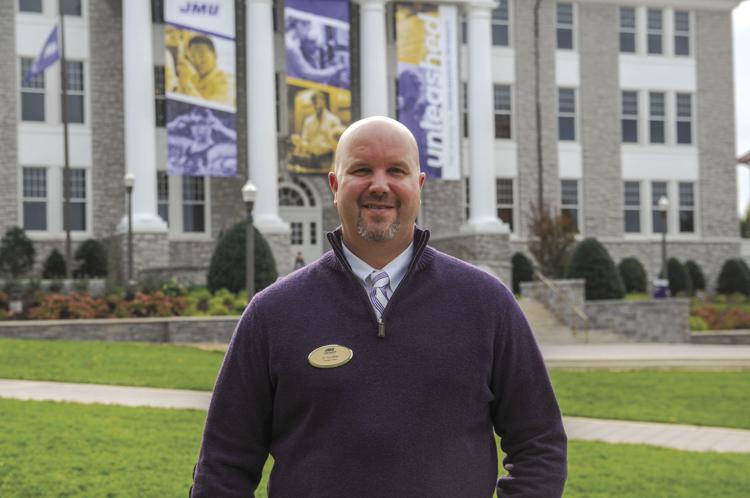 After hearing about the opportunity in June 2017, Miller — a "Double Duke" who received his undergraduate degree in 1996 and his Master of Education in 2000 — decided to return to Harrisonburg. It's the place he says "helped me be who I am." 
Miller is willing to live two hours away from his wife of 19 years so he can have his dream job without Jamie leaving hers at the Pentagon. He's in a one-story house with an unfinished basement and a garden out back, while she still lives at their house in Falls Church, Virginia. He drives 123 miles "expeditiously" to see her several times per month in the summer, while she usually makes two trips per month down to Harrisonburg during the school year.
Two more meetings pass as Miller listens graciously while making strong, yet gentle eye contact. The hundreds of parents buzzing online about the HIV rumors are the last thing on his mind as he engages in effortless small talk. He gives gifts to each guest: a new purple and gold Apple Watch band he'd been saving in a drawer — identical to one he's wearing — after he'd been complimented his, as well as a book on leadership and time management after a man who arrived late to a meeting asked how Miller manages his wire-to-wire schedule.
That's the greatest mystery of all: how Miller manages his schedule while keeping his sanity and energy throughout his 12 meetings that day — all without coffee.
Miller checks his carefully curated and regularly updated social media feeds, which are synchronized for continuity across Instagram, Facebook and Twitter. His message to the JMU Parents Facebook page clarifying the HIV rumors has been well-received, but more action is required.
He's cautious, measured and delicate in handling the sensitive situation, meeting with University Spokesman Bill Wyatt and JMU Health Center officials to discuss the best course of action. After confirming with the Virginia Department of Health that there have been no recent diagnoses of students with HIV, a plan is in place to share a statement.
On his way to Madison Union, he calls JMU President Jonathan Alger to fill him in on the fake HIV hoax and pending statement — JMU's medical director wrote it that morning for authority and credibility. Alger's visiting his daughter, a sophomore at Miami University, this weekend.
"Tell Eleanor I said 'hi,'" Miller said as he signed off.
As Miller's meeting with the new Student Affairs Advisory Board concludes around 1 p.m., the statement is shared on Twitter and the situation soon blows over.
But there's no time to rest for Miller, who's now off to a Sexual Assault Prevention Alliance meeting. He takes notes on purple loose-leaf paper, listens closely and carefully, and leads gently but with clear authority.
An hour later, he shifts his focus to the mental health crisis at JMU. In the words of one JMU staff member on the IMPACT team, which examines how the university addresses mental health, the problem is growing "exponentially" with "no plateau in sight." On Sept. 23, a record number of students visited the Counseling Center. The record was broken the next day.
"I think we could hire 10 more counselors next year and still have a problem," David Onestak, director of the Counseling Center, said.
The group turns to Miller for leadership and guidance in what seems to be a grim situation. Earlier that week, at a meeting with provosts and vice presidents of student affairs from other schools, Miller discussed the importance of encouraging staff to better help students struggling with mental health issues. Miller said this requires a shift from a "recognize and refer" mindset to a "recognize and relate" one, which is achieved by staff members comforting students and offering themselves as a resource instead of simply delegating the responsibility to the overwhelmed Counseling Center.
Later, Miller meets with a fraternity president who has a gripe with Harrisonburg's new noise ordinance and later meets with students from JMU's Student Government Association to brainstorm ideas for improving elections. He'll then speak at a Make Your Mark on Madison meeting and make an appearance at a Mad4U event before ending his night at his first JMU volleyball game of the year.
A jam-packed agenda doesn't keep Miller from making time for Daniel George, a senior psychology major interested in student affairs, who shadows him throughout the day. George sees Miller as someone who's "dedicated, spirited, [has] integrity [and is] committed" to making JMU the best place it can be.
"I learned some things about myself, but the biggest thing I learned was that, like, no matter how high people are in student affairs, they do care about this campus, one face at a time," George said.
Miller said he gets his strength from knowing what he does makes a difference. He describes a "Venn diagram of purpose" where what one's good at, what one loves, what one can be paid to do and the difference one can make for humanity all intersect. He's at peace knowing he's in the middle of it in his role at JMU.
As hectic as his day might be, his evening is more predictable. In his calm, still house, he may solve a jigsaw puzzle, ride his exercise bike or have a phone conversation with Jamie to unwind. Then, as his head hits the pillow, he'll get much-needed rest for everything Saturday may bring.
Contact James Faris at breezecopy@gmail.com. For more on the culture, arts and lifestyle of the JMU and Harrisonburg communities, follow the culture desk on Twitter @Breeze_Culture.