Every week, Madison Business Review contributor Bryce Roth provides a recap of what happened in the business world and stock markets.
---
The S&P 500 nearly closed at a new record Thursday before giving up its gains.
Concerns centered around Pfizer dialing back its COVID-19 vaccine rollout plan for this year because of supply chain issues. The company said that the scale-up of the raw material supply chain took longer than expected and is the main reason for the decline in expectations. Pfizer repeatedly said that it planned to ship 50 million vaccine doses this year instead of the 100 million it expected and produce up to 1.3 billion doses by the end of 2021. 

Fortunately, there appears to be more than one safe and effective vaccine on the horizon. Moderna and AstraZeneca are another pair of pharmaceutical companies that announced positive vaccine progress in November.
Positive vaccine news overshadowed politics this week for the first time in months. The Madison Business Review's Bryce Roth breaks down the latest on vaccines, spiking COVID-19 case counts and the stock market's performance.
But there are notable differences between those companies' vaccine candidates, including how they're stored. Pfizer's vaccine must be stored at minus 94 degrees Fahrenheit while Moderna's can be stable at 36 to 46 degrees Fahrenheit, which makes it more practical for storage in a standard refrigerator for up to 30 days, according to CNBC.
Storing the vaccines at these temperatures is already a difficult task, but the large demand for them makes the process even harder. That's yet another challenge for widespread distribution.
Stimulus still stalled
Perhaps the most redundant topic of the past few months — a second stimulus package — is still in the works as COVID-19 cases and deaths top record highs.
House Speaker Nancy Pelosi and Senate Minority Leader Chuck Schumer urged Senate Majority Leader Mitch McConnell to use a $908 billion bipartisan stimulus plan as the basis for relief talks, endorsing a smaller relief bill than they previously suggested which was over $2 trillion. 
But McConnell quickly shot down the bipartisan plan after its release Tuesday. He has endorsed only about $500 billion in spending in a new package that mostly addresses small business loans, education and COVID-19 vaccine distribution while protecting businesses from pandemic-related lawsuits.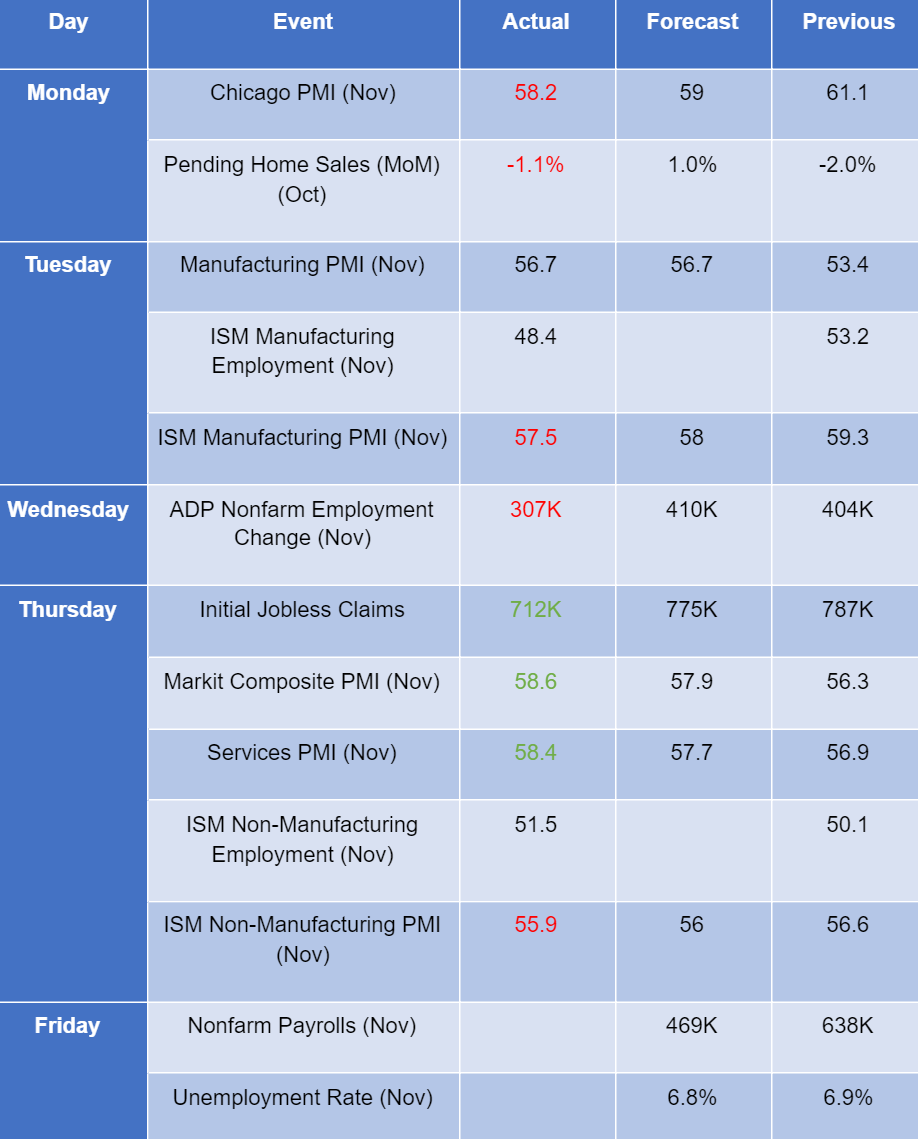 Partisan differences also center around federal unemployment insurance payments and more help for state and local governments, the latter of which isn't favored by Republicans. McConnell wants to temporarily extend benefits to the jobless without giving supplements to those who are currently employed.
Individuals and businesses in need of help are waiting on developments, as are investors.
Black Friday not quite a blowout
Black Friday online sales totaled $9 billion, $3.6 billion of which were made on smartphones, according to TechCrunch. Meanwhile, traffic at stores was down 52% in the U.S. This is good news for Amazon and small businesses that pivoted to e-commerce, but overall sales were disappointing, which is worrisome for the economic outlook.
The growth of e-commerce has accelerated in recent years, and online retail has become essential for both businesses and consumers amid the pandemic. Here's what's next for e-commerce and traditional retail.
Fewer holiday shoppers bought gifts during the five-day period from Black Friday to Cyber Monday. Those who did buy spent less as discounts started early this year, according to the National Retail Federation.
About 186.4 million shoppers bought holiday gifts, food or decorations in the period from Thanksgiving to Cyber Monday, the National Retail Federation found. That's less than the 189.6 million shoppers who bought items in that period last year but higher than the 165.8 million who shopped in 2018.
Oil cartel strikes tentative oil agreement
The Organization of the Petroleum Exporting Countries (OPEC) met this week to discuss oil production quotas for each of its 14 member countries. Oil demand plunged this year amid a global economic slowdown as planes were grounded and economic activity hit a lull.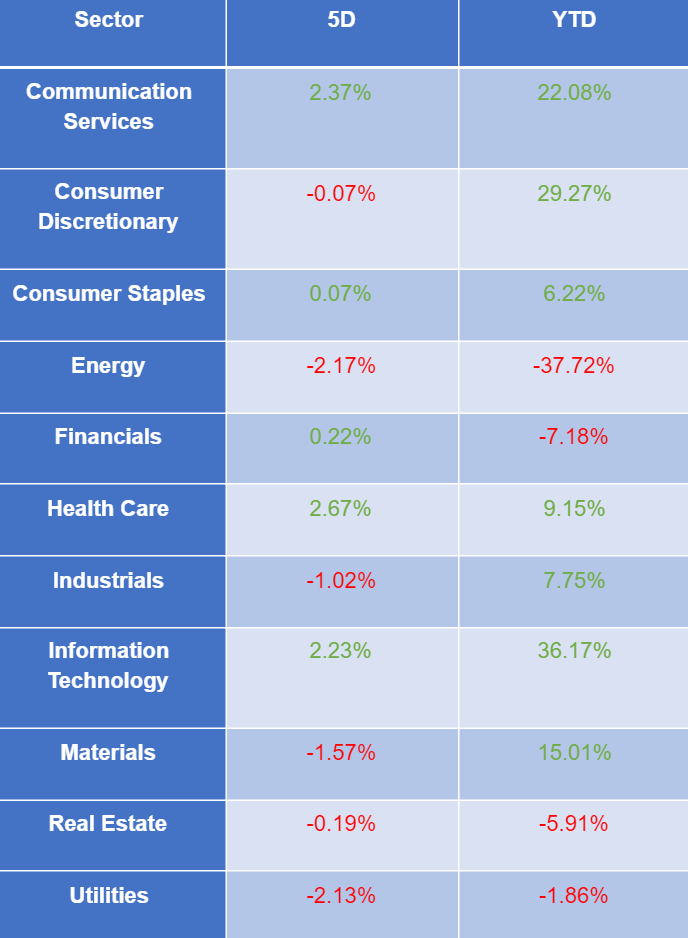 "The shock to the oil industry is massive and its severe impacts will likely reverberate in the years to come," Abdelmadjid Attar, the president of OPEC and energy minister of Algeria, said.
OPEC and non-OPEC allies agreed Thursday after days of tense discussions to increase production by 500,000 barrels per day beginning in January. This will bring the total production cuts at the start of 2021 to 7.2 million barrels per day. The energy sector was the biggest loser of the 11 S&P 500 sectors this week.
"500,000 barrels per day from January is not the nightmare scenario that the market feared, but it's not what was really expected weeks ago," Paola Rodriguez Masiu, Rystad Energy's senior oil markets analyst, said. "Markets are now reacting positively and prices are recording a small increase as 500,000 of extra supply is not deadly for balances."
The global COVID-19 outbreak disrupted crude oil demand, storage and production as oil futures contracts fell below zero in an unprecedented move. Here's clear, straightforward analysis of what happened and what's next.
Following the meeting, international benchmark Brent crude futures traded 1.4% higher at $48.92 per barrel, while U.S. West Texas Intermediate futures settled $0.36, or 0.8%, higher at $45.64 per barrel. Oil prices remain more than 25% lower in 2020.
Fed programs, Bitcoin rally extended
The Federal Reserve is extending four emergency liquidity programs to March 31, 2021. Programs extended are the Commercial Paper Liquidity Facility, the Primary Dealer Credit Facility, the Money Market Mutual Fund Liquidity Facility and the Paycheck Protection Program Liquidity Facility.
These are considered a critical part of the Fed's efforts to prevent a prolonged recession. The U.S. central bank is continuing to bolster the economy while vaccines are still not out to the general public.
Bitcoin has soared since October and may be approaching new all-time highs. Here's an in-depth look at how cryptocurrencies like Bitcoin work and both the catalysts for continued growth and risks to the highly volatile digital asset.
In other news, Bitcoin price surged to an all-time high this past Monday to $19,834.93, beating out the previous intraday record of $19,783.21 set Dec. 18, 2017. Bitcoin's gains have been fueled by both retail and professional investors and a plethora of platforms that make it easy to trade cryptocurrencies. 
The world's most famous cryptocurrency is difficult to value, but analysts are trying anyway. Price targets vary widely, from $50,000, to $6 million, to $0.
Bryce Roth is a junior finance major. Contact Bryce at rothbc@dukes.jmu.edu.
Disclaimer: I/we have no positions in any stocks mentioned and no plans to initiate any positions within the next 72 hours. I wrote this article myself, and it expresses my own opinions. I'm not receiving compensation for it, and I have no business relationship with any company whose stock is mentioned in this article.