This is the third entry in a three-part series from the Madison Business Review. Read Part 1 on alternatives to college and Part 2 on overworking employees.
---
The secret is out: Working too hard leads to diminishing returns that often harm employees' mental health and employers' productivity.
A cross-sectional data analysis conducted by the Madison Business Review on how average hours worked per week by full-time employees in 37 developed countries affects nominal GDP output per person found a relatively strong correlation between an increase in hours worked and a decrease in GDP per capita.
The data show that countries with longer workweeks were generally less productive, which implies there's an ideal balance of hours worked per week to productivity.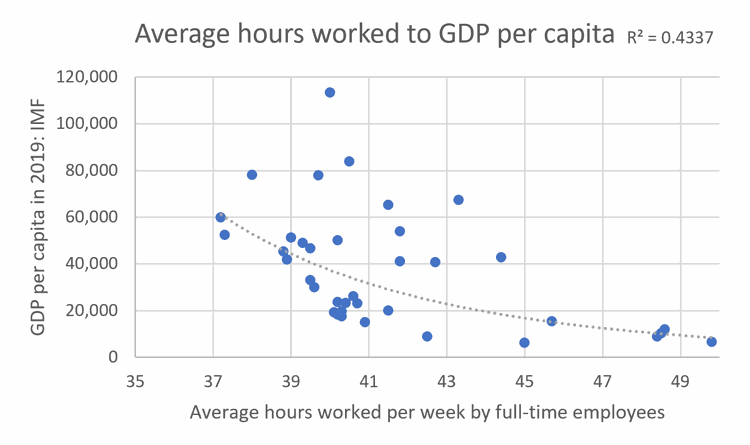 Employees aren't robots, and after a certain point in the workday and workweek, productivity will inevitably slip along with efficiency because of exhaustion and weaker focus.
Smart businesses, especially those that pay employees by the hour, should maximize efficiency by noting when workers' output begins slipping to the point where companies aren't producing as much value per hour as they're paying them.
Otherwise, overworked employees will resort to time theft by checking social media or making a personal phone call on company time. As mentioned last week, this affects 75% of American businesses, costing them at least $400 billion annually, according to Software Advice, citing studies by the American Payroll Association.
Even worse, burned-out workers may quit altogether. Finding and hiring an employee costs $4,129 on average, according to Toggl, citing a study by the Society for Human Resource Management. A high turnover rate will add up for businesses and may end up sinking them.
Employers: Want to save money and boost productivity, workplace satisfaction and worker retention rates? Have employees work fewer hours. Here's why.
So, where's the sweet spot for hours worked per week? The short answer is that it depends on each industry and individual company, but it's worth finding out.
Based on the Madison Business Review's aforementioned data analysis, it appears a 37-hour workweek is far more efficient than a 47-hour workweek, and the most efficient workweek is likely in the 37- to 41-hour range.
But in America's highly competitive, efficiency-first work culture, is it acceptable or normal to ask employers or employees to work fewer hours?
To answer this, it's vital to know the average American workweek, how it compares to other countries and how it's evolved over the past few decades.
Land of the free, not land of the free time
The average American works 41.5 hours per week, according to the Organization for Economic Cooperation and Development. That's an average of just over eight hours a day, which has been the standard since 1940, according to CNBC.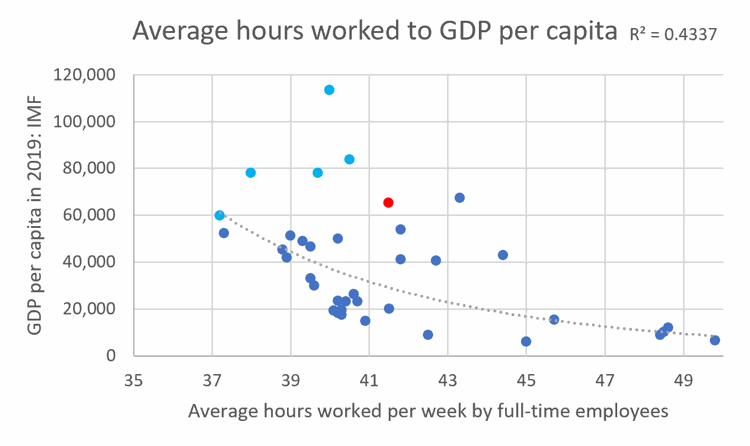 In the graph on the right, an ideal landing spot would be in the upper-lefthand corner, as that indicates high nominal GDP per worker with fewer hours worked per week. 
America is represented by the red dot with an average workweek of 41.5 hours and a nominal GDP per capita of $65,111, according to the International Monetary Fund's 2019 estimates. 
Countries in light blue are nearly as productive or more productive on a per-worker basis while working fewer hours, on average. Those noteworthy countries are nestled in Northern Europe: Switzerland, Luxembourg, Ireland, Norway and Denmark, from right to left.
Capitalism and workaholism: Are the two tied?
So, can America learn a lesson from those five countries with comparable or better economic output per worker and shorter workweeks?
First, it's crucial to note that those five countries have an average population of just over five million, which is dwarfed by the U.S.'s roughly 328.2 million. These smaller countries benefit from trade specialization, country-specific resources and business-friendly government policies — in the case of Luxembourg — that help them post impressive GDP marks despite tiny populations. 
Among large countries, America's GDP — not to mention its GDP per capita — blows others out of the water. The U.S. is easily the world's most productive country by raw output, as its nominal GDP mark of $21.4 trillion dwarfs No. 2 China's $14.1 trillion mark.

While U.S. productivity growth has slowed since the Great Recession, according to the U.S. Bureau of Labor Statistics, American companies are finding ways to boost profits by any means necessary.
In a competitive, capitalistic economy, corporations and executives are only as good as their last quarter. That creates an insatiable drive for more production and innovation that tempts workers of all skill levels to work more. Workaholism, it appears, is most visibly an American issue.
What companies often miss is that, as discussed earlier, working more hours isn't always the answer, as exhaustion often leads to stress, mental health issues, poorer work, burnout and turnover.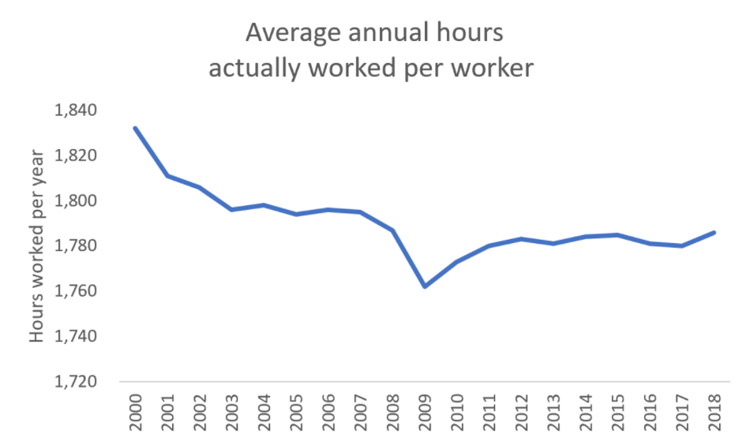 But research shows employers may be starting to catch on as younger employees demand a better work-life balance, according to data from the Organization for Economic Co-operation and Development. 
The graph to the right shows the average hours worked per year by Americans has fallen since the turn of the century. While it's increased since the Great Recession after a sharp dip, the broader trend of working fewer hours per year is still intact. 
The idea that Americans are finally starting to keep workweeks in check is supported by real output per hour data in the nonfarm business sector from the U.S. Bureau of Labor Statistics. This chart to the right shows a slowing growth rate of hours worked in the 21st century compared to the 1980s and 1990s.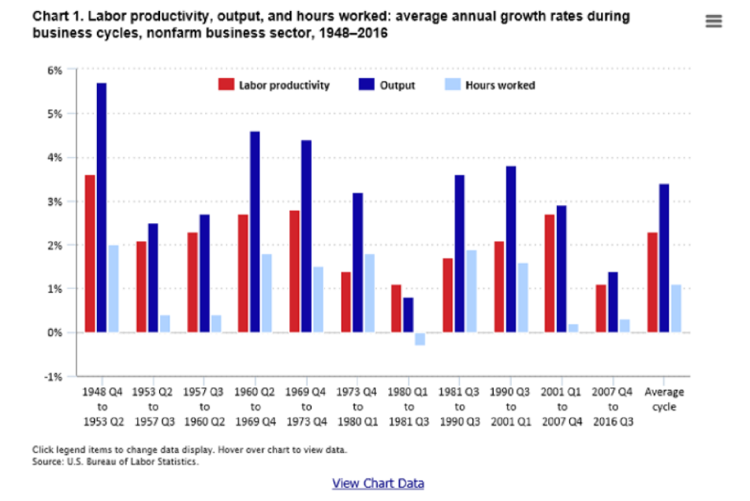 While the growth rate of labor productivity and output didn't match the late 20th-century levels, the drop was less than proportional compared to the drop in hours worked. In other words, the hours worked growth rate fell more than that of labor productivity and output, further suggesting hours worked and output don't move directly in line.
Conclusion
Working too long has clear diminishing returns. That's an idea reflected by the Madison Business Review's data analysis of hours worked to productivity, with findings that suggest 37- to 41-hour workweeks are ideal on a country-wide scale.
America is easily the most productive and powerful economy by raw output, thanks in part to its size, but not exclusively. After all, countries like China and India have large GDP numbers because of their billions of residents but menial GDP per capita numbers. Some European countries top the U.S. in output per worker, though that's due in part to trade specialization, resources and government policies.
The U.S. could potentially raise workers' quality of life and possibly boost productivity by shifting away from the rigid capitalistic mindset that working more leads to better output, especially when that leads to overworking. 
There's evidence to suggest that's starting to happen, and employers, employees and the nation will be better for it.
James Faris is a senior media arts and design major. Contact James at breezembr@gmail.com.