Months of warnings that historically expensive stocks were due for an inflation-induced wake-up call appeared to materialize as February came to a close, though a series of sharp, persistent rebound rallies may send bears back to their caves.
The technology-focused Nasdaq Composite retreated nearly 5% last week while the Dow Jones Industrial Average and S&P 500 closed February's final week down about 1.8% and 2.5%, respectively.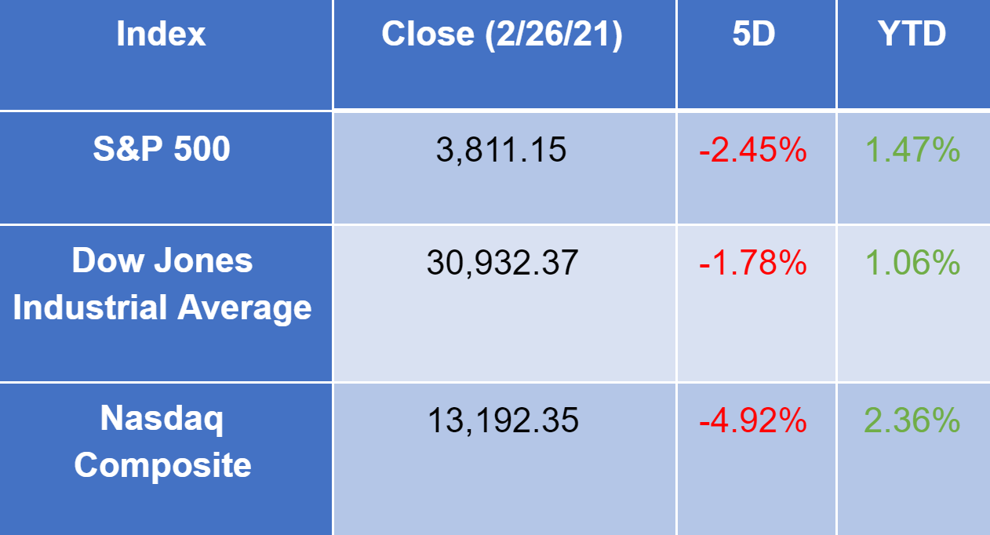 Last week's weakness erased what looked to be strong February gains for stocks, though the Nasdaq, Dow and S&P 500 managed respective gains of roughly 0.9%, 3.2% and 2.6% in the month. So far this year, the Nasdaq is up close to 2.4%, the Dow has risen about 1.1% and the S&P 500 has climbed about 1.5%.
High-flying growth stocks — especially those in the tech sector — that dominated in 2020 have lagged peers recently as investors take profits and pivot to cheaper value stocks, anticipating higher inflation as the U.S. economy continues to heal from the coronavirus pandemic.
Inflation, or a general increase in prices as money's purchasing power falls, is generally good for an economy when it's at low, steady and predictable levels. Rising prices incentivize spending and investment, as a business owner debating whether to buy machinery this year or next year would be wise to make the purchase before goods get more expensive. By contrast, deflation is crippling, as it freezes spending and slows the flow of money through the economy.
However, high and out-of-control inflation is as dangerous as deflation — if not more so. Hyperinflation is a nightmare for economies, as wild price surges evaporate purchasing power of a currency and lead to an economic crisis. Zimbabwe experienced this economic tragedy from 2007-09; a $100 trillion note from the South African country couldn't even buy a bus ride.
GameStop's stock surged again as the broader market suffered. Here's what's behind the wild market moves.
Low, steadily rising inflation is a generally healthy signal of a strengthening economy, but risk assets — from ultra-safe U.S. Treasuries to riskier growth stocks — don't always benefit. And if the Federal Reserve, which is tasked in part with ensuring stable prices, can't keep inflation in check, a stock market crisis will inevitably follow.
Bonds, which provide investors with consistent fixed income, become far less attractive with rising inflation because it erodes yields paid to bond owners. If a bond yields 2% but inflation is 1.5%, the real yield adjusted for inflation is 0.5%. Even worse is when inflation outpaces bond yields, which leads to crushing negative real yields that ties up bond owners' money without a payoff. Tons of fiscal and monetary stimulus from central banks around the world in 2020 has led to a record $18 trillion of negative-yielding bonds as of December, according to Bloomberg.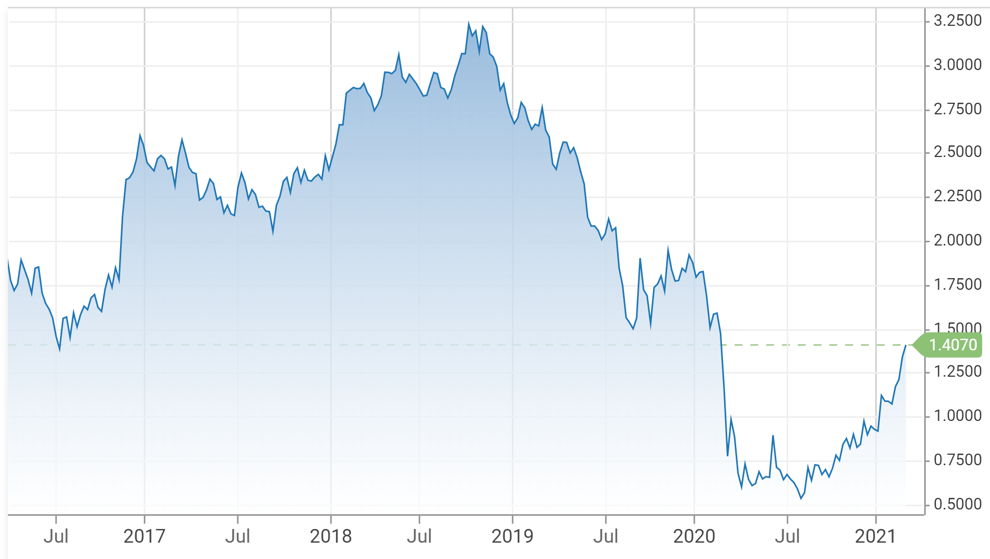 An expected inflation increase has sent bond owners running for the exits, which sends bond prices down and yields up since the two move inversely. The Fed's ultra-aggressive bond buyback program instituted in March 2020 sent bond prices soaring and yields to all-time lows, illustrated by the yield move in the U.S. 10-Year Treasury note. But after bottoming in August, yields have climbed as bond investors sold with the economic recovery underway, in part to move into stocks but also to get ahead of inflation.
Rock-bottom bond yields made stocks of rapidly growing companies like Tesla, Zoom and mega-cap giants like Facebook, Amazon, Apple, Microsoft and Google (FAAMG) much more attractive as investors paid up for the promise of strong future earnings growth. Investors believed "there is no alternative" to stocks and piled into those tech titans.

But as bonds sell off and yields climb, growth stocks' future cash flows become relatively less attractive, which is one of the main catalysts for the recent tech selloff. Investors now feel they have options and are pivoting to value stocks in economically sensitive sectors that benefit from higher inflation.
Stocks in the industrial sector — which includes the airline, construction, defense and transportation industries — and materials sector have outperformed the S&P 500 and tech sector recently. Bond sellers anticipate a strong, quick economic recovery that will spark higher inflation, which should disproportionately benefit companies in those cyclical sectors.
Higher inflation is a threat to tech companies that long defied gravity with near-zero bond yields that have some room to slide, but it's a blessing for banks, given enhanced ability to borrow short-term at cheap rates and lend long-term at higher rates as the 10-year U.S. Treasury yield rises. The financial sector is also widely expected to reap rewards of a swift economic recovery because of banks' exposure to Main Street businesses.
Investors skeptical as Fed dismisses inflation fears
As growth stocks sold off last week and inflation fears ran rampant, Federal Reserve Chairman Jerome Powell downplayed the fears in prepared remarks at the Senate Banking Committee and reiterated that Fed policy will remain accommodative and generous for the near future. If the Fed continues to affect the bond market with huge purchases, it may keep yields in check.
"Following large declines in the spring, consumer prices partially rebounded over the rest of last year," Powell said. "However, for some of the sectors that have been most adversely affected by the pandemic, prices remain particularly soft."
Inflation is below the Fed's long-run target of 2% on a 12-month basis, Powell said, adding that the U.S. central bank will continue to buy bonds to flood the economy with liquidity and increase the nation's money supply. Powell also encouraged Congress to go big with fiscal stimulus.
Powell's generous monetary policies have propped up the stock market as corporate earnings crumbled during the pandemic and subsequent economic slowdown. Whether or not the Fed has gone too far is up for debate, but it's inarguable that the U.S. central bank has done its part to control — and some say kill — the free market by bailing out risk-asset investors with its seemingly endless supply of money that's led to stock prices far outpacing earnings growth.
2020 was a year for the record books in more ways than one. While millions of individuals and tens of thousands of businesses suffered during the pandemic, stocks largely soared. As the world hopes to heal in 2021, could the tables turn and leave investors ironically longing for a return to 2020?
Economists have long overestimated inflation and are divided over whether or not inflation is already present and how quickly it will increase. Some are skeptical that the Fed is properly measuring it, given rising asset prices in the past decade, red-hot retail sales, surging corn and wheat prices, and strong consumer spending on goods, despite steady consumer goods prices. 
Investors, too, appear uneasy as stocks seesawed last week between strong gains and huge losses — even intraday. As expected, stock prices and bond yields moved inversely.
The tech-heavy Nasdaq Composite got smacked Monday and Tuesday, falling nearly 3% while underperforming the Dow and S&P 500 before starting Wednesday down nearly 4%, though it rallied as Powell spoke and closed up 1%. It gave back 3.5% the next day in a market wipeout sparked by surging bond yields, which sent the Dow down about 1.8% and the S&P 500 about 2.5% lower. A change of pace came Friday as the Nasdaq gained 0.5% while the Dow and S&P 500 finished in the red with drops of 1.5% and nearly 0.5%, respectively.
What's coming in March is anyone's guess. Volatility as measured by the Chicago Board Option Exchange's Volatility Index (VIX), which serves as the market's "fear gauge," hardly budged last week when considering the violent price swings in stock prices.
There are plenty of reasons for optimism, with vaccine rollouts underway, fiscal stimulus on the horizon and pent-up consumer demand pending. But inflation may be enough to deflate what bears have called a stock market bubble — especially if prices surge sooner than expected.
James Faris is a senior media arts and design major. Contact James at breezembr@gmail.com.
Disclaimer: I'm a long-term investor in Tesla and the Financial Select Sector SPDR Fund (XLF), which is an exchange-traded fund covering the financial sector of the S&P 500. I wrote this article myself, and it expresses my own opinions. I'm not receiving compensation for it, and I have no business relationship with any company whose stock is mentioned in this article.
Additional disclosure: Investors are always reminded that before making any investment, they should do their own research on any name directly or indirectly mentioned in this article. Investors should also consider seeking advice from a broker or financial adviser before making any investment decisions. Any material in this article should be considered general information and shouldn't be relied on as a formal investment recommendation.