America is as divided now as it's been in a century and a half, as evidenced by the violent insurrection at the U.S. Capitol on Jan. 6. But Democrats and Republicans have found common ground on one issue, though for starkly different reasons: Big Tech may be too big and powerful.
Social media giants including Twitter, Facebook — which also owns Instagram — and Snapchat have taken drastic steps to ban President Donald Trump from their platforms, in part for "inciting violence," which is a violation of the sites' terms of service.
JMU and College Republicans weighed in on the protests turned riots that occurred at the Capitol Building Wednesday. Both the university and College Republicans condemned the violence that took place.
Tech behemoths like Alphabet — the parent company of Google, which owns YouTube — and Amazon — which runs Amazon Web Services, its cloud computing unit that hosts Netflix and over one million other sites — have also taken action against users and services like Parler spreading lies about the election that many believe directly led to the insurrection at the Capitol.
Both sides of the aisle are displeased with Big Tech and wary of the power that just a handful of companies wield, but for opposite reasons. Republicans who believe Trump and conservatives are being silenced or "canceled" are outraged by the quick, drastic action while many Democrats have applauded the moves but believe they came far too late and failed to prevent the spread of misinformation that drove a radical mob to an act of domestic terrorism.
Private companies are well within their legal rights to set terms of use and remove users or platforms that violate them, as spokespeople from the sites have clearly explained. Likewise, individuals are free to use or refrain from any service of their choosing for any reason — including whether they believe Facebook or Twitter's policies are too harsh or too lenient.
Stock market averages reached new highs this week after President-elect Joe Biden's victory was certified by Congress — despite an interruption from rioters. The Madison Business Review's Bryce Roth recaps a wild week and explains what's driving markets.
Shareholders can also vote with their money, and recent price action on Facebook and Twitter's stock prices — down 6.5% and 17.2%, respectively, since Jan. 5 — hasn't been kind. The pressure has especially affected Twitter as many of the president's supporters have pledged to ditch the platform, which had long battled Trump before permanently banning him on Jan. 8.
Regardless of one's politics or view on how tech giants have handled the political turmoil and threats to democracy in recent weeks, investors should always be on the hunt for opportunities.
Is it time to buy the dips in shares of Facebook and Twitter, or will these social media companies keep trending downward? Here's a look at how each company will fare going forward.
Facebook built to outlast outrage
The world's largest social media service by a wide margin has faced controversy after controversy in the past five years, though it's continued to see its users and its stock price climb under founder and CEO Mark Zuckerberg. Its enormous user base and mind-bending monetization method make it a seemingly unshakable power that's built to ride out any unrest.
Facebook first faced fierce criticism in 2018 for its handling of user data in the Cambridge Analytica scandal, where the U.K.-based consulting firm collected information on about 87 million Facebook users without permission and sold it to political advertisers. That sensitive information may have been used by Russian operatives, which sought to influence the 2016 U.S. presidential election.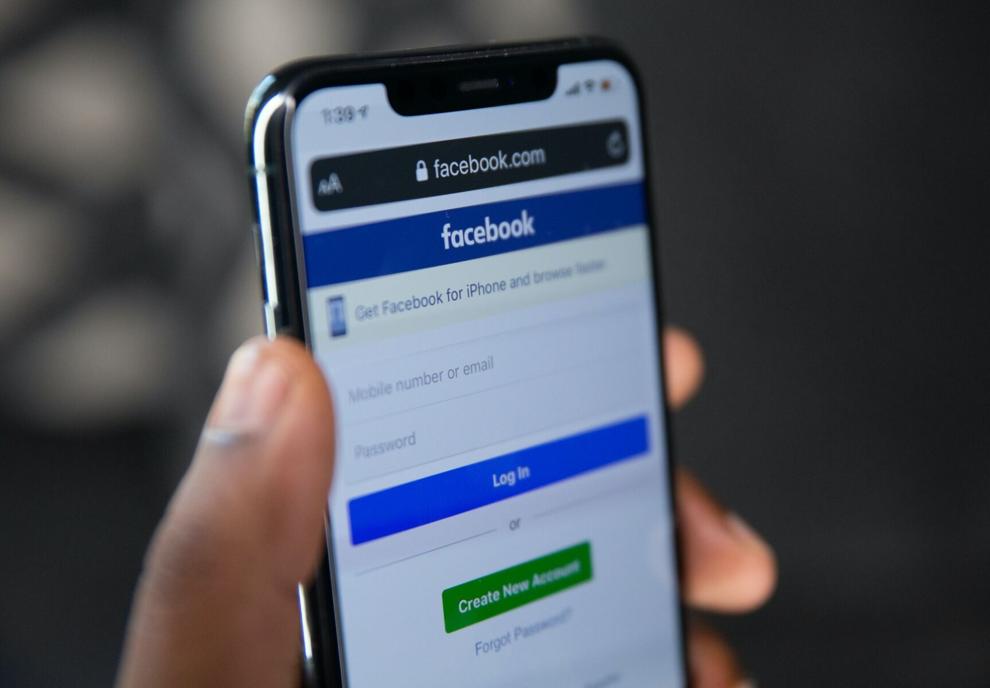 That careless handling of sensitive data sparked outrage and brought Zuckerberg to Capitol Hill for intense questioning from Congress in 2018, where the CEO assured the world that Facebook would be more responsible in handling data and moderating content.
But the troubles continued as the social media giant neglected to stop the spread of misinformation and hate speech that sparked violence while mishandling user data.
Facebook finally moved in summer 2018 to ban Alex Jones, the founder of conspiracy theory site InfoWars known for rampantly spreading toxic lies, including that the Sandy Hook mass shooting was a hoax. Lynchings in India and human rights abuses were tied to lies spread on the social media site and WhatsApp, its widely used messaging app.
As Facebook moved to better monitor content and make up for past shortcomings, it faced a new form of pressure: antitrust regulation. Zuckerberg was grilled in an antitrust hearing in late July alongside the CEOs of Alphabet, Amazon and Apple before Facebook was sued by the Federal Trade Commission for allegedly maintaining a social networking monopoly built through anticompetitive conduct, like the acquisitions of potential rivals like Instagram and WhatsApp.
Throughout the controversies, Facebook has managed to dramatically grow its user base, revenue, average revenue per user (ARPU) and its stock price, which is up 42.3% since March 2018.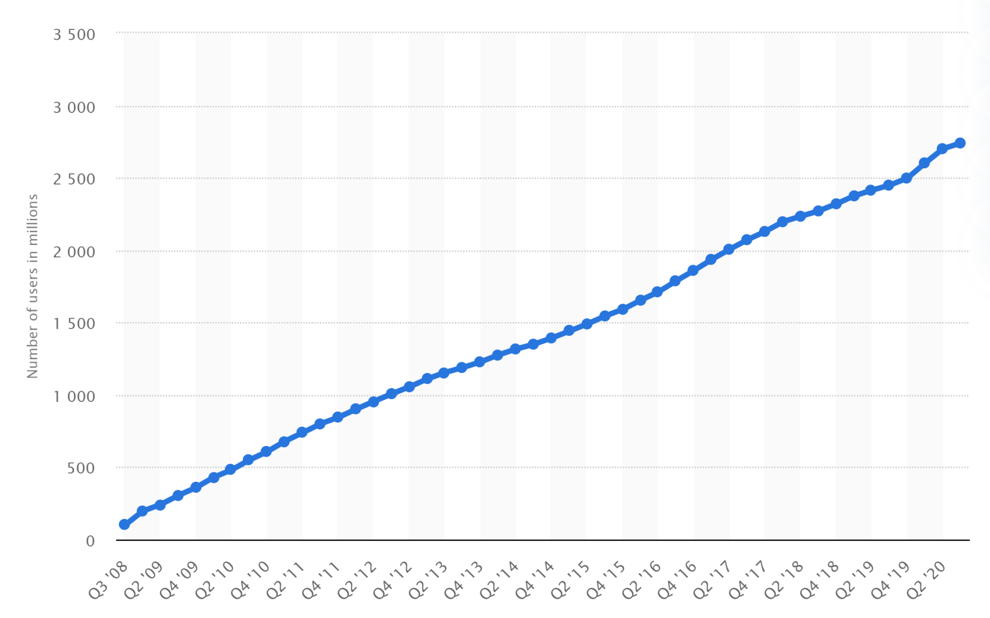 Facebook has an astounding 2.74 billion monthly active users (MAU), up 24.8% since the controversies began. That total amounts to about 35% of the 7.8 billion people on Earth, 58.8% of the world's 4.66 billion active internet users and a breathtaking 73.4% of the 3.73 billion internet users outside of China, which is a market Facebook can't reach because of Chinese Communist Party laws.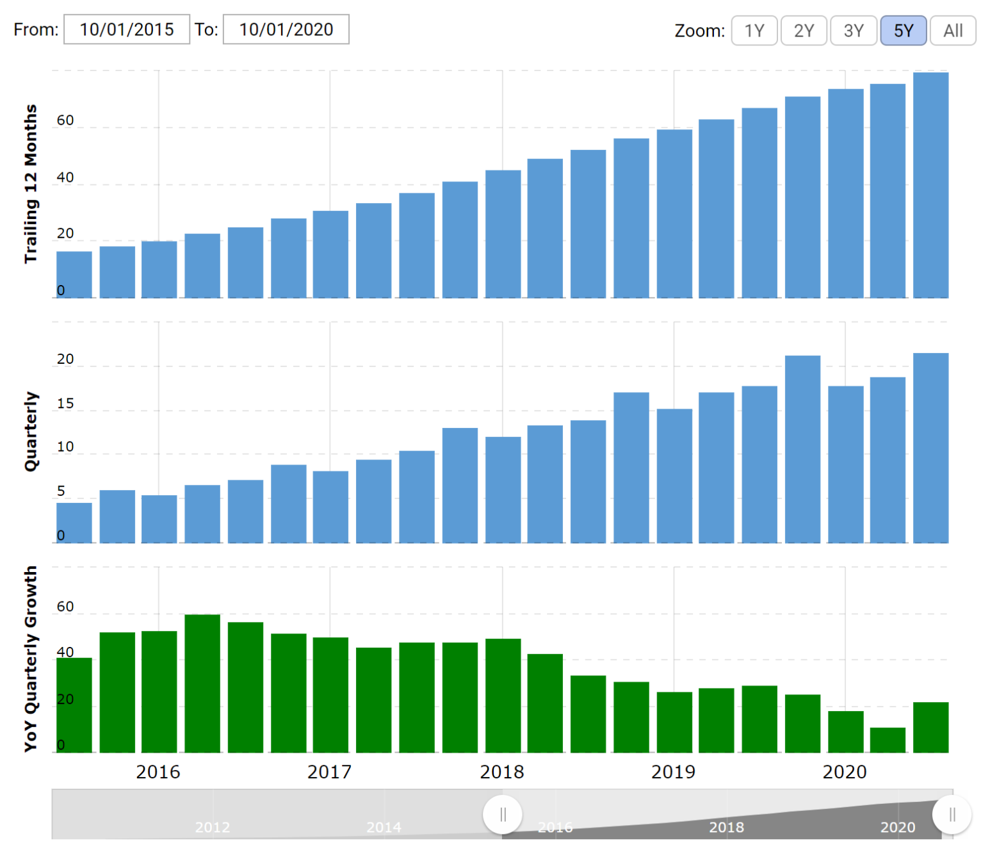 The social media titan monetizes its massive audience using its free services through its ad network and has grown revenue 77.1% since spring 2018. ARPU, or measures how much money Facebook makes per user, rose to about $40 per year for Americans and Canadians in Q3 2020 but is just $7.89 for global users. Those marks are up 67.9% and 43.5%, respectively, since Q1 2018.
While the total addressable market of active internet users outside China hasn't reached saturation, the biggest room for growth for Facebook is squeezing more revenue out of users in Europe, Asia and developing countries. If or when Facebook monetizes international users at a similar rate to those in the U.S. and Canada, its revenue and net income will soar.

Increasing engagement and time spent on the app directly leads to higher prices Facebook can charge for ads as businesses fight to get on screens and in front of eyeballs. What's troubling about that business model is that the company's algorithm, which studies users' habits to learn what they want on their timelines and when, has been designed to keep people on Facebook for as long as possible — often by any means necessary.
The popular Netflix documentary "The Social Dilemma" spotlighted how conspiracy theories and false information spread like wildfire on the site, and more shocking information tends to trend well. Critics believe partisan polarization is fueled on Facebook because of algorithms that see what users like and feed them more, even if it's misinformation instead of the truth.
Facebook deserves much of the blame it's received for mismanaging data and enabling the spread of falsehoods and hate that's led to violence. However, Zuckerberg's company appears to be taking earnest steps to clean up its platform, which should only strengthen its already impressive user and revenue growth. Its stock has shaken off controversy before and will likely rebound from antitrust allegation headwinds and Capitol critics.
Troubled Twitter should survive long term
Social media stocks have proven to be strong bets in recent years, as Twitter and Facebook's respective five-year gains of 151.8% and 158.7% have outpaced the S&P 500's 101.9% mark in the same span. The social media industry is a tight oligopoly, characterized by a few dominant players reinforced by a wide economic moat and strong barriers to entry, including scale.
These giants thrive off a phenomenon called the network effect, which means that the more people use a service, the better it gets, and the process repeats itself. With few exceptions, like Gen Z-focused video-sharing service TikTok, it's next to impossible for upstart social media companies to gain traction. It's a tough ask to get new users to sign up unless their friends do, which almost always leads to a death spiral for would-be social media challengers — even those backed by Google.
Facebook and Twitter rule the social media space and should for the foreseeable future, along with more niche services like TikTok, photo messenger Snapchat and photo-sharing platform Pinterest. Social media won't go away in today's interconnected world, and even if some of those services go the way of MySpace, it's highly unlikely to be Facebook or Twitter.
The two largest social media services are under serious political pressure, but Facebook is certain to survive, and Twitter will, too, in all likelihood. But the latter is a far riskier bet because it has a small fraction of Facebook's users and subpar advertising technology that makes it more difficult to monetize users, though it beat earnings expectations in its most recent quarter.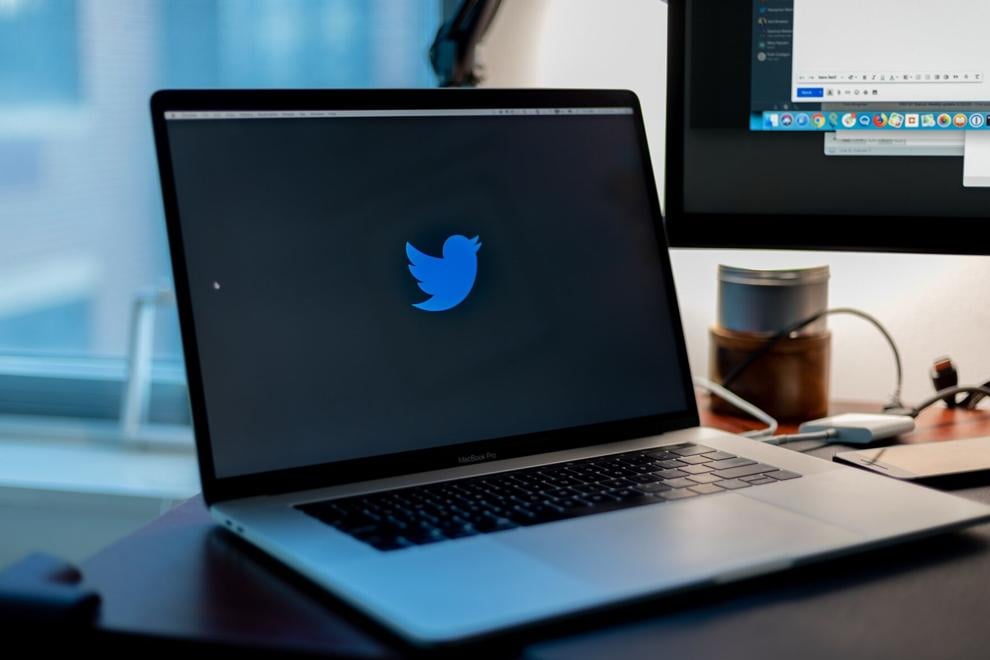 Twitter has undoubtedly alienated much of the nation by kicking Trump off its platform. Tae Kim, a Bloomberg Opinion columnist, noted that Trump had about 90 million followers before his account was permanently deactivated — an astounding total, given that the social media platform had about 187 million monetizable daily active users as of Oct. 27. For the record, that number pales in comparison to Facebook's 1.82 billion daily active users.
"For better or worse, banning Trump — whose constant controversial statements and posts stoked much of the fervent debate and discussion on the platform in recent years — will curb user growth and engagement," Kim wrote on Jan. 10.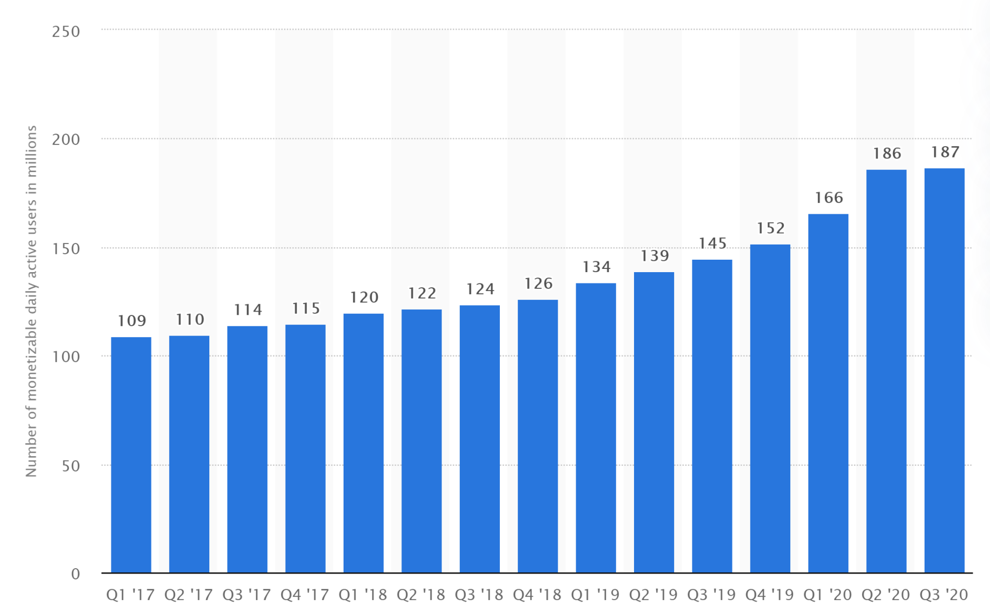 While user growth jumped in Q2 2020 as the world quarantined, Twitter managed to add just 1 million daily active users in Q3 2020, which sent the stock falling by as much as 20.8% on Oct. 30 after the earnings call. Twitter shares rebounded to set new all-time highs in mid-December before crumbling again.
Investors are clearly uneasy at Twitter's recent lackluster user growth and fear it will fall further behind its peers, given that subscriber growth isn't its only issue.
Imitation is the sincerest form of flattery in the social media space, and while Snapchat innovated to carve out a niche with features like stories, augmented reality filters and disappearing messages, which Facebook later copied, the same can't be said for Twitter.
The microblogging service has made minor tweaks, like allowing users to limit who can reply to posts, but hasn't struck gold with a game-changing update that draws in swarms of new users that it can then monetize. In fact, Twitter's fall rollout feature of Fleets, an underwhelming copy of stories on Snapchat and Instagram, show that the company is more prone to being a follower than a leader.
Twitter has been targeted in recent years by activist investor Elliott Management, an investment management firm known for buying up shares of troubled companies to gain influence before pushing recommendations to the company's board of directors. In this case, Elliott has made clear that it would like to see a change in leadership, questioning co-founder and CEO Jack Dorsey's focus, given that he also heads Square, a mobile payment company that rivals PayPal.
While political concerns may not sink Twitter, they may keep its stock price down when investors consider the company's stalling user growth, lack of innovation and leadership concerns. Those challenges make investing in the microblogging social media service a tough sell — giving a new meaning to the phrase "social unrest."
James Faris is a senior media arts and design major. Contact James at breezembr@gmail.com.
Disclaimer: I have no positions in any stocks mentioned and no plans to initiate any positions within the next 72 hours. I wrote this article myself, and it expresses my own opinions. I'm not receiving compensation for it, and I have no business relationship with any company whose stock is mentioned in this article.
Additional disclosure: Investors are always reminded that before making any investment, they should do their own research on any name directly or indirectly mentioned in this article. Investors should also consider seeking advice from a broker or financial adviser before making any investment decisions. Any material in this article should be considered general information and shouldn't be relied on as a formal investment recommendation.