This week, Madison Business Review contributor Bryce Roth provides a recap of what happened in the business world and stock markets.
---
Market expectations outperformed by U.S. spending
Markets continued their rally with the S&P 500, Dow Jones Industrial Average and Nasdaq Composite all increasing slightly above 1% for the week. For the year, the indices are in line and up 11.43%, 11.74% and 9.03%, respectively. Economic data has looked good so far in 2021, and Q2 earnings are expected to follow that trend — proving to investors that the U.S. is recovering from the pandemic.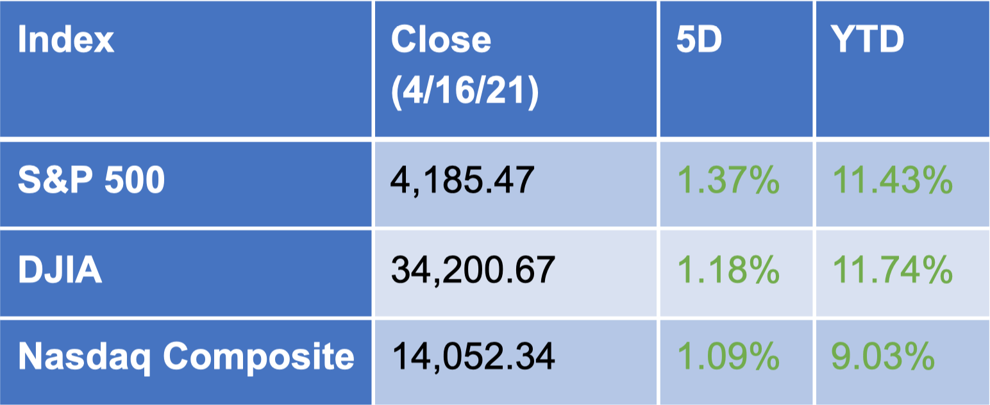 U.S. retail sales and jobless claims were two economic indicators that helped drive markets this week, despite concerns of inflation. In March, U.S. retail sales rose by the most that they ever have in 10 months due to the stimulus checks from the government and increased rollout of COVID-19 vaccinations, which helped states reopen and re-engage in economic activity. 
Economists polled by Reuters had forecast that retail sales would increase 5.9% in March. Instead, retail sales surged a record 27.7% on a year-on-year basis, and increased 9.8%. Sporting goods, clothing, and food and beverage led the gains in spending.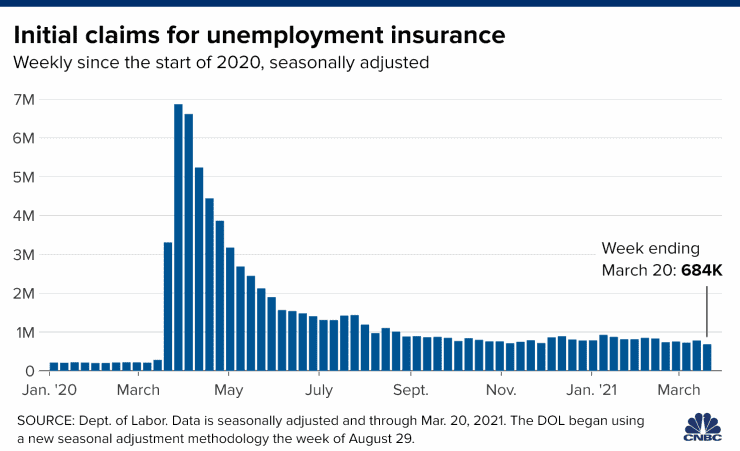 Jobless claims were at 576,000 for the week, a number well below its increase in March 2020. With consumer spending up, states relaxing their guidelines and vaccines rolling out, jobless claims should continue to decrease.
Federal Reserve upholds positive forecasts  
Similarly to what Jamie Dimon said last week, Federal Reserve Chair Jerome Powell said the U.S. economy is at an "inflection point," and that growth and employment are all expected to perform very well in the coming year. Powell also said Wednesday the central bank will begin to "slow the pace of its bond purchases well before raising interest rates." 
Inflation is on the mind of many investors since the CPI for March increased to 2.6% year-over-year, with a 9.1% jump in gasoline prices helping with the overall gain. This shouldn't be a major issue for now; however, it'll be increasingly important to monitor in the near future.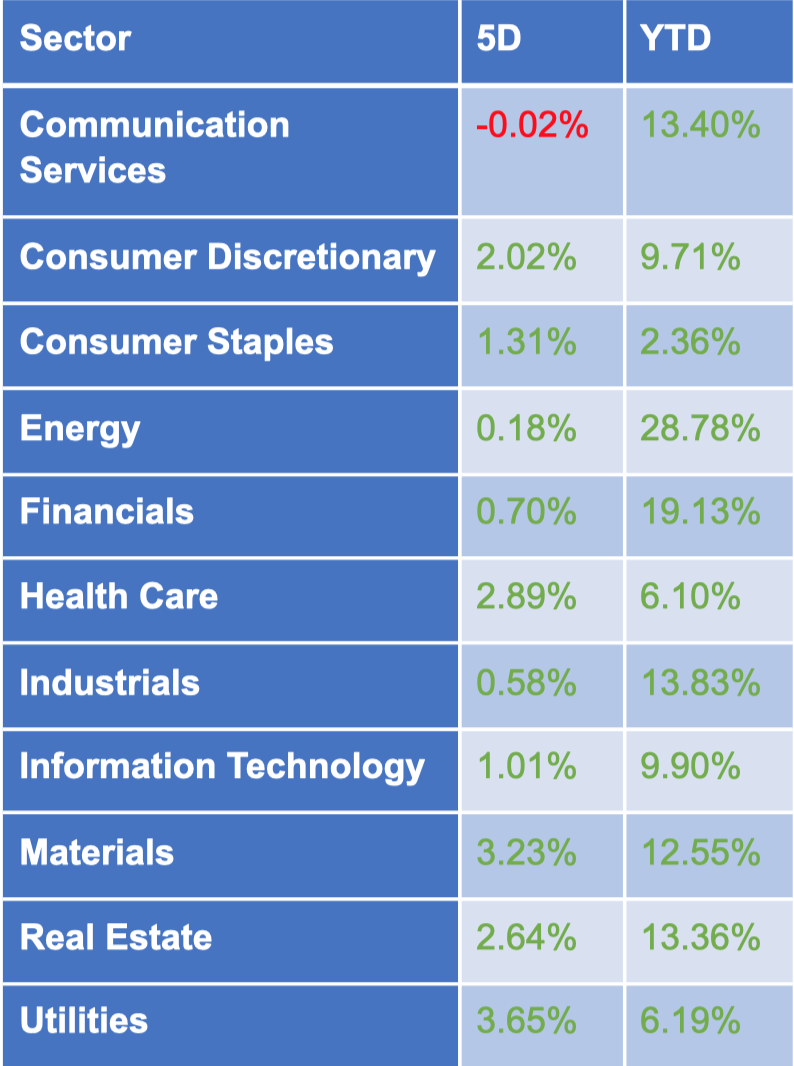 Nations compute limiting cryptocurrencies
This was an unprecedented week for cryptocurrency with Coinbase going public, Bitcoin turning positive and Dogecoin going to the moon — a phrase to describe sudden, drastic rise in an asset. Coinbase is an American company that operates a cryptocurrency exchange platform — they closed Wednesday at $328.28, dropping roughly 13% from its opening price of $381 that same day. Since then, Coinbase has increased to $342, and seems to be trending in a positive direction. 
"They're really setting the standard for what I think is going to unlock a lot of blue-chip crypto companies to come to the public market," Michael Sonnenshein, Grayscale Investments CEO, said in a Yahoo Finance article. "I think this has been super well received by the investment community."
Bitcoin had another great week, increasing around 7%. Though Bitcoin continues to be seen as a good cryptocurrency to invest in, Turkey has recently banned crypto payments, sending out a negative message for other countries that are on the fence about it. 
An article from Coindesk released a statement from the Central Bank of the Republic of Turkey saying, "it is considered that their use [of crypto assets] in payments may cause non-recoverable losses for the parties to the transactions ... and they include elements that may undermine the confidence in methods and instruments used currently in payments." Despite this, Bitcoin still performed well for the week and is moving in the right direction.
Dogecoin is "going to the moon," as it increased over 460% this week, hitting a high of 48 cents from six cents earlier this week. Dogecoin is now worth $40 billion and — with all the support from celebrities and investors making it a "meme coin" — the price could possibly rise to the one dollar level investors were expecting a few weeks ago. 
This Dogecoin situation has brought up concerns of a bubble in the crypto market, and David Kimberley, an analyst at the U.K. investing app Freetrade, told CNBC: "People are buying the cryptocurrency, not because they think it has any meaningful value, but because they hope others will pile in, push the price up, and then they can sell off and make a quick buck." 
Eventually, this can lead to the bubble bursting, leaving many at a financial loss. Kimberley noted that it's "almost impossible to say when that's going to happen." The future will be volatile for crypto and will be very interesting to see how it'll perform in the coming weeks.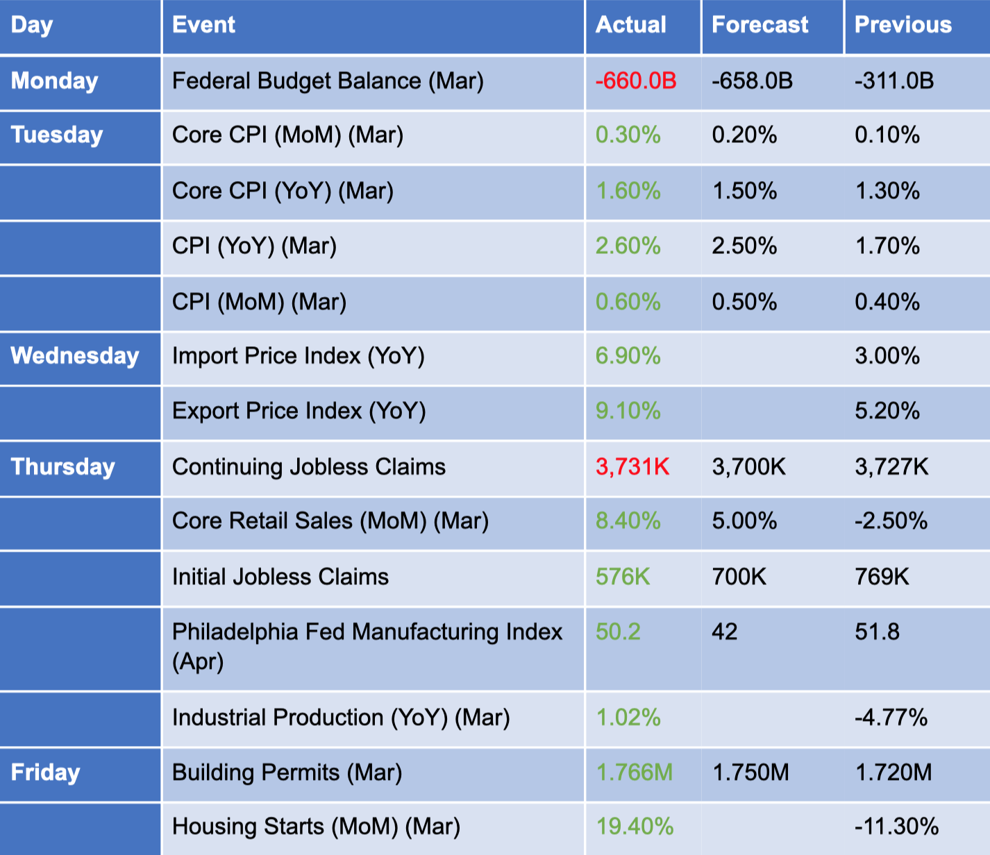 SpaceX rockets past competition as it wins NASA contract
Elon Musk, CEO of Tesla and SpaceX, won a contract to develop spacecraft to land astronauts on the Moon, beating out teams led by Jeff Bezos' Blue Origin and Leidos subsidiary Dynetics. The contract's worth $2.9 billion and SpaceX is now valued around $74 billion. 
"We should accomplish the next landing as soon as possible," said Steve Jurczyk, NASA's acting administrator. "This is an incredible time to be involved in human exploration, for all humanity." 
The project is expected to be carried out by 2024.
TuSimple impresses in its debut
April 15, TuSimple raised $1 billion in IPO which brings its value to roughly $8.5 billion. TuSimple is competing with Tesla and Google, and seems well-positioned in the $4 trillion global freight market with 5,700 reservations for self-driving trucks. 
Production is expected to start in 2024 and CEO Cheng Lu said, "As part of our expansion, this year, we're expanding actually more eastwards to the southern eastern states. We will bring on more additional partners. We'll have more reservations and really expand the size of our autonomous freight network, and at the same time, of course, continue to make very exciting developments in our level 4 autonomous technology."
Bryce Roth is a junior finance major. Contact Bryce at rothbc@dukes.jmu.edu.
Disclaimer: I'm a long time investor in Tesla. I wrote this article myself, and it expresses my own opinions. I'm not receiving compensation for it, and I have no business relationship with any company whose stock is mentioned in this article.