Harrisonburg coffee shops saw sudden sales drops followed by a slow, steady drip, drip, drip of revenue as the pandemic redefined normal, but some are coming back stronger than ever.
When most of the U.S. shut down in March due to the coronavirus, small businesses were hit hard. The pandemic has specifically impacted nonessential businesses like local coffee shops, forcing many to close and lay off workers.
Local cafés that provide study and gathering spaces for students in Harrisonburg struggled in the first few months of the pandemic as JMU sent thousands of students home, but many have seen business slowly recover and begin to return to normal again.
The shuttering of shops across the nation due to the pandemic has crippled countless small businesses, which have been disproportionately harmed by mandated closings. Some may never recover.
While some cafes still aren't seeing the droves of Dukes that help them thrive year after year, students and local patrons continue to support these small businesses. The surviving shops are clawing back toward profit and — in some cases — to record sales.
The Madison Business Review spoke with four cafe owners to hear how business has been after a horrific spring and a dull summer. Here are their stories.
---
Buoyed by students, Black Sheep Coffee begins to see green
Black Sheep Coffee's fifth anniversary was marked by shut doors and halted business, save for takeout, delivery and curbside orders. Needless to say, there wasn't much celebration.
"This year has been a rollercoaster," owner Chance Ebersold said. "Business absolutely plummeted that first month."
Ebersold's cafe, located at 217 S. Liberty Street, has had a difficult year. Revenue was down year-over-year by 47% in March and 82% in April, Ebersold said. Over the summer, business gradually returned as Harrisonburg residents began to venture out once again, he said, until JMU students returned.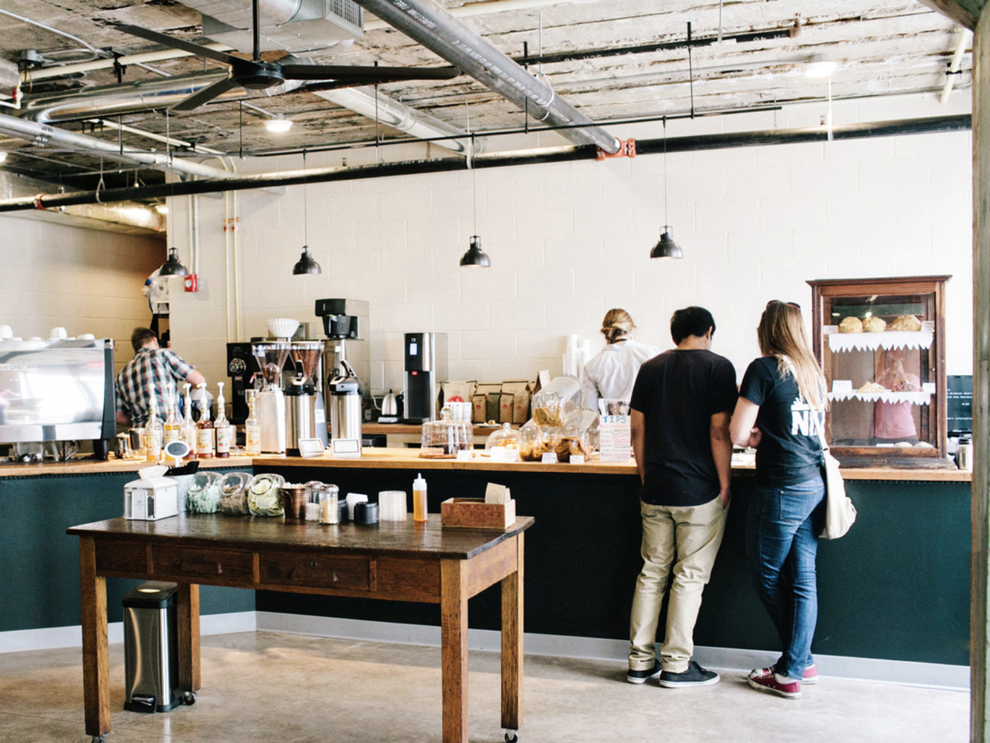 "We started to build up, like, with some of the locals coming back out," Ebersold said. "As soon as JMU came back in, it kind of flip flopped. A lot of the local people, I think, got worried … But then, a lot of the students were coming out."
Generally, Black Sheep Coffee sees more students during the week and more locals on weekends, Ebersold said. The café was able to reopen at limited capacity when Virginia reached Phase 2 in its reopening plan and even more during Phase 3, which began in July.
Throughout the summer, the coffee shop's revenue slowly returned, though it's still under last year's sales numbers. Revenue was down 54% in June and 39% in July. Business was its strongest since pre-pandemic revenue in August, down 23% YoY as Dukes returned to JMU.
However, as JMU quickly sent students online less than a week into the semester until Oct. 5, Black Sheep Coffee's revenue decreased again, down 39% YoY in September.
Black Sheep Coffee is currently opened at half capacity. There are fewer tables, which are spread out across the café, and Ebersold said employees wipe "everything" down consistently. The business has also switched to disposable containers for its food and drinks to reduce risk of transmission through dishes that would need to be washed.
Ebersold said it was difficult to plan ahead for his business while dealing with the uncertainty of Virginia and Harrisonburg safety guidelines and the fluctuating plans of return of JMU students.
"[It was] absolutely nerve-racking," Ebersold said. "March, April [and] May were probably three of the most stressful months of my entire life … You didn't really know what the next day was going to bring."
Broad Porch Coffee Co. benefits as coffee house replaces classroom
Broad Porch Coffee Co. opened in 2017 with the rest of the Agora Market in downtown Harrisonburg and planned to expand to a second location in Luray, Virginia, which is a block away from where the company currently roasts its coffee beans. 
Sales were up by more than 50% YoY, in March, but that couldn't stop it from shutting down when the pandemic hit. 
Co-owner Jill McMullan said Broad Porch, along with the rest of Agora, was closed for about four and a half months. She said the shop reopened with limited hours and just recently returned to normal hours once again.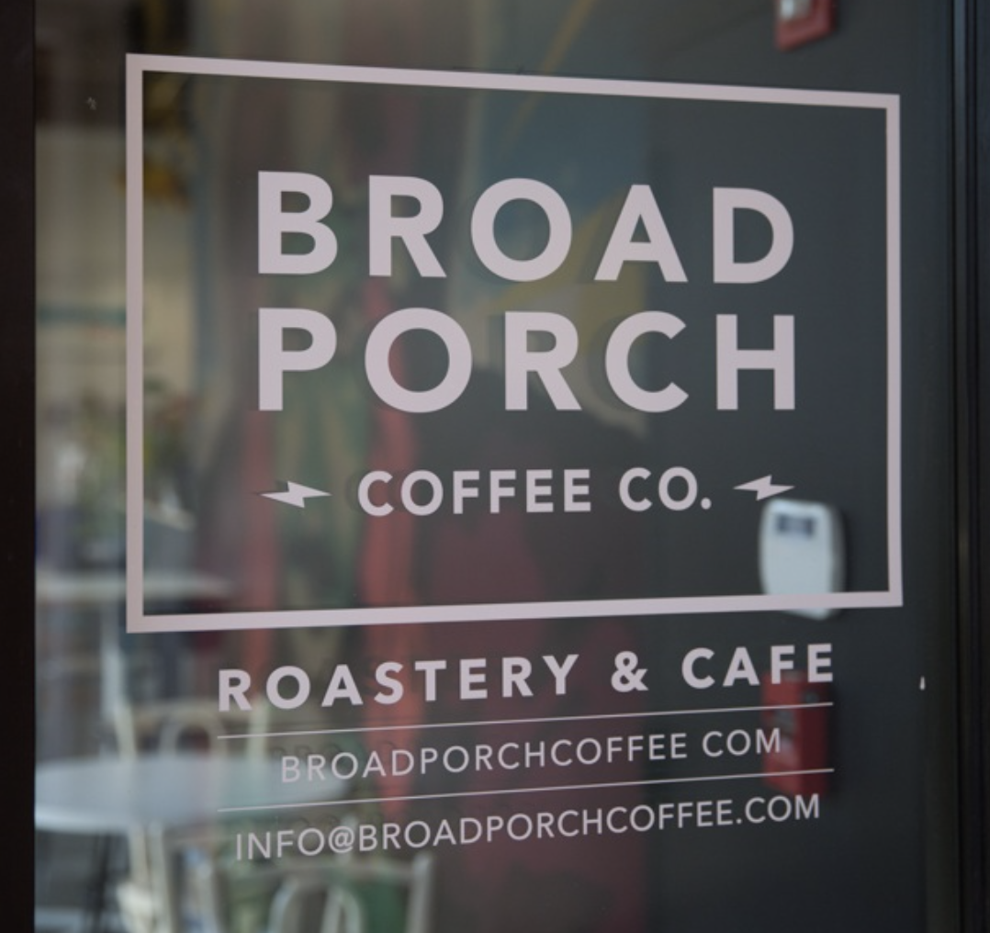 Save for the week between the beginning of the fall semester and when Dukes went home, Broad Porch has seen comparatively increased business with the return of JMU students to Harrisonburg as the coffee house has replaced the classroom.
"[They] started back in person, and then they were like, 'Oh, just kidding, we're going to go online,'" McMullan said. "It was probably just that one week that we really felt like there was kind of a lull in traffic … It was probably just because kids were figuring out whether or not they needed to, like, move home."
McMullan said business has been up since students returned due to online classes. She said some students come and sit at Broad Porch to study or attend class on the weekdays, and more Harrisonburg residents come out on the weekends.
Co-owner Phil Duntemann said in an email that during the months when the shop was forced to shut down, it was able to keep the roastery up and running. Broad Porch was kept afloat by online sales of bagged coffee, he said, but revenue plummeted to about 50% down from the previous year.
With the combination of online sales and visiting customers, Duntemann said that sales have steadily risen and are now slightly higher than this time last year.
"With the help of an amazing staff, loyal regulars, an understanding landlord and a little government assistance, we actually seem to be doing OK," Duntemann said in an email.
McMullan said Broad Porch serves a diverse customer base. Students come in to study, and people who work downtown often stop in for a coffee before or after their shift. She also said there's "surprisingly" been some tourism and that some customers tell her they're visiting Massanutten and exploring Harrisonburg.
"I feel very fortunate to be in the area that we are because obviously, people still want to drink coffee," McMullan said. "So, you know, I'm very thankful that we've been able to stay open."
Greenberry's Coffee escapes red thanks to drive-through, students
While Greenberry's first came to fruition as its mother store in Charlottesville, the coffee shop expanded to its location in Harrisonburg over 10 years ago. Located on the outskirts of JMU at the corner of S. High Street and Grace Street, Greenberry's enjoys a steady client base of students during the school year.
That changed when the pandemic hit.
Carolyn Burkholder, co-owner, said the store's dine-in capacity closed completely. For months, Greenberry's relied on drive-through business to stay afloat and kept it that way for weeks after it was allowed to reopen as the owners planned all the safety measures they'd need to take.
Burkholder said it was difficult to plan ahead during the spring and summer months.
"We were just guessing," Burkholder said. "It's a guessing game all the time … We have to sort of roll with the punches."
Burkholder said Greenberry's has reduced its hours and has made changes to the shift schedule in order to accommodate reduced traffic to the business. During the second quarter, from April to June, Greenberry's saw plummeting revenue — down 48.6% from 2019.
However, as students returned to campus, Greenberry's saw a sales rebound. Not only had the business met last year's revenue, but sales were up 4.8% YoY in the third quarter, which ran from July through September.
While it was difficult to plan ahead for the pandemic and the student schedule, Burkholder said, there are two things to thank for the shop's ability to remain open: Dukes and the drive-through.
Most of their business happens in the drive-through, she said, but a large part of their customer base comes from students, many of whom bring their laptops and study or attend online classes in their now-reopened seating area.
"We're very thankful for a drive-through in this situation, and that certainly has kept us busier than we would have otherwise been," Burkholder said. "I just think overall sales are down because of the pandemic … But we've accommodated to it, so we feel very fortunate and thankful that it is what it is."
Merge Coffee Company moves online to keep business on track
Merge's story is one of stark contrast to many of the small businesses devastated by the pandemic and its economic fallout: The cafe never closed its doors.
Charles Matthews, co-owner, said they were able to adapt to the pressures of the pandemic, adding that the cafe's older location on Mt. Clinton Pike and its newer location downtown both saw sustained business. He added that the downtown location, which opened in March, is doing well but hasn't yet experienced what will be its normal business patterns when the pandemic retreats and students return to Harrisonburg.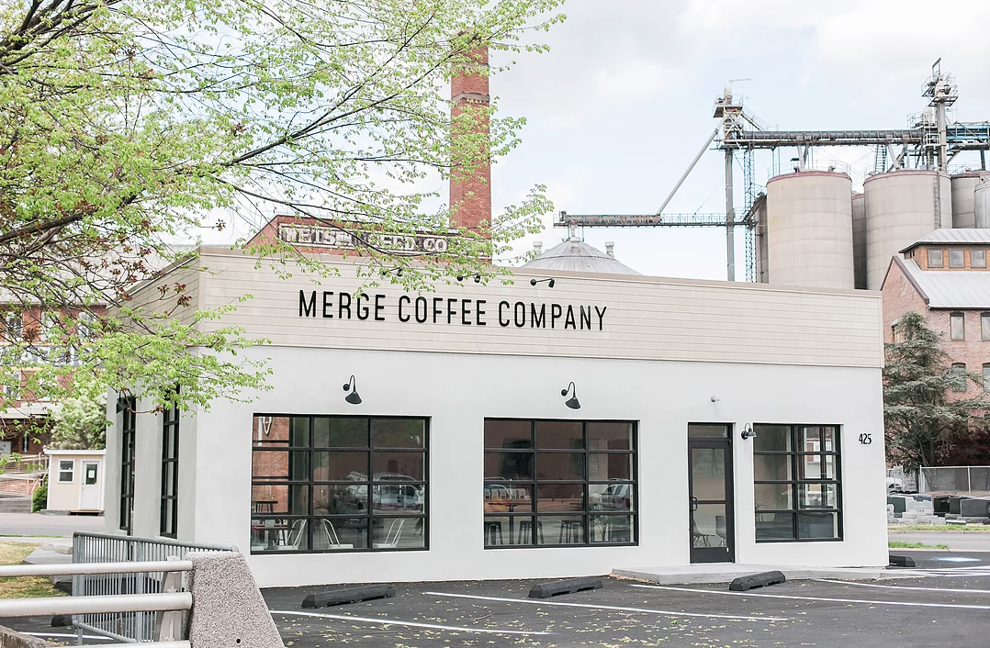 "Business has been relatively steady, [but] not without challenges in terms of just thinking how to adapt and adjust to be able to bring our product in front of consumers," Matthews said. "We noticed a pretty big slump the first two weeks, and then we just really tried to mobilize our whole operation."
How'd they do it?
Matthews said Merge revamped its website to be more café-oriented. Previously, it was geared toward bulk coffee sales, but now it's beginning to sell drinks and pastries online as well. It offers batches of items for larger groups, like the hospital employees that work near the Mt. Clinton Pike location. 
The company also made buying at Merge more convenient for safety-concerned customers by offering gallon drinks. Matthews said in order to reduce exposure to their customers and make buying coffee a one-stop ordeal, Merge offered gallon-sized drinks like iced lattes and caramel macchiatos that customers could take home and siphon off of for several days.
"We just, like, changed the way we operate," Matthews said. "I think things went back to close to normal."
When Virginia entered Phase 2 of its reopening plan, Merge was able to seat customers safely, and sales continued to go up. Matthews said that for the overall year, Merge has seen a 35% increase in revenue from 2019. He said this October was their best month of sales ever.
"We've been very grateful for the business we've been getting in," Matthews said. "It's been enough, for sure."
Merge recently won one of the highest merits coffee can get — four of its coffees submitted for national review received a score of over 90 points. Matthews put it in perspective. He said a score of 82 is given to specialty coffees. A score over 90 constitutes "excellence."
Since they got the news, Matthews said, Merge's website "just went bonkers."
"There was a day, like, week one of the pandemic, where we're like … this is going to hurt," Matthews said. "A couple months down the road, like, we're leaner, better, smarter [and] more experienced now. We look forward to just serving our community."
Charlotte Matherly is a junior media arts and design major. Contact Charlotte at mathercg@dukes.jmu.edu.