Markets climb a wall of worry, as the saying goes. 
If there were no concerns, complacency would set in, which historically leads to market meltdowns. There have been dangers and risks like never before in the past few months, but the stock market has charged higher. 
Investing carries risk, and those who aren't comfortable with the idea of losing money in the short-term or possibly the long-term are completely justified in their decision. But those who want to put money to work can't wait around forever for a perfect moment that doesn't exist.
James Faris, editor of the Madison Business Review, talks about what's ahead in the stock market this October, given uncertainty surrounding t…
These high-flying software plays can and will win regardless of what happens in the fourth quarter of what's been a 2020 for the record books in almost every way imaginable.
---
Adobe's pullback creates a buying opportunity
Software has been one of the hottest spaces in the scalding tech sector, and Adobe has benefitted from a secular trend known as software-as-a-service (SaaS). Subscriptions are a lauded business model on Wall Street because they generate relatively bankable revenue, which is why Apple has prioritized its services as its hardware sales slow.
Adobe's software suite is a must-have for creatives and digital marketers, and it has a wide economic moat, according to Morningstar Research. That means it's able to easily fend off competitors through a sustainable competitive advantage, and in Adobe's case, the fact that its software is one of few options for creatives gives it pricing power and plush margins.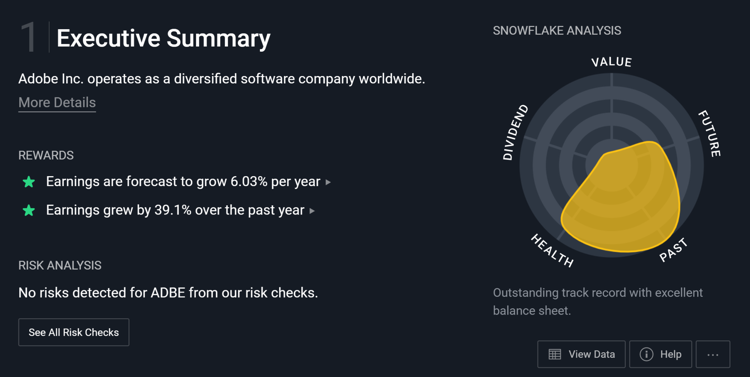 There are so few reasons not to invest in Adobe that valuation is one of the only concerns. Its business model is airtight and will be relatively unaffected by the pandemic's trajectory. Bears will argue that the company, while impressive, is overvalued based on earnings and has run up too much in recent months and years.
That's partially why it got hit in September as the market pulled back, even after it announced a 6.6% earnings beat Sept. 15 with digital media growth of 19% year-over-year and strong new customer engagement.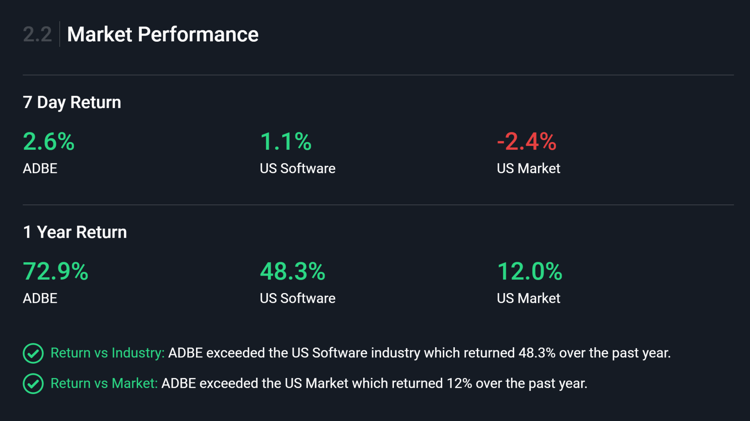 Adobe's stock price is trading at the cusp of $500 at $499.51 as of Oct. 1 after retreating from an all-time high set on $533.80 on Sept. 2. Its average price target out of 24 analysts covering the stock is $552.77, according to Yahoo Finance, which is 10.7% higher from current levels. 
It's only a matter of time before it returns to new highs as investors embrace risk again, and that time may be now. Adobe's stock had climbed 6.5% in its last five sessions through Oct. 1.
Disclosure: I'm a long-term investor in Adobe.
---
DocuSign's software noteworthy in negotiations
Like Zoom Video Communications, DocuSign emerged and dominated during the pandemic thanks to the advent of remote work. Its e-signature software allows companies and realtors to ink deals while social distancing, which is a must-have for companies large and small.
DocuSign's market capitalization has ballooned from $13.6 billion to $41.2 billion as its stock price has shot up 192.8% from $75.90 to $222.26, as of Oct. 1. That's on the back of 45% revenue growth year-over-year and customer growth up 39% YoY reported in its Q2 earnings report. Revenue is expected to grow 21.2% per year, according to Simply Wall St., and the future looks bright for this breakout company.
Whether working remotely or not, electronic signature software is a must for modern businesses, and DocuSign is well-positioned to capitalize on a trend that will surely outlast COVID-19. 
Customers who've gotten accustomed to DocuSign's software are unlikely to return to sending documents via snail mail after the pandemic, CEO Dan Springer told CNBC's Jim Cramer on Mad Money on Sept. 30.
"We really don't [see any customers leaving]," Springer said. "Once people had the benefit of that digital transformation you that talked about, Jim, and they say, 'It's so much less expensive, it's so much better for their employees and for their end customers that experience [it], and everything works so much faster — really the speed of business — we don't think anyone's going to be going back."
But the stock is trading around in the low $220s after a blow-off top, which is a bearish trading pattern where an equity sees a spike up on heavy trading volume before cratering downward on large volume. That came amid the broader tech and market selloff despite an impressive quarter where DocuSign posted adjusted earnings per share of $0.17, beating expectations of $0.08 while pulling in $342.2 million in revenue over expectations of $318.6 million.
That "magnificent quarter" DocuSign reported on Sept. 3, in Cramer's words, "was as close to perfect as you could get." But it slipped after a dramatic run-up and got hammered, Cramer said, before adding that he's bullish on the company and its new artificial-intelligence powered contract service it announced on Sept. 30, which it hopes will cut legal costs and drive growth.
One of the company's only concerns is valuation, or how highly a company is valued by the market based on its fundamentals, as DocuSign's growth comes at a hefty price. Since it's not profitable on an unadjusted basis, traditional metrics like a price-to-earnings ratio or price-to-earnings growth ratio aren't applicable.
DocuSign's price-to-sales ratio of 33.5 is astronomical, meaning the company will have to grow into its valuation. However, with interest rates at rock-bottom levels, investors are more willing to pay up for quality growth, and rates will likely be low for years, according to Federal Reserve Chairman Jerome Powell.
Investing is a great way to help ensure present and future long-term financial security. Here are simple steps to help you get started.
The longer the pandemic drags on, the better DocuSign will fare, though the company can and will succeed in any environment, especially as companies permanently switch to remote work. 
With a proven product in high demand, stellar growth and a favorable environment with remote work and ultra-low interest rates putting a premium on growth, it's a great time to catch DocuSign roughly 23% off its intraday all-time high of $290.23. And the stock may be getting away, as it's up about 7.7% in its last five sessions through Oct. 1.
Disclosure: I'm a long-term investor in DocuSign.
---
Nvidia gets stronger with Arm acquisition
If time machines existed, there are worse moves investors could make than going back to 2010 and loading up on shares of Nvidia. Even before the stock's 131.4% run in 2020, the company's market value increased 1,320% last decade, dwarfing the S&P 500's impressive 250% return in the same 10-year span.
Nvidia has dominated the video game space thanks to its excellent GeForce RTX graphics processing units (GPUs) that power computers and virtual reality headsets. Its graphics cards have 80% market share in the booming personal computing discrete GPU space after shipments jumped 17.8% quarter-over-quarter, according to Jon Peddie Research. 
It's well-documented that computer sales soared during the pandemic despite the economic slowdown as demand jumped for computer upgrades. 
Research by the International Data Corporation found that PC shipments rose an impressive 11.2% year-over-year in Q2 2020 — historically a slow season — as volume in the U.S. hit levels not seen since 2009, the IDC found. It's worth noting that Q1 2020 saw the lowest PC shipment numbers in over a decade, due in large part to supply shortages caused by the pandemic. Still, surprising PC demand has benefitted Nvidia, as its GPUs are staples of millions of computers.
The company recently unveiled its RTX 3000 series graphics cards, which a review from Forbes said delivered "impressive performance, especially when it comes to high-resolution gaming, VFX rendering and ray tracing" while boasting a 50% performance boost over the RTX 2080.
Another notable catalyst to drive further growth for Nvidia is its pending $40 billion acquisition of Arm Holdings, a British semiconductor company that it looks to control 90% of. If the largest semiconductor deal ever closes, Nvidia will land a company that produces chips found in nearly all iPhone and Android smartphones on the market. The move would also amplify Nvidia's rapidly growing data center segment while solidifying its lead in the GPU space.
But landing regulatory approval from China, the U.S., the U.K. and the European Union isn't a sure thing, Sebastian Hou, managing director and head of technology research at investment firm CLSA, said to CNBC. Hou's thinking is reflected in an opinion piece from Global Times, a Chinese Communist Party-sponsored tabloid, published on Sept. 15, which read that "Chinese technology companies would certainly be placed at a big disadvantage in the market" if Nvidia acquired Arm.
The Arm acquisition falling through is a risk, though it's not scaring away director Stephen Neal, who acquired 450 Nvidia shares on Sept. 21 and 22 for $224,142 at a cost-basis of $498.09, according to a form the insider filed with Securities and Exchange Commission, Barron's noted. A week earlier, Needham analyst Rajvindra Gill bumped his price target to a Wall Street-high $700 from $600, citing optimism around the Arm acquisition, adding in a note the move could "create the leading AI computing platform in the semiconductor industry."
Like other software and tech names, Nvidia's stock has a relatively high beta of 1.53, which simply means it moves about 1.5 times stronger than the overall market. That means if the S&P 500 advances 1%, Nvidia would be expected to gain 1.5%, though a 10% correction could sink the stock by 15%.

To be sure, investing in Nvidia carries substantial risk, especially after its mammoth move so far this year. But its stock is well off its all-time high of $589.07 at its current level of $544.58, as of Oct. 1, and there's no shortage of fuel to keep the gains going long-term. 
There's no debate: Investing is one of the most powerful ways to generate wealth. The Madison Business Review's Phillip Roth breaks down differences between top online brokers to help JMU students put cash to work wisely.
New investors with side money should consider getting in the game with Nvidia.
James Faris is a senior media arts and design major. Contact James at farisja@dukes.jmu.edu.
Disclaimer: I'm a long-term investor in Adobe and DocuSign. I wrote this article myself, and it expresses my own opinions. I'm not receiving compensation for it, and I have no business relationship with any company whose stock is mentioned in this article. All information is current as of Oct. 1.
Additional disclosure: Investors are always reminded that before making any investment, they should do their own research on any name directly or indirectly mentioned in this article. Investors should also consider seeking advice from a broker or financial adviser before making any investment decisions. Any material in this article should be considered general information and shouldn't be relied on as a formal investment recommendation.