The night is darkest just before the dawn — even on Wall Street.
The S&P 500 hit a near-term bottom on Friday, Oct. 30 after the worst month for stocks since March ended with a thud. Fear was in the air, and this time, Halloween wasn't to blame.
Uneasiness stemmed from the possibility of a Democratic "Blue Wave," dimming prospects for a new stimulus package, surging COVID-19 case counts and the possibility of a contested election with civil unrest.
Investor anxiety, as measured by the CBOE Volatility Index (VIX), reached a fever pitch at the end of the month, topping out at 40 on Oct. 28 after spending the month above 25 all month. The index typically spikes as stocks drop and vice versa.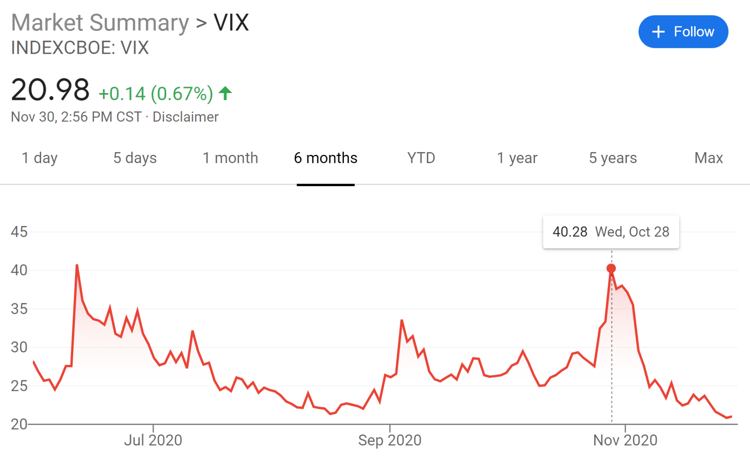 Historically, the VIX has hovered around 20; levels in the low teens reflect investor comfort, marks in the 30s reflect fear and uncertainty, and anything higher than that conveys panic. The fear gauge has spent most of President Donald Trump's tenure under 15 as stocks cruised to new highs — except for a handful of brief spikes to 30 when trade tensions with China flared.
But 2020 has been a year like no other, reflected in part by an otherworldly 80 mark in the VIX in mid-March. Volatility then dropped precipitously as stocks bounced, though the VIX has stayed historically high and hasn't dropped below 20 since, given uncertainty around the virus.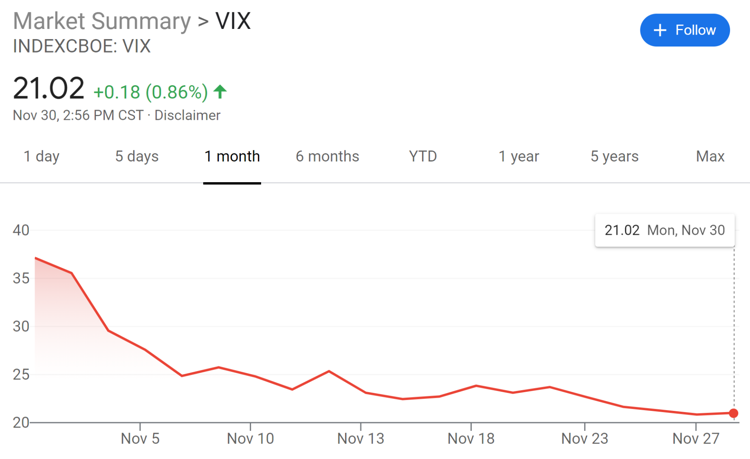 Fearmongers said the stock market's unlikely rally since March was on the verge of collapse again as COVID-19 got out of control and stimulus stalled while the election grew near. But bold investors saw weakness and followed famed investor Warren Buffett's old adage: be fearful when others are greedy and greedy when others are fearful. It was the right time to be greedy.
The Dow Jones Industrial Average enjoyed its best month since 1987, gaining 11.8%, followed by a 10.8% jump for the S&P 500 and a 11.8% gain for the tech-focused Nasdaq Composite in their best months since April. Starting with the market's best election week since 1932, stocks broadly marched higher as investors got closure on uncertainty after uncertainty.
President-elect Joe Biden will take the White House on Jan. 20, and President Donald Trump's administration appears to be taking steps toward the transition process. But Democrats will be kept in check by a Republican-led Senate, barring an upset in Georgia's January Senate runoff. The Dow forged over the 30,000 thanks in part to news of moderate picks for Biden's Cabinet.
President Donald Trump promised there would be "a depression the likes of which you've never seen" if Joe Biden won the White House. Wall Street appears to strongly disagree after stocks soared last week. Here's what's behind the move higher in the market.
Both parties have reasons to breathe sighs of relief and room for disappointment as the Madison Business Review noted Nov. 9 after the Associated Press called the presidential race for Biden. Democrats are undoubtedly thrilled that Trump's time in office is ticking down, though the party may be challenged to pass meaningful legislation in the near-term. Republicans beat pollsters' expectations and likely kept the all-important Senate despite losing the White House.
Positive vaccine news overshadowed politics this week for the first time in months. The Madison Business Review's Bryce Roth breaks down the latest on vaccines, spiking COVID-19 case counts and the stock market's performance.
On the virus front, COVID-19 is as threatening as ever, but the world celebrated the progress of three vaccines from Pfizer and BioNTech; Moderna; and AstraZeneca and the University of Oxford that look to be safe and potent, with respective efficacy rates of 95%, 94.5% and 90%.
And while Congress is still stalling on a stimulus package, both sides look eager to agree on a deal to help struggling businesses and workers in early 2021 at the latest. A divided Congress is unlikely to pass a package as large as the $2.2 trillion CARES Act, but any size deal will help.
Vanishing political uncertainty, breakthrough vaccine news that may mark the beginning of the end of COVID-19 and upbeat stimulus talks make it easy to see why stocks roared higher in October. 
Investors can also thank TINA — "there is no alternative" — for fueling the move. The mindset that there are few viable alternatives to stocks has encouraged investors to put money to work, even if stocks are at historically expensive valuations. 
Bitcoin has soared since October and may be approaching new all-time highs. Here's an in-depth look at how cryptocurrencies like Bitcoin work and both the catalysts for continued growth and risks to the highly volatile digital asset.
Bond yields, which rise with stocks and fall in times of uncertainty, are in the 0.87% range for a U.S. Treasury 10-Year note. Young investors yawn at those yields and are willing to ditch fixed income for high-risk, high-reward equities and stock options, which give buyers the right to buy or sell stocks at certain levels. Rock-bottom interest rates have made stocks the only enticing investment for many, and the number of everyday investors has surged in 2020.
For months, the Madison Business Review has encouraged investors, especially JMU students, to put spare money to work in the stock market instead of buying lattes or eating out. The S&P 500 is up 46.6%since the Madison Business Review debuted on April 1, 2.7% since September, 7.1% since October and 10.8% this month, despite a pandemic, political battles and more.
There is a ton of unknown ahead, including the outcome of the U.S. presidential election, but there may still be upside for stocks. Here's what moved the market in October.
The closing words from the Madison Business Review's October market recap look prescient: "While it can be unnerving to see 10% corrections, U.S. stocks will broadly rise over time as long as America is a world power with leading companies driving progress, including the pharmaceutical companies creating COVID-19 vaccine. Ultimately, investors should hold the course through volatility — no matter who takes office."
Or take this from September's market recap: "Investing is about the long game, and it matters far more where the markets are in years than in weeks or months. Besides, skeptical stock market bears have been burned in recent years, and these concerns may all be overblown, given that a vaccine is getting closer to ready by the day. The pain could continue, but years down the road — if not far sooner — investors' patience will likely be rewarded."
Investors should be thankful for strong stock performances in a turbulent 2020. Madison Business Review editor James Faris breaks down what happened in markets this week.
October was a rough month by many accounts, but investors who put money to work in index funds are now in the green — even those who bought in early September at the near-term peak. Though those on the sidelines have missed a big move higher, it may not be too late to get in on gains heading into 2021. To be sure, there's ample risk that's known and unknown, so it's smart to "dollar-cost average" by buying in small increments over time instead of all at once.
Investors should use Buffett's advice to pounce on weakness when fear is present without forgetting the other half of the Oracle of Omaha's advice: exercise caution when others are complacent. With that in mind, investors should consider putting money to work as uncertainty continues to subside ahead of what looks to be a favorable setup for stocks heading into 2021.
On New Year's Eve, much of the cheering and celebration when the clock strikes midnight will be out of relief. 2020 was objectively awful but not without opportunity.
James Faris is a senior media arts and design major. Contact James at breezembr@gmail.com.
Disclaimer: Investors are always reminded that before making any investment, they should do their own research on any name directly or indirectly mentioned in this article. Investors should also consider seeking advice from a broker or financial adviser before making any investment decisions. Any material in this article should be considered general information and shouldn't be relied on as a formal investment recommendation.