Even COVID-19 can't quell Harrisonburg's hunger for bagels.
That's left Mr. J's Bagels & Deli with a problem many struggling small businesses would die for, and may not die without: enough customers to make social distancing a challenge.
It's been a roller coaster of a year for Angela Dean, the store's operating partner and co-owner who took the helm on Jan. 1 and runs the show alongside her husband. She first expressed ownership interest to David and Joseph Jerlinski, the two brothers that launched the restaurants in 1990, after 10 years of serving as general manager.
Nearly two decades of managing Mr. J's made her feel ready, but nothing could've prepared her for what would follow.
Sales were "up fantastically" in January, in Dean's words, before the governor issued shelter-in-place orders in March and the world shut down. Mr. J's never closed, to the dismay of some, though Dean said its workers wanted to avoid unemployment. A few employees left for safety reasons, though Dean said she understood and gave them an open door to return if they felt comfortable.
"I talked to most of the staff, and they didn't want me to close," Dean said. "I felt like I had a responsibility because I do have not just this location but the other two locations."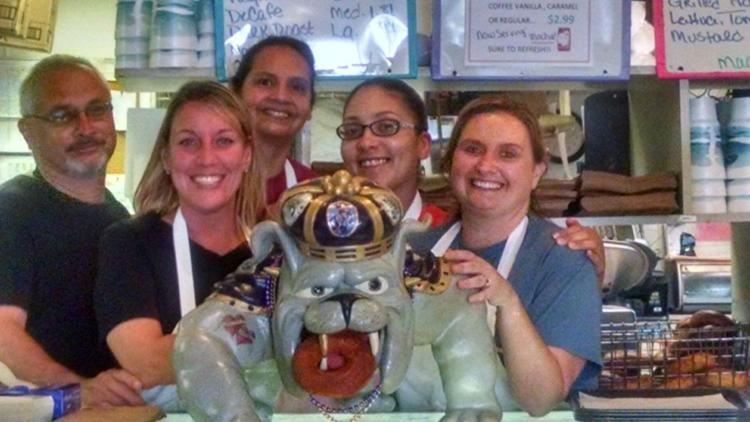 Curbside carryout and delivery from DoorDash and GrubHub were the only way to keep business going after the store's dining room shuttered. Those national food delivery services are rapidly growing — especially during the pandemic — yet largely unprofitable, despite 30% commission fees that hammer restaurants' already razor-thin margins. Dean said she partnered with GrubHub in early April and DoorDash in May, though sales still fell about 50% in April.
"I was trying to figure out, you know, different ways that we could [reach customers]," Dean said. "I had tossed it around [before], but their fees were more than I wanted to really [spend]. But, at that point, your hand is really forced."
One silver lining in the pandemic for Mr. J's is that Dean could keep her payroll in line with demand without any layoffs or furloughs. Fifteen of the bagel shop's 25 employees at its East Market Street location were students who didn't return to town after spring break, which Dean said allowed it to keep payroll at its standard of 18% of weekly revenue after it cut back hours.
Community effort
Like many Harrisonburg businesses, the restaurant's success and growth are interwoven with that of JMU. Revenue has grown steadily at Mr. J's for the past five years, Dean said, adding that growth is inevitable as the town and university grow.
Bagel demand revived in step with the local economy, as Dean said business picked up in May, June and July. In August, she said revenue was near normal levels, thanks to the return of JMU students and food delivery services, though it ditched GrubHub, as Dean said it had slower delivery due to its fewer drivers and wider coverage area.
But as JMU struggled to contain COVID-19, surrounding businesses that depend on having hungry college students in town felt the pain.
The 2,500-square-foot bagel shop at 1635 E Market St. makes at least 3,000 bagels per day when the university is in session, Dean said. Production typically drops to 1,000 to 1,500 per day over the summer. Though many students returned to in-person classes last Monday, Mr. J's bagel production is around 1,700 to 2,000 per day, Dean said, which is 33-43% below normal volume. 
That stems in part from the shop's vendor contract with JMU, which cut back its regular order of 800-1,200 bagels as students were sent home and dining options shrunk. The school approached Mr. J's years ago to get its bagels on campus, Dean said, but only Market 64 in D-Hall has carried bagels since the pandemic hit.
Though many JMU students left in early September during the school's COVID-19 breakout, Dean said sales are currently down just 5-10% from normal volumes. National chains like Ruby Tuesday, IHOP and Applebee's haven't been so lucky and have dormant Harrisonburg locations — seemingly for good — after initially closing temporarily.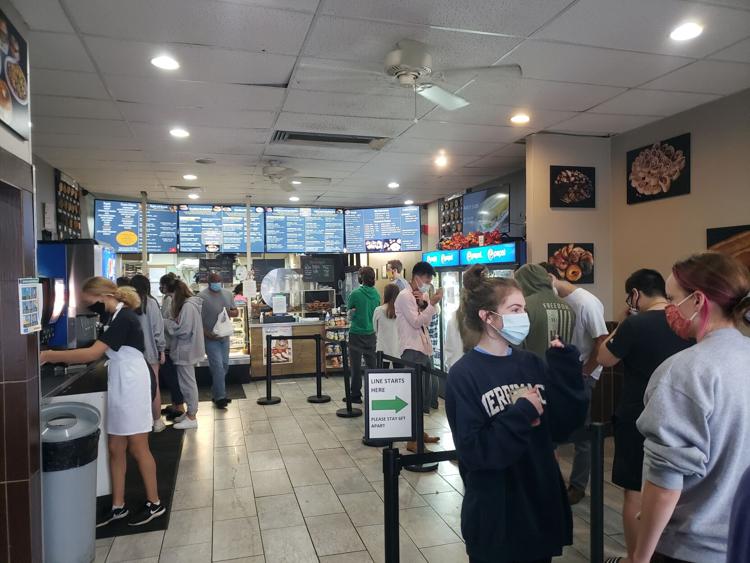 Dean got backlash for her decision to stay open, and she said she spends a lot of time apologizing to customers who feel uncomfortable in her often-crowded restaurant, though mask-wearing is required and distancing is encouraged.
"It was mixed reviews on the decision that I made, whether to stay open or whether to close," Dean said. "It depends on who you talk to. A lot of people were thankful that I was here, and other people were like, you know, 'You're putting your employees in danger.'"
But Dean's employees have survived the pandemic, and it appears her beloved bagel shop will do the same. She said not one of Mr. J's employees has tested positive for COVID-19 at any of its three locations, adding that she's kept her workers' and customers' safety at the forefront.
"Trying to keep the customers happy, you know, you walk a fine line," Dean said. "That's the biggest goal is to keep everybody happy. Most of the time we succeed, sometimes — you know, we're human — we fall short. It's just, those times, it's saddening, I suppose."
Children, it appears, are often easier to please than adults. Dean said she's found success with limited-time specialty bagels and events like a "unicorn day," which featured stuffed animals and bagels with edible glitter as well as cotton candy-flavored bagels.
"I did whatever I could do marketing-wise to get mommies and daddies to bring their children," Dean said. "You know, trying to keep it fresh and trying to keep us talked about."
Staying top-of-mind through social media is crucial for small businesses like Mr. J's, especially against nationwide chains like Jimmy John's and Panera Bread in the all-important lunch hour. Harrisonburg-based coffee shops like Cinnamon Bear Bakery & Deli are competitors for breakfast hour, though Dean is confident Mr. J's will continue to stand out.
"If you want a microwaved egg, maybe go to one of the other ones," Dean said. "If you want one that I cook on the grill and that's where you wait a little bit longer, then you're gonna get it."
Dean said she cracks hundreds of eggs a day and up to about 1,300 on the weekends. Bagels are made each day in a process that starts at about 6:30 a.m. and ends at mid-afternoon before delivery for the next day.
Building a better bagel
Mr. J's was born after the Jerlinski brothers' cousin, Irene Reynolds, the principal of Harrisonburg High School at the time, saw a need and an opportunity for a bagel shop. With Joseph's culinary school background, David's experience working in restaurants and no competitors to speak of, Mr. J's had a following from its launch, Dean said.
The Jerlinskis then added two locations on Route 42 in 1998 and 2000 to keep pace with demand, Dean said, which she estimates is about one million bagels per year. She said Mr. J's has made at least 30 million bagels, adding that the egg and everything bagels are the most popular.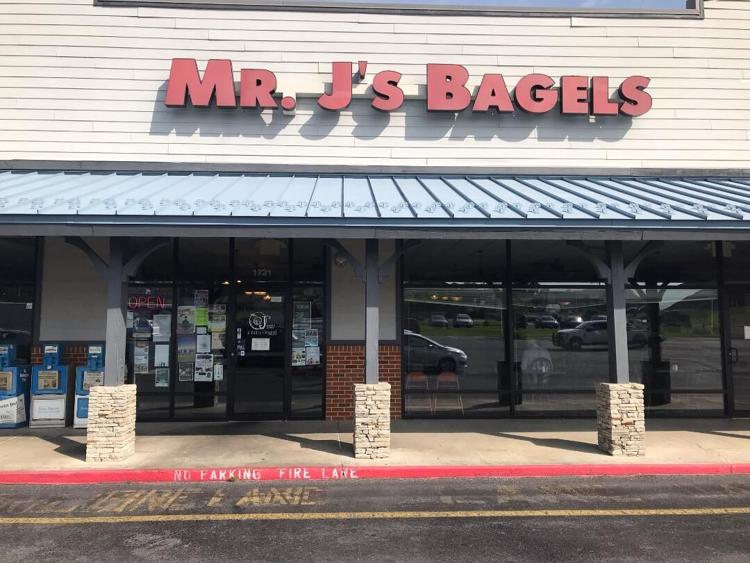 Kim Schlabach, a retired schoolteacher from Harrisonburg City who now lives in Chesterfield County outside of Richmond, said she knows the Jerlinskis and has been coming to Mr. J's since it opened — a tradition that's passed down to her children.
"Our kids have attended other colleges, and one of their favorite [things] was for me to bring them Mr. J's bagels from their hometown in Harrisonburg," Schlabach said.
Madison Huffman, a junior biophysical chemistry and Spanish double major at JMU, grew up in Harrisonburg and said she's frequented Mr. J's since age four or five. The Asiago breakfast sandwich with egg and cheese keeps her coming back.
"Usually, my friends and I come here to study about, like, once a week," Huffman said. "I like supporting Mr. J's 'cause it's local. It's a good business."
More than bagels: Big goals
Dean has plans to expand the business in 2021 instead of just surviving. She estimated the current revenue split between her three locations is as follows: 50% from Market Street, 30% from 42 South and 20% on 42 North near Eastern Mennonite University. All have room for growth.
"It astounds me how many people live in Harrisonburg and don't even know that we are a thing," Dean said.
Her ideas to build awareness and grow her customer base include getting a food truck, partnering with local businesses like Brothers Craft Brewing to put on events and possibly adding a fourth location. But one wish outweighs them all.
"I'm hoping it's a world after COVID," Dean said.
James Faris is a senior media arts and design major. Contact James at farisja@dukes.jmu.edu.