Every month, Madison Business Review editor James Faris recaps the previous month's news in markets and the economy. Sadly, he can't tell you what will happen next month. Until then, enjoy this read, and good luck to those brave enough to bear the bull and bear markets.
---
May saw the partial reopening of the economy, a flood of optimistic and cautious headlines, and a rollercoaster of emotions for investors. The stock market built on April's strength in May, as the Dow Jones Industrial Average advanced 4.2%, the S&P 500 rose 4.5% and the tech-heavy Nasdaq grew 6.7%. Meanwhile, the CBOE Volatility Index — known as the VIX — fell 19.5% from April 30. The VIX is known as the "fear gauge" of the market, and it moves inversely to the stock market in most cases.
These gains appear to indicate that the economy is headed for a healthy recovery, though that's far from a certainty in the near term. That's led some, including highly respected hedge fund manager David Tepper, to claim that the stock market is nearly as overvalued as the infamous "dot-com bubble" of 1999. Tepper's skepticism on May 13 moved the Dow and S&P to their May lows, though the indices rebounded nicely from there. 
Some believe Wall Street, which is forward-looking by nature, is overly optimistic and disconnected from reality. The stock market anticipates conditions in six to nine months, while economic data like unemployment rates and gross domestic product reveals what's already happened. Still, though the future is bound to be brighter than the present, the S&P 500 — 11.3% off its all-time highs as of May 31 — may have run up too much, especially considering the S&P 500 charged forward 31.5% in 2019 despite nearly flat earnings growth of 1.7%.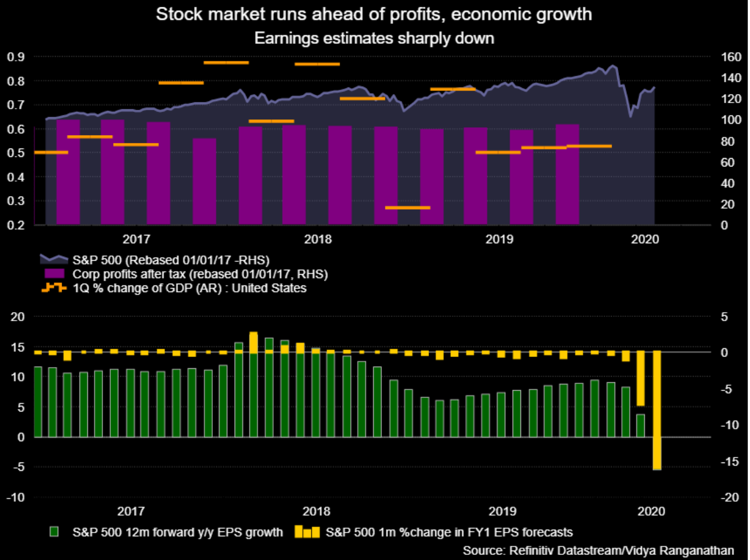 Take the S&P 500, for example. Its value level — currently 3,000 — is computed by taking the earnings per share of the 500 companies in the index and applying a forward earnings multiple. Historically, a multiple of 15 is standard, and a 20-times multiple means the index is at a premium to the market. Future optimism warrants a higher forward earnings multiple, and the inverse is true for rocky market conditions ahead.
The S&P 500 has been in bubble territory — a sign it's historically overvalued — since 2015 based on its price-to-earnings ratio, according to Longtermtrends, with two brief exceptions: late 2018 and February 2020. Before the coronavirus-induced pullback in February, the S&P 500 was on the verge of "extreme bubble" territory, according to the site.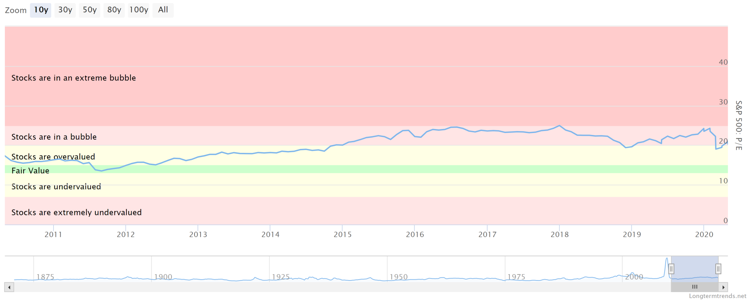 Now, Yardeni Research expects forward S&P 500 earnings per share to be around $140, while others see it reaching $128, according to Barron's. Even in the optimistic case, a forward earnings multiple of 20 on $140 in earnings would value the S&P 500 at 2,800, which is considerably below current values, which may indicate the market's valuation is too optimistic.
After a year of multiple expansion where S&P 500 top-line growth, reflected in its move from 2,506.85 to 3,230.78 in 2019, far outpaced a 3% uptick in earnings, the rebound has been striking. The S&P 500's bounce off its late-March lows caught many off-guard in what's called a "pain trade," or a period of growth that hurts investors who sold. 
To see if that momentum will keep going or fizzle out, it's necessary to look at fundamentals in addition to the charts.
How strong is the economy, really?
Here are the facts: The COVID-19 new case count and death toll is rising but slowing, and the same can be said of jobless claims numbers, which rose by 2.1 million for the week ending May 23 compared to 2.4 a week earlier. The unemployment rate shrunk by 2.6% as many Americans returned to work. Since mid-March when the pandemic broke out in the U.S., 40.8 million people filed for unemployment benefits.
An Evercore ISI survey from May 11-13 found that less than a quarter of respondents thought the next 10% move in stocks would be up. Then, the Federal Reserve warned in mid-May that assets like commercial real estate "remain vulnerable to significant price declines," according to Bloomberg.
Memorial Day made this trading week shorter, but it was still full of news and drama, as tensions between the U.S. and China ramped up. The Madison Business Review's Bryce Roth recaps what happened and breaks it all down.
Now, tensions are rising between the U.S. and China, but this time, trade talks aren't the focal point. Instead, both Republicans and Democrats are speaking out against China's highly controversial national security law for Hong Kong, a special administrative system within the People's Republic of China, that's viewed around the world as suppressing democracy and freedom. Wednesday, Secretary of State Mike Pompeo declared that Hong Kong no longer had significant autonomy, which will likely hurt its trade relationship with the U.S.
As Jason Goepfert from Sundial Capital Research noted, the S&P 500 stayed between its 50- and 200-day moving averages for at least 20 days for just the 30th time since 1928, and in 21 of the previous 29 times, the index's next move was lower, according to Barron's. But despite this uncertainty, investors didn't run for the hills. Instead, the market climbed roughly 8% from mid-May lows. 
Despite what appear to be legitimate reasons for concern, bullish investors are unfazed by the remarkably resilient stock market that seems to charge through all headwinds. Are the aforementioned valuation and fundamental concerns worth worrying about, or will the market shrug them off as it has so consistently in the past? The answer will be clear in hindsight.
James Faris is a senior media arts and design major. Contact James at breezembr@gmail.com. 
Disclaimer: Investors are always reminded that before making any investment, they should do their own research on any name directly or indirectly mentioned in this article. Investors should also consider seeking advice from a broker or financial adviser before making any investment decisions. Any material in this article should be considered general information and shouldn't be relied on as a formal investment recommendation. All information is current as of May 31.