Every week, Madison Business Review contributor Bryce Roth provides a recap for what happened in the business world and stock markets.
---
Markets have been held up by stimulus from the Federal Reserve and Congress. But on July 31, when the stimulus given to lower-income Americans runs out, there may be a steep decline in markets.
Consumer spending, an important economic factor that usually coincides with consumer confidence, hit a low in mid-March, as shown in the graph below. People were either saving their money or didn't have money to spend at all. It's possible this could happen again shortly after July 31 if stimulus runs out.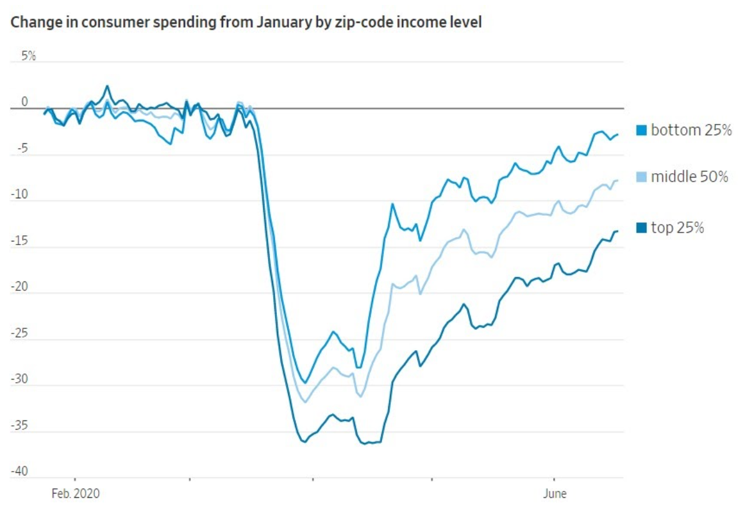 However, a second round of stimulus is more than likely, and it's very doubtful that Congress would forego that. Possible stimulus check proposals are swirling, and there's no shortage of opinions or ideas.
The Emergency Money for the People Act would provide $2,000 monthly stimulus checks for up to a year, and the Automatic Boost to Communities (ABC) Act would top it by adding $1,000 monthly payments for a year after that. 
Another proposal is for a $2,000 monthly check for six months at a minimum, and while the Rent and Mortgage Cancellation Act would wipe out rent and mortgage payments for up to a year. 
Finally, some have floated a payroll tax rebate to provide businesses incentives to get Americans back to work covering 80% of payroll expenses to enable businesses to more easily hire and retain employees.
A majority of the acts seem to target citizens, while others focus on businesses directly in order to get Americans back to work. Since unemployment is high and expected to be high for a long time, targeting businesses by offering incentives to hire Americans may be the right direction to head toward. 
Perhaps there can be an act to target both businesses and offer a second round of stimulus checks as that could be a way to stimulate the economy for those who remain unemployed. As of right now, there is no clear answer, but there is still some time left until July 31 for Congress to compose a well thought out plan.
Should stocks be higher?
As crazy as that may sound to some, it may be true. 
Christopher Rossbach, chief investment officer of London fund manager J. Stern & Co., told The Wall Street Journal he's a buyer at current levels, even at historically expensive prices. Current price levels are focused on future earnings and dividends while discounting the cost of money and risks, and the cost of money — or the average interest rate — is as low as it's been in recent memory.
Rossbach is basically saying that stocks should technically be valued higher because of how low bond yields are. That means, in essence, there are few enticing alternatives for investors other than stocks, given that the 10-year Treasury note yields around 0.7% annually, so a $100 investment would yield a pitiful 70 cents.
However, markets aren't always logical — emotion plays a huge part in the buying and selling of stocks. With recent market action, which is perhaps an overreaction, volatility has been a major concern for investors, which provides reason to why stocks aren't valued higher.
This week's stock market performance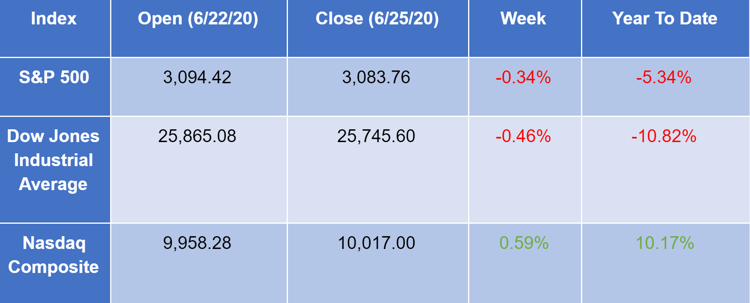 A widespread rise in new COVID-19 cases over the weekend caused shifts between gains and losses for Monday. Recent data show the first wave never died out, and recent availability in testing has allowed for more people to be tested. 
However, the main reason for COVID-19 cases to spike at all-time highs is due to protests and the reopening of the economy has allowed for cases. Keep in mind that vaccines aren't expected to come out for six to 12 more months.
Although cases spiked again on Tuesday, a majority of sectors posted gains as optimism for a vaccine grew and trade tension between the U.S. and China reduced. This provides evidence to the point that emotion plays a huge part in the buying and selling of stocks since optimism is seeming to blind investors to the numbers coming out.
California, Florida and Texas all set records for new coronavirus cases Wednesday, leading the three major indices to close off in the red.
Thursday, markets closed up despite increasing coronavirus cases primarily due to bank stocks because of some major changes in regulation and announcements.
First, the Federal Deposit Insurance Corporation voted 3-1 to reduce the amount of cash that banks must set aside as collateral to cover potential losses on swap trades. Then, the Fed and the FDIC removed limits on banks' investment in vehicles such as venture-capital funds and credit funds. 
Finally, the Fed ordered the banks to cap shareholder dividend payouts to preserve capital. Banks also will be barred from buying back shares for the third quarter. Buybacks comprise the bulk of the capital distributions of U.S. banks
Economic calendar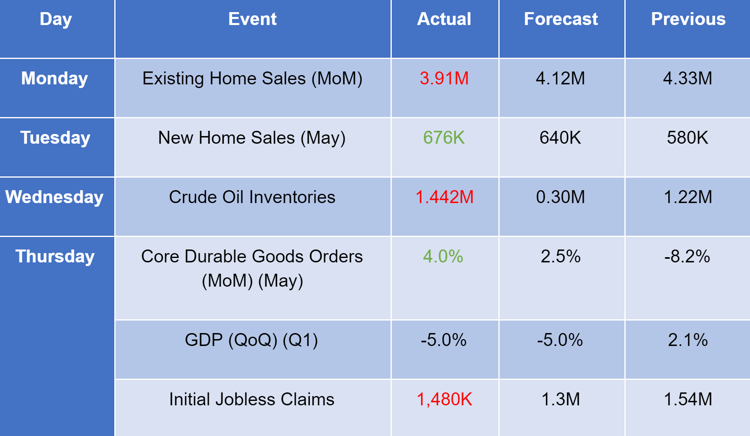 New home sales and core durable goods orders in May were better than expected, both signaling a positive, bullish outlook for the U.S. dollar. Existing home sales and initial jobless claims both were worse than expected, and jobless claims have been hovering around the mid-1 million mark for the past few weeks. Gross domestic product quarter-over-quarter for Q1 matched its predicted rate of -5.0%, which is still a healthy number for the economy.
Bryce Roth is a junior finance major. Contact Bryce at rothbc@dukes.jmu.edu.
Disclaimer: I/we have no positions in any stocks mentioned and no plans to initiate any positions within the next 72 hours. I wrote this article myself, and it expresses my own opinions. I'm not receiving compensation for it, and I have no business relationship with any company whose stock is mentioned in this article.
Additional disclosure: Investors are always reminded that before making any investment, they should do their own research on any name directly or indirectly mentioned in this article. Investors should also consider seeking advice from a broker or financial adviser before making any investment decisions. Any material in this article should be considered general information and shouldn't be relied on as a formal investment recommendation.