Every week, Madison Business Review contributor Bryce Roth provides a recap for what happened in the business world and stock markets.
---
This week, mega-cap technology companies were the main focus, as if they haven't been in the news enough lately. CEOs of Apple, Facebook, Google and Amazon were grilled on Wednesday by Congress for being too big to fairly operate in this current free market. 
CEOs were asked well-researched questions compared to questions asked from previous hearings like one from former Senator Orrin Hatch: "How is Facebook free?" 
This time around, consequences may be more serious for these companies because of future actions taken by Congress or Trump's tweet: 
"If Congress doesn't bring fairness to Big Tech, which they should have done years ago, I will do it myself with Executive Orders. In Washington, it has been ALL TALK and NO ACTION for years, and the people of our Country are sick and tired of it!"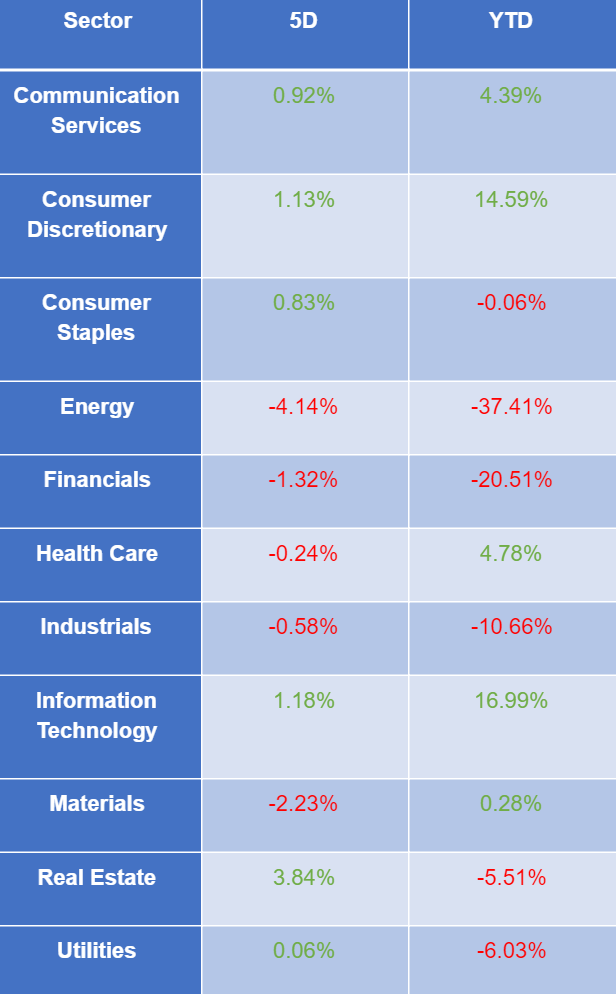 But following the hearing, the stock's prices weren't hit too hard. In fact, they all ended up increasing for the week, mostly because of impressive earnings reports after the closing bell Thursday and the expectation that these companies won't be disappearing anytime soon.
Unemployment and GDP
Gross Domestic Product for the second quarter dropped at an annualized rate of 32.9%, which is — somehow — a sharper decline than both the Great Depression and the Great Recession but also better than expected.
The reasoning for such a sharp drop is because personal consumption, which historically has accounted for about two-thirds of all activity in the U.S., decreased 25% with services accounting for nearly all that drop. This is far from good, but it's important to note that it was caused by a virus outbreak, and as soon as the coronavirus is under control, that number should rebound drastically.

The S&P 500 initially dropped around 1.15% on Thursday before picking back up and finishing the day only down by 0.38%.
Positive vaccine data was washed out by ominous coronavirus case counts and anxiety in Washington as the deadline to solidify a new stimulus deal approaches. The Madison Business Review's Bryce Roth analyzes all that and more in this week's recap.
Another week of disappointing jobless claims came from a better than expected 1.4 million, but that's up from last week and could rise further if more stimulus isn't passed soon. Unemployment benefits end this Friday, and although another package is expected, nothing has been confirmed yet, which means the average person will lose 65% in stimulus income. 
As of right now, Republicans and Democrats can't decide on the appropriate amount to include in the package that would simultaneously help Americans out financially while encouraging them to go back to work.
New Fed statement
The Federal Reserve also made waves when it issued a Federal Open Market Committee statement ensuring it's promoting maximum employment and price stability. 
It's doing so by keeping interest rates steady at 0-0.25%, offering large-scale overnight and term repurchase agreement operations and increasing holdings of Treasury securities, agency residential and commercial mortgage-backed securities at least at the current pace. 
This recent FOMC statement is another example of how the Fed has done very well with holding the market together and maintaining its goals.
Looking forward
Next week, a few economic indicators, such as the manufacturing purchasing manager's index, ADP nonfarm employment change, the institute for supply management's non-manufacturing PMI for July and initial jobless claims will have a big impact on markets.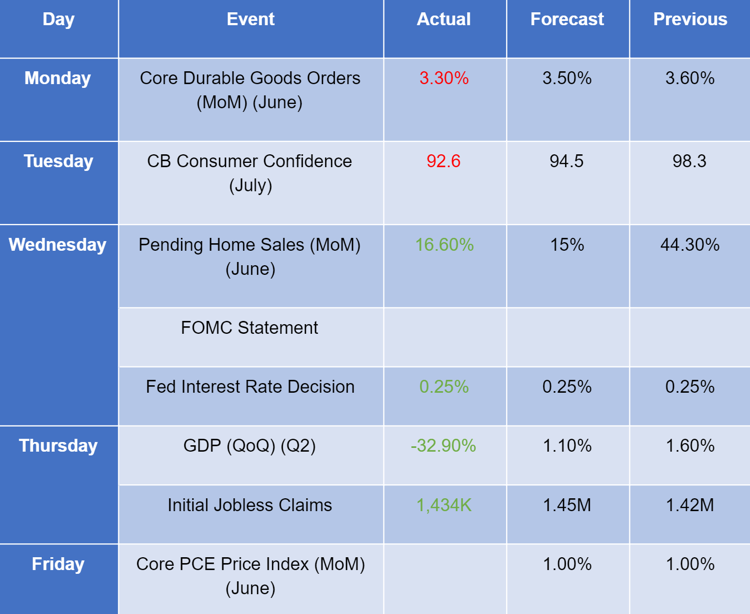 Additionally, Q2 earnings reports from Nvidia, Walt Disney, Toyota, HSBC and more are bound to make waves. It'll also be fascinating to track how long pharmaceutical companies can increase, specifically Kodak, which had a "Kodak moment" this week as it erupted from $2.43 per share to $29.83 in three days after peaking well above $40.
Bryce Roth is a junior finance major. Contact Bryce at rothbc@dukes.jmu.edu.
Disclaimer: I/we have no positions in any stocks mentioned and no plans to initiate any positions within the next 72 hours. I wrote this article myself, and it expresses my own opinions. I'm not receiving compensation for it, and I have no business relationship with any company whose stock is mentioned in this article.