Americans anxious to hear the outcome of the 2020 presidential election shouldn't hold their breath. After all, doing so would turn their faces red or blue long before the battleground states.
What could go down as one of the most pivotal elections in U.S. history is still officially undecided as of late Wednesday, though former Vice President Joe Biden appears to be on the cusp of the 270 electoral votes needed for victory.
The Democratic challenger has 264 electoral votes and 50.4% of the popular vote while Republican incumbent Donald Trump has 214 electoral votes and a 48% share of the popular vote, as of Thursday at midnight. Five states have yet to be officially called: Alaska, Georgia, Nevada, North Carolina and Pennsylvania.
With voter turnout rates at the highest marks since the early 20th century, it's inarguable that voters believe this election will shape America's trajectory for the next four years and beyond.
Unshaken by uncertainty, Wall Street extended its winning streak to three days as investors largely bought stocks hand over fist Wednesday in a massive relief rally. The tech-focused Nasdaq Composite index gained a blistering 3.85% in the session after polls closed while the S&P 500 closed up 2.2% and the Dow Jones Industrial Average notched a 1.34% gain.
But Democrats and Republicans are still suspended with bated breath waiting to hear who the next "Leader of the Free World" is, and JMU students, faculty, staff and others in the Harrisonburg community are following suit. 
The Madison Business Review spoke with professors in JMU's political science department and School of Media Arts & Design to add historical context to the roles politicians and the media are playing in this monumental moment in U.S history. Here's what they had to say.
---
"This is a divided country": Polls fail again to accurately portray public
Heading into Nov. 3, Biden looked to be comfortably in control and set to cruise to a double-digit victory, according to national polls like one from NBC News and The Wall Street Journal.
And that's why Democrats were terrified. It turned out they had reason to be.
Democratic nominee Hillary Clinton had an 85% chance to win the White House, The New York Times reported on Nov. 8, 2016. The former secretary of state won a 48.2% plurality of the popular vote compared to Trump's 46.1% yet lost in the electoral college, 306 to 232.
"Where the polling failed [in 2016] was it wasn't really giving us an accurate view of what the race was decided by," Ryan Alessi, assistant professor in JMU's School of Media Arts & Design, told the Madison Business Review on Oct. 2. "It's kind of like saying, you know, here's who's winning a baseball game based on how many hits they have as opposed to how many runs."
Distrust of the American media is near an all-time high, and our democracy is in peril. JMU Media Arts & Design assistant professor Ryan Alessi joined Madison Business Review editor James Faris to discuss the state of the media heading into the 2020 presidential election.
This election, it appears Biden will escape with a win despite a polling error remarkably similar to that of 2016. The difference is that Biden was an even larger favorite over Trump than Clinton was, leading to a race that was far tighter than most pollsters expected.
Alessi, a veteran of the Lexington Herald-Leader in Kentucky who teaches a media and politics class at JMU, spoke with the Madison Business Review on Tuesday afternoon before polls closed. He noted the media must carefully navigate a political climate where tens of millions of Americans will be angry at the election's outcome and even distrustful of it.
"Regardless of what happens with the election results and the aftermath, this is a divided country," Alessi said. "And it looks like we're having higher turnout than presidential elections since the late 1960s, and it's because people are really for or really against a candidate."
Race tight despite few shocks, though troubling signs emerge for GOP
Valarie Sulfaro, a professor of political science at JMU, told the Madison Business Review in an email that this race was far closer than she expected because of "extremely close" margins in many states, though outcomes in many states matched expectations.
Trump won Florida, Iowa, Ohio and Texas, though Sulfaro wrote Republicans should be concerned that the president's margin of victory in the Lone Star State was just six points, given that his opponent didn't visit or invest significant funds in what's traditionally been a GOP stronghold.
And it's not just Texas where cracks in the Republican armor may be forming. The competitiveness of historically red Southern states Georgia and North Carolina — which both hadn't been called by press time — should be troubling for Republicans, Sulfaro wrote.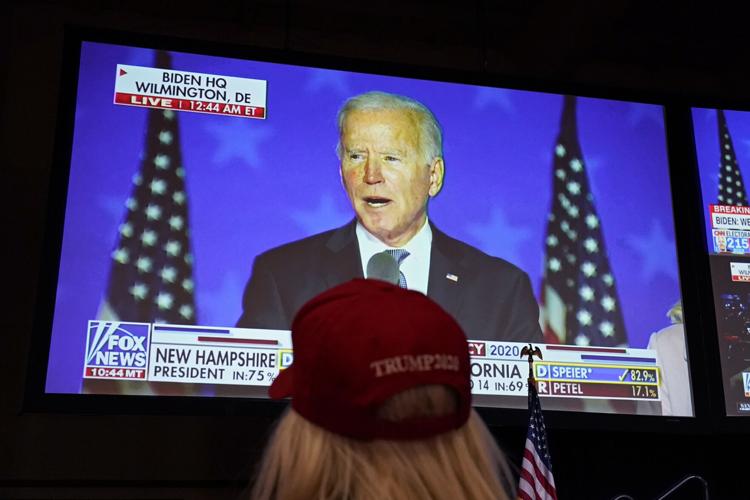 "Simply put, the GOP appears unlikely to be able to hold onto these states over the long term," Sulfaro said via email. "Any gains the GOP makes in the Upper Great Lakes … are likely to be offset by long-term shifts that favor the Democrats in states like Georgia, North Carolina and Arizona. Moreover, as Texas becomes more competitive over time, [the] electoral college map will become untenable for the GOP. The GOP needs to expand its party coalition, at the same time that generational replacement makes it more difficult for them to do so."
However, Sulfaro said in the email that the closeness of Biden's wins in Michigan and Wisconsin surprised her, although they resemble the previous election's results where Trump won the presidency after he took those battleground states and Pennsylvania by narrow margins.
It's easy to forget races for seats in the Senate and House of Representatives were also open this election season, and Sulfaro noted that results for the former tracked quite closely with the presidency. She added that any expectations that voters would split their tickets in a way that would benefit Democrats were "never all that reasonable."
Sulfaro concluded by writing that the election tells a similar story to the 2016 presidential election in that the electoral map is still reshaping. She also added that she doesn't consider exit polls to be overly useful, given that they exclude a sizable amount of the electorate that voted early and via absentee ballots.
"Wrong-winner election": Electoral college scrutiny, divides persist
Election night was a long one for those hoping for a "blue wave" where Democrats wrestled control of the White House and Senate in addition to keeping the House of Representatives, Dr. Kathleen Ferraiolo, a professor of political science at JMU, said Wednesday morning.
The Electoral College system, which empowers rural states by keeping large masses in highly populated cities from disproportionately affecting the election, came under heavy security in 2016 after Trump lost the popular vote but cruised to victory by winning 30 states to Clinton's 20. 
Generally, rural counties vote red while cities tend to side with Democrats, Ferraiolo said, citing Harrisonburg and Charlottesville and their surrounding areas as evidence. 
"If we didn't have an Electoral College, this election would be completely different," Ferraiolo said. "This urban-rural divide is — in a way — a defining part of our politics and our election. And I think we see that in congressional districts, too."
Trump was an overwhelming favorite in the betting markets around 10:10 p.m. Tuesday night, which stirred up a frenzied panic among many left-leaning social media users. Cries of outrage resounded from the left once again as it appeared a Republican president would take the White House without winning the popular vote for the third time in 20 years, with the first time being in 2000 when George W. Bush beat former Vice President Al Gore and the second being 2016.
While conventional wisdom may be that President Trump's agenda is better for big businesses and the economy, Joe Biden's plan to stop COVID-19 could be better for the economy and investors.
Ferraiolo said some see those cases as a "wrong-winner election" and noted the shift in public opinion against the Constitutionally implemented system. Such an outcome would be "dramatic," she said, adding that Democrats would ramp up efforts to neutralize or replace it.
But eliminating the Electoral College would likely only deepen the dangerous divisiveness in America.
Ferraiolo calls the physical gap to blame for the disconnect between the two halves of the U.S. "geographic sorting." It's a phenomenon that leads to homogeneous echo chambers that lead to misunderstandings where people wonder: "How could anybody disagree with me?"
Geographic divides coupled with misinformation on social media has exacerbated Americans' inability to see others' perspectives.
One half of the nation wonders how anyone could vote for a president that's politically incorrect and must account for his administration's response to a pandemic that's killed over 230,000 Americans and counting. The other half wonders how anyone could vote for an aging career politician who plans to raise taxes and increase regulation — policies that could stall an economy that enjoyed unemployment rates at 50-year lows before COVID-19.
Ferraiolo added that while it's too early to decisively say that polls were wildly off, it's clear that polling is as difficult as ever, given single-digit response rates that make reaching an accurate sample of the electorate very challenging.
"Pleasantly surprised": Pandemic doesn't deter voters or derail process
Dr. David Jones, a professor of political science at JMU, spoke with the Madison Business Review at 9:30 p.m. on election night and again on Wednesday at 5:20 p.m. Jones said Tuesday night it was far too early to call the election and even identify patterns, though he added that Biden's underperformance in Florida was a surprise given that it wasn't as close as he anticipated.
"The political scientist in me tries not to go into this with any expectations," Jones said, adding that he still wasn't ready to make an assumption about which candidate would win.
Many believed Biden was on the doorstep of victory as of Wednesday afternoon, and Jones said he'd be interested to see if Trump would accept defeat if it became clear that the election didn't go in his favor. The election procedure was slightly changed because of the pandemic, as absentee ballots, early votes and mail-in votes hit record numbers.
Jones said he was blown away by how high turnout was and "pleasantly surprised" by how smooth the election process was. Six months ago, he said, few thought it would be possible to have a historically high turnout during a pandemic.
"I don't have a crystal ball": No concession speech, violence can't be ruled out
Dr. Marty Cohen, a professor of political science at JMU, told the Madison Business Review on Tuesday afternoon that he didn't expect there to be a clear winner by the end of election night but thought Biden could take an early lead by landing a key state.
But it was Trump who took a decisive early lead as a litany of Midwestern and Southern states, including Florida, fell his way.
"I don't have a crystal ball, obviously," Cohen said before polls closed.
Cohen did predict, however, that the balance of the presidency could be up in the air on Wednesday, Thursday and Friday. He said he didn't expect a razor-tight contested election, adding that if Trump fell behind and resorted to taking legal action — which appears to be happening — court cases could only do so much and would fizzle if Biden's lead grew.
Here's a final look at the proposed economic policies of Republican incumbent Donald Trump and Democratic challenger Joe Biden and which plan would be better for America.
Whether Trump would concede if necessary if politicians on both sides of the aisle started calling for it is unclear, Cohen said Tuesday afternoon, adding that the media would then begin to move on and claim victory for Biden in that scenario.
"He might not make a concession speech even, but that doesn't change the fact that he will have lost the presidency," Cohen said of Trump's response if Biden wins.
Cohen admitted people have always been subject to recency bias, noting that every election in his over 40 years of life was the "most important," but he said this time, it's true. He likened its importance to that of the 1860 race that Abraham Lincoln would win, given what he called an "unprecedented pandemic" and the possibility of "economic collapse right around the corner."
When asked whether he expects violence after the election, Cohen said Tuesday he was sad to say he did, adding that's the direction the country appears to be heading in.
"Hopefully, things will be relatively sane and it won't be overly contested like 2000 was," Cohen said. "If we had an election like 2000 today, it would be even uglier and potentially now dangerous and violent."
Cohen said Wednesday at 6:30 p.m. after more results came in that he was a bit surprised by the outcome so far, including how close the presidential race was and that the Democrats didn't do better in the Senate and House of Representatives races. 
"Millions of Trump voters continued to stay with him," Cohen said. "They continued to vote against Democrats, and it just shows that party identification is incredibly strong today."
If Trump loses, Cohen said it will be because he hasn't yet flipped a state that voted for Clinton four years ago while Biden landed key swing states of Michigan and Wisconsin with others in reach. Margins are tiny, he said, and losing those two Midwest states could be the difference.
"I think a lot's wrong because each side only needs to move the needle a little bit to gain control of the government," Cohen said.
Republican control of the Senate, which appears likely as of press time, may impact the timing and size of a stimulus package, though Cohen said he wasn't sure how that would play out if Trump lost and became a lame duck through Biden's inauguration on Jan. 20, 2021. He expects there wouldn't be enough votes for a stimulus bill big enough to help everyone who needs it.
Cohen concluded that it's difficult to discern a decisive direction from results thus far because for much of the country, very little changed in the polls from the 2016 election. The electorate is starkly and evenly divided, and Cohen said it appears to be set in stone despite all that's happened in the past four years.
That surprises Cohen, given what's been a rollercoaster of a term for Trump filled with peaks — like strong jobs and stock market performance — and valleys, including a peak of COVID-19 cases in the U.S. that's arguably the president's greatest blemish.
"[If Biden wins,] Democrats should be happy they won," Cohen said. "[But] the Republicans should be glad they didn't lose the Senate with a candidate [that oversaw] an economic meltdown and a pandemic that killed [over] 200,000 — almost a quarter-million — people."
James Faris is a senior media arts and design major. Contact James at breezembr@gmail.com.