Jack Brown's and Billy Jack's got the last of the Laughing Dog.
The two downtown Harrisonburg restaurants have a bit more breathing room in the social distancing era after their owners converted Laughing Dog Studios — a T-shirt shop nestled between the two eateries — into a dining room.
Childhood best friends Aaron Ludwig and Mike Sabin co-founded Jack Brown's Beer and Burger Joint at 80 S Main St. in 2009 and soon started snapping up S Main Street real estate. The business partners opened Billy Jack's Wing & Draft Shack two years later and two doors down at 92 S Main St. and in 2013 bought the building that's home to their restaurants and the former T-shirt studio.
The pandemic dealt a blow to businesses large and small across the country, and while Jack Brown's, Billy Jack's and Laughing Dog studios all felt the blow, the damage to the latter would prove to be fatal. Ludwig said he had a great relationship with his tenants, who'd operated for decades but decided in October to not renew their lease and ease into retirement.
"[COVID-19] was just kind of the final straw for them," Ludwig said. "They gave me a heads up that they were going to be ending their lease and wanting to move out."
The timing couldn't have been better for Ludwig and Sabin, who secured a six-month permit from city officials to open "Next Door" — a 1,400-square-foot space with four tables for Jack Brown's and eight for Billy Jack's — just as the weather started to hinder outdoor seating.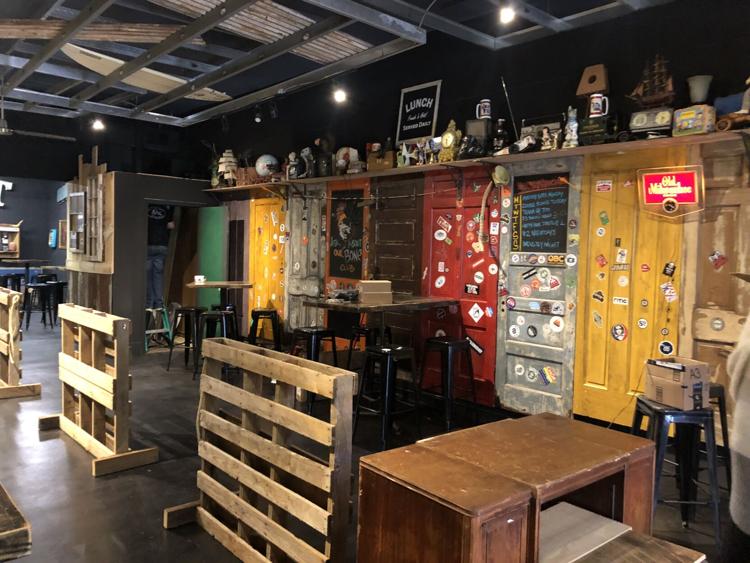 Ludwig said the two had previously brainstormed the move and put it into motion to keep socially distanced and warmer than in the neighboring parking lot, which they'd been leasing since reopening in the spring to put customers at ease and make up for a lack of indoor space. Jack Brown's has just 400 square feet compared to 2,200 for Billy Jack's.
Best of all, the "Covid-friendly" move didn't break the bank, as Ludwig said the co-owners decorated and put in TVs and a stereo system but didn't knock down walls. Guests who check in at Jack Brown's or Billy Jack's must walk outside to be seated at Next Door, as do waiters.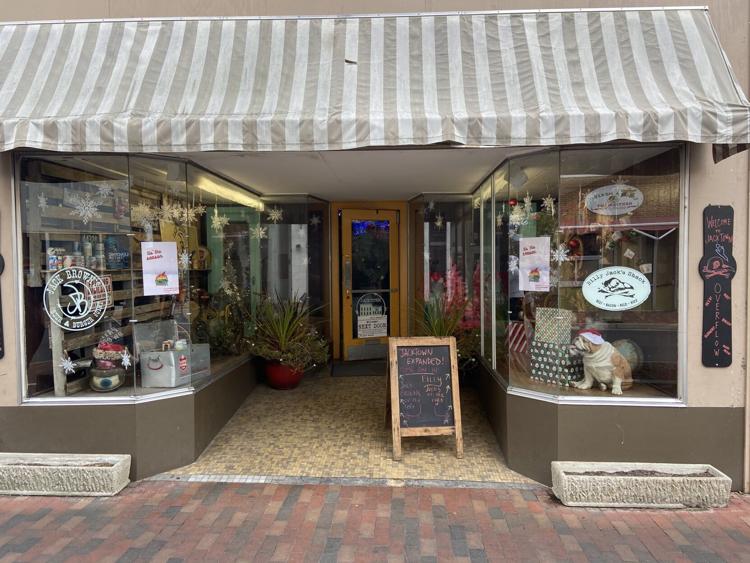 "Most people are just blown away, just like, 'Oh my God, I was just here not too long ago and there was like a retail store there, like what happened?" Ludwig said. "And this is also a first. Our ABC agent in the sit-in [said] no one in Virginia that they've ever heard of has done seating like this, where you've got two restaurants in one space."
"It's going to hurt": Nightmarish virus challenges childhood dream
Ludwig and Sabin met 40 years ago in the Friendly City and grew up together, skateboarding while daydreaming about opening a bar one day. The pair eventually went separate ways, as Sabin spent two decades working as a chef in Miami while Ludwig ran a ski and snowboard shop back in Harrisonburg. But their childhood dream eventually came true after Ludwig said a rough day of work got him on the phone to convince Sabin to return home and open a bar.
It took a bank loan and little more than a griddle, frier and draft cooler to open Jack Brown's. The restaurant's name comes from an inside joke of what the long-time friends would call someone whose name they'd forgotten.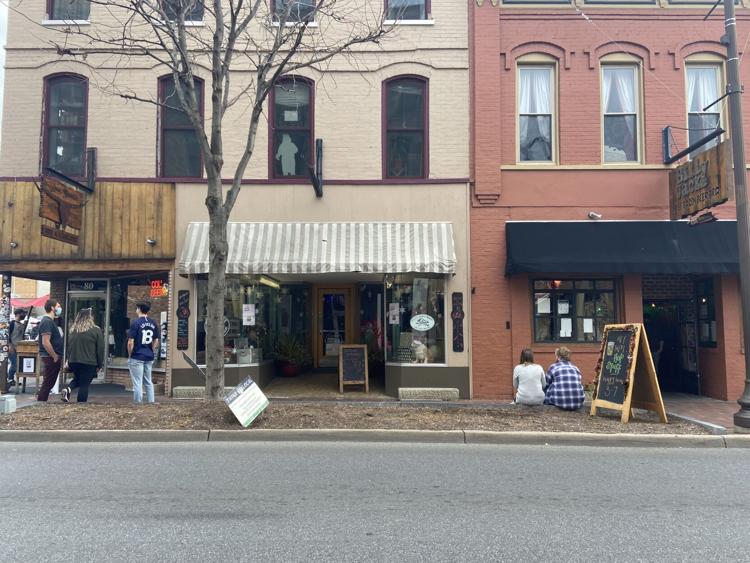 There were no plans for expansion at first, but Billy Jack's was born shortly after and was followed by a dozen other Jack Brown's across the Southeast in Alabama, Florida, North Carolina, Tennessee and Virginia with one in Cincinnati, Ohio, coming soon.
Sales had grown consistently each year at Ludwig and Sabin's restaurants. Then came 2020.
Ludwig said he saw sales slide 60-70% at his restaurants in March and April after closing for about a week. The year-over-year drop narrowed to 20-25% over the summer as the restaurants' carry-out business got going and remained at those levels for much of the fall.
But for the first time in months, Jack Brown's has seen sales pull even to and even top last year's levels by 10% in recent weeks, Ludwig said, thanks to expanded seating with the Next Door space and outdoor patio in an unusually warm fall.
"[Next Door] helped tremendously, especially for Jack Brown's, where a lot of our business is our patio," general manager Justin Harrell said. "That Next Door space gives us the ability for our customers to still come out and enjoy our food and beers. It's all about adapting these days, and that's what we've been trying to do."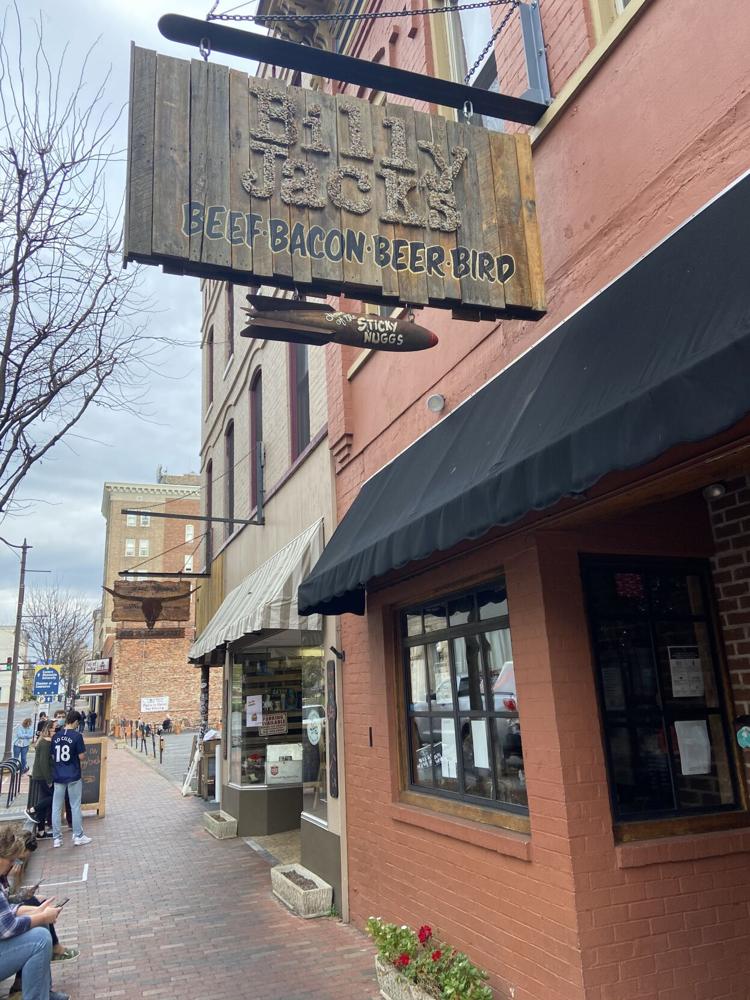 By contrast, Billy Jack's hasn't made it back to the black and has been consistently down about 25% since June, general manager Joe Fowler said. While Jack Brown's has more seating than it did a year ago, Billy Jack's has the same number of tables but is missing 30 bar seats, Fowler said, which the restaurant needed to pack in students and let locals grab quick meals.
Fowler still called the Next Door addition a "lifesaver," just like the patio was over the summer. Billy Jack's isn't dependent on JMU football gamedays, Fowler said, though its absence — compounded with the loss of crowds from JMU events like Homecoming and Parents Weekend  — has hurt the restaurant.
Harrisonburg businesses crippled by the pandemic got hit with another gut punch: no JMU fall football. Four businesses told the Madison Business Review how they're planning on making it through.
New state-ordered lockdowns prompted by surging COVID-19 case counts also threaten to stall Jack Brown's rebound, just as it started to shrug off the spring and summer sales slump.
Both restaurants had recently extended hours until 2 a.m. but were forced to reverse course after Governor Ralph Northam (D) ordered restaurants to stop selling alcohol at 10 p.m. starting Nov. 15. That's a crippling blow to Ludwig's businesses, which he said will now close at 10. 
"Nobody's going to come to a restaurant after 10 o'clock and just grab food," Fowler said.
Closing earlier will limit losses incurred from staying open and not selling booze, but Ludwig still expects sales to slide back into the red, just as his restaurants were turning the corner.
"When you just think about, like, now we're going to lose another four hours of business and no alcohol, yeah, it's going to hurt," Ludwig said. "I don't see the 10% increase lasting very long while this new mandate is in place."
"Keep pushing through": Winter survival overshadows post-pandemic plans
Jack Brown's and Billy Jack's are laser-focused on getting through the winter, Fowler said, adding that talks of hiring staff in preparation for a return to normal haven't surfaced yet. He's hopeful the worst of the pandemic will be over by the spring, but he's not banking on it.
"I think we've all learned to not really expect anything at this point," Fowler said. "Just kinda, you know, do what ya gotta do to do our part. I certainly think that's the key: do your part, do what you're asked and, you know, keep pushing through."
Restaurants skate by on thin margins in the best of times, Ludwig said, so pandemic-induced demand shocks have made profitability a pipedream. The restaurant owner said never knowing what's around the corner — be it a lockdown order or COVID-19 outbreak — is most daunting.
"I've always had emergency savings and things like that in case something bad were to happen," Ludwig said. "But you don't ever really think it could be this bad. But overall, you know, as entrepreneurs, we're built to pivot and change and be creative."
James Faris is a senior media arts and design major. Contact James at breezembr@gmail.com.