In a year that's brought hardship to so many, Wall Street has much to be thankful for.
The three major stock market indexes have performed admirably this year — especially given the circumstances. The Dow Jones Industrial Average is up 4.7% in 2020 but trails the S&P 500 and tech-focused Nasdaq Composite, which have logged respective gains of 12.4% and 34.8%.
Those advances are remarkable given the 37%, 34% and 30% nosedives each index saw, respectively, from February peak closes to late-March lows after the coronavirus outbreak became a pandemic that shut the world down. 
Since panic peaked and stocks bottomed, the Dow is up 60.7%, the S&P 500 has surged 62.2% and the Nasdaq Composite has pole-vaulted 76.3% — thanks in large part to unprecedented fiscal stimulus in March and dramatic policy shifts from the Federal Reserve. 
The U.S. central bank introduced accomodative monetary policy by slashing interest rates — encouraging spending and investment by lowering the cost of borrowing — and implementing bond buyback programs that sent fixed-income yields plummeting, which makes risk assets like stocks more attractive. The moves put investors at ease and sent money flooding into stocks.
And despite an eye-popping rally in the three major stock indices since the pandemic took hold, it appears the move higher still has plenty of steam.

The Dow briefly passed the 30,000 mark for the first time ever this week and went into Thanksgiving up 1.83% and is up 8.7% since Election Day, outpacing the S&P 500's respective moves of 1.76% and 7.7% and the Nasdaq's increases of 1.49% and 8.4%.
The outperformance of the Dow, a 30-stock average of major U.S. companies like Apple, Coca-Cola and McDonald's, is a notable shift, given the other two indices' reliance on tech companies like Amazon that have dominated in the new work-from-home landscape.
Positive vaccine news overshadowed politics this week for the first time in months. The Madison Business Review's Bryce Roth breaks down the latest on vaccines, spiking COVID-19 case counts and the stock market's performance.
Positive vaccine news has overshadowed election results this month, though investors appear satisfied — if not pleased — with the idea of a divided Congress under President-elect Joe Biden. The prospect of three safe, effective vaccines announced by Pfizer and BioNTech; Moderna; and AstraZeneca and the University of Oxford sparked an extended rally that's broadened beyond tech — a positive sign that Wall Street may soon better reflect Main Street.
After all, stocks' marvelous gains have seemed out of touch with the harsh economic reality for millions of Americans suffering from historically high unemployment rates.
Economically sensitive sectors like energy, financials and real estate have reflected pain caused by the pandemic. The energy industry suffered as a global economic slowdown sent demand for oil plunging. Meanwhile, banks struggled alongside small businesses they lend to, and real estate firms were slammed as videoconferencing platforms like Zoom soared. By contrast, the communication services, consumer discretionary and information technology sectors have thrived.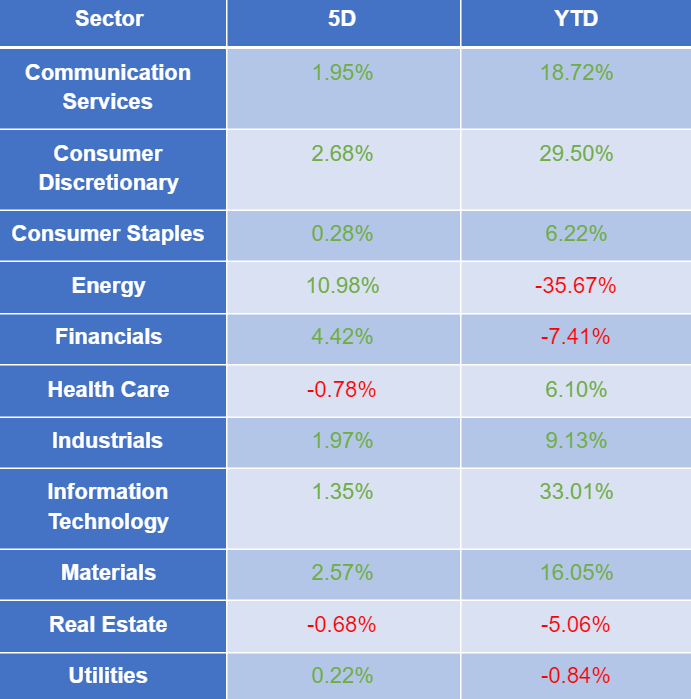 Generally, small companies — reflected by the Russell 2000 — have been hurt far more by COVID-19 than their large-cap counterparts, given that they didn't have the resources and manpower to pivot to the new normal as quickly or effectively. 
But the small-cap index is up 12.2% since Nov. 9, when the first wave of positive vaccine news broke. In the last month, the energy sector has roared 27.7%, financials have gained 12.9% and real estate inched up 3.4%. 
Corporations have found ways to survive and advance amid the pandemic while small businesses got steamrolled. Will the trend reverse?
Those recent moves are a sign that a market rotation out of COVID-19 stay-at-home plays and into laggards has begun, which analysts believe is key to a strong, sustained long-term rally. 
Effective vaccines appear to be right around the corner, which could accelerate the return to normalcy and change the fortunes of millions of individuals, businesses and sectors crushed in 2020. That's something everyone — regardless of portfolio positioning — can celebrate.
James Faris is a senior media arts and design major. Contact James at breezembr@gmail.com.
Disclaimer: I have no positions in any stocks mentioned and no plans to initiate any positions within the next 72 hours. I wrote this article myself, and it expresses my own opinions. I'm not receiving compensation for it, and I have no business relationship with any company whose stock is mentioned in this article. All information is current as of Nov. 26.
Additional disclosure: Investors are always reminded that before making any investment, they should do their own research on any name directly or indirectly mentioned in this article. Investors should also consider seeking advice from a broker or financial adviser before making any investment decisions. Any material in this article should be considered general information and shouldn't be relied on as a formal investment recommendation.